C'est le moyen parfait pour ceux qui n'ont pas encore envie de passer à l'étape du saut en parachute : le parapente. Et à la Réunion, c'est encore mieux. Les paysages sont incroyables.
——– (ENGLISH VERSION AFTER THE PICTURES)
Le mois dernier, j'ai eu la chance de faire un vol en parapente avec Azurtech. LE BONHEUR. C'est l'alternative parfaite pour ceux qui ne sont pas accros aux grosses doses d'adrénaline, qui veulent voir des paysages de folie et profiter d'un moment sympa au dessus des lagons réunionnais. Les principales entreprises qui proposent des vols en parapente se trouve à Saint-Leu, dans le sud-ouest de l'île.
COMMENT Y ALLER ? PRIX ? COMMENT ÇA SE PASSE ?
Rendez-vous sous la petite tente de Azurtech à 9h00, située à droite de l'étendue d'herbe en face de la plage de Kélonia. Vous serez accueillis par Julien, un Réunionnais super sympa (très grand aussi, on pourrait le comparer à un basketteur). Pas besoin d'une tenue particulière, un short fera l'affaire. Équipez-vous juste d'une paire de lunettes de soleil pour éviter de pleurer à cause du vent pendant le vol. Vous partirez alors en direction des hauteurs de Saint-Leu et après 15 minutes de route, vous arriverez à l'esplanade des départs. Ici, le moniteur vous donnera toutes les directives et c'est parti pour environ 30 minutes de bonheur ! Les prix vont de 75 € (25 minutes) à 120 € (1 heure) pour les vols sur la côte et le lagon. Pour ceux en montagne, vous pourrez débourser de 120€ à 250€ mais ça vaut le coup aussi.
À FAIRE ? L'INCONTOURNABLE
Pour les baptêmes de parapente, je vous conseille le vol "Classic 800", à 75€. Vous survolerez les alentours et le lagon. Vous aurez même la possibilité de voir quelques tortues de mer (toute l'année) ou des baleines (mi-juillet à octobre). Julien en a profité pour m'expliquer comment fonctionnait le parapente, comment il utilisait la trajectoire des pailles en queue (oiseaux réunionnais) pour trouver les courants ascendants et profiter de son vol à 100%. J'ai aussi eu le droit à la découverte des champs de bananes, des ravines de bambous et à l'observation des flamboyants. C'était la deuxième fois que je faisais un vol en parapente et je suis vraiment pas déçue. Totalement différent des paysages montagneux de Gap (France) la première fois. Si vous avez des enfants, il existe aussi des vols spécial "Marmailles".
COLLECTION DE PHOTOS – VOL EN PARAPENTE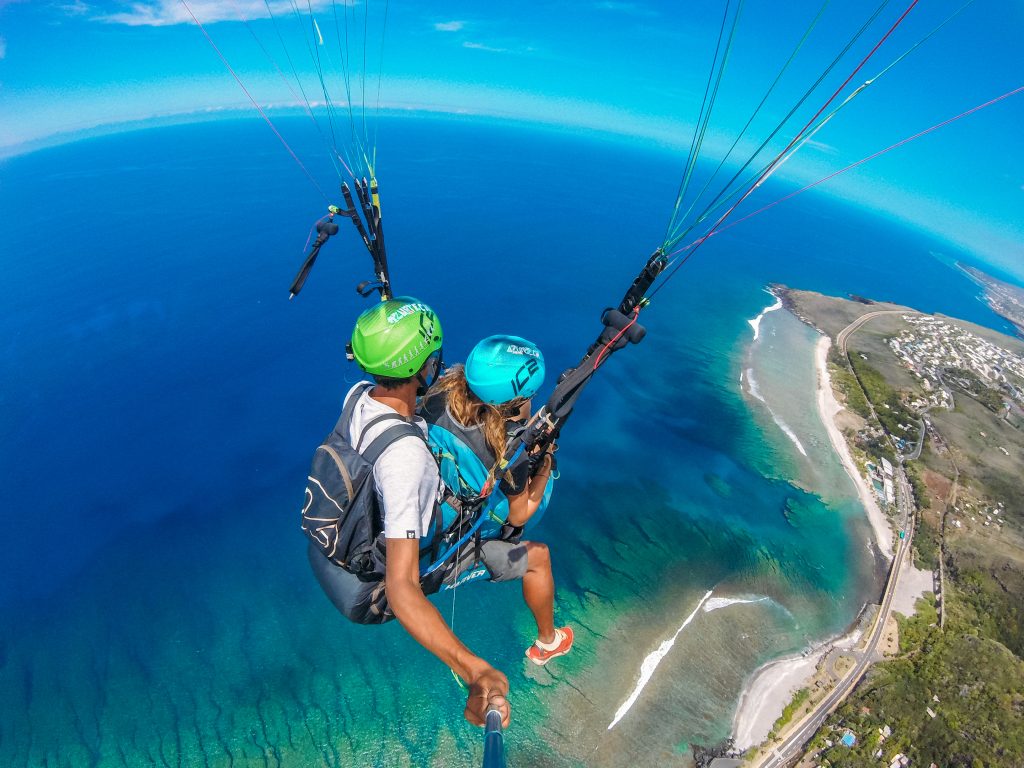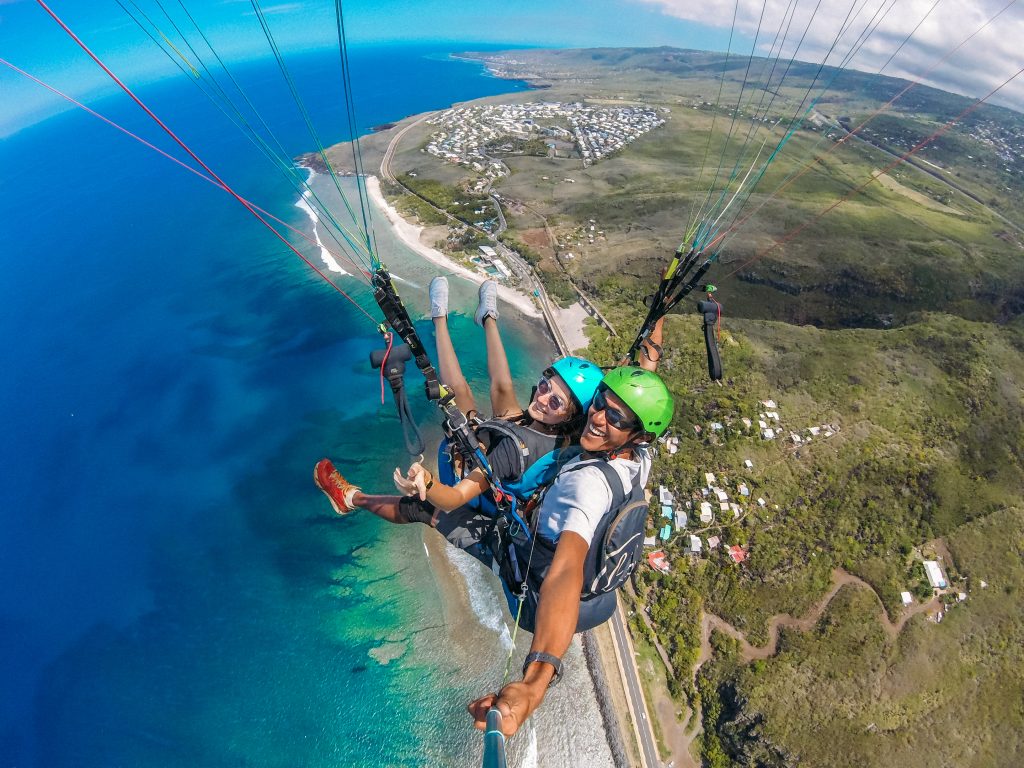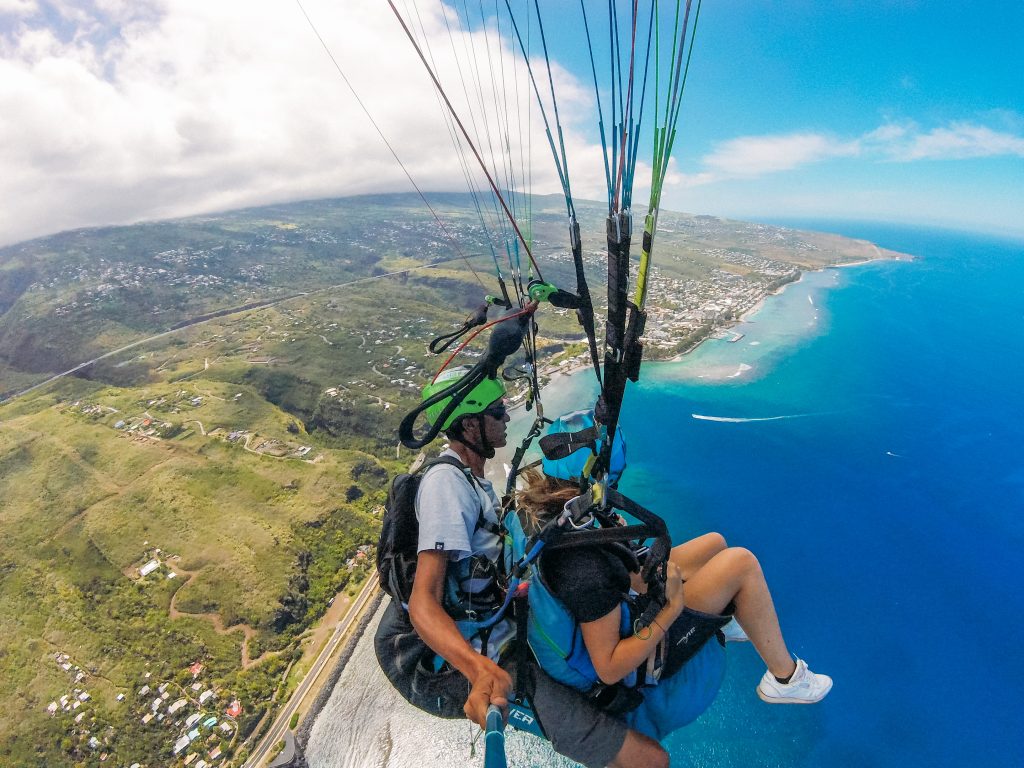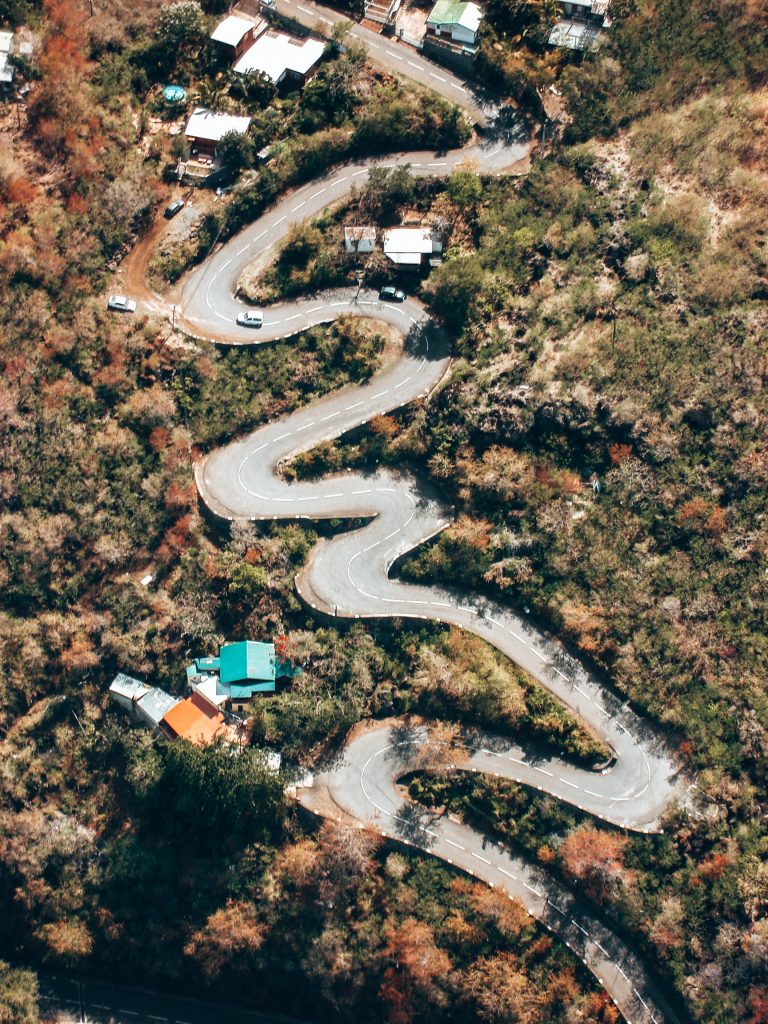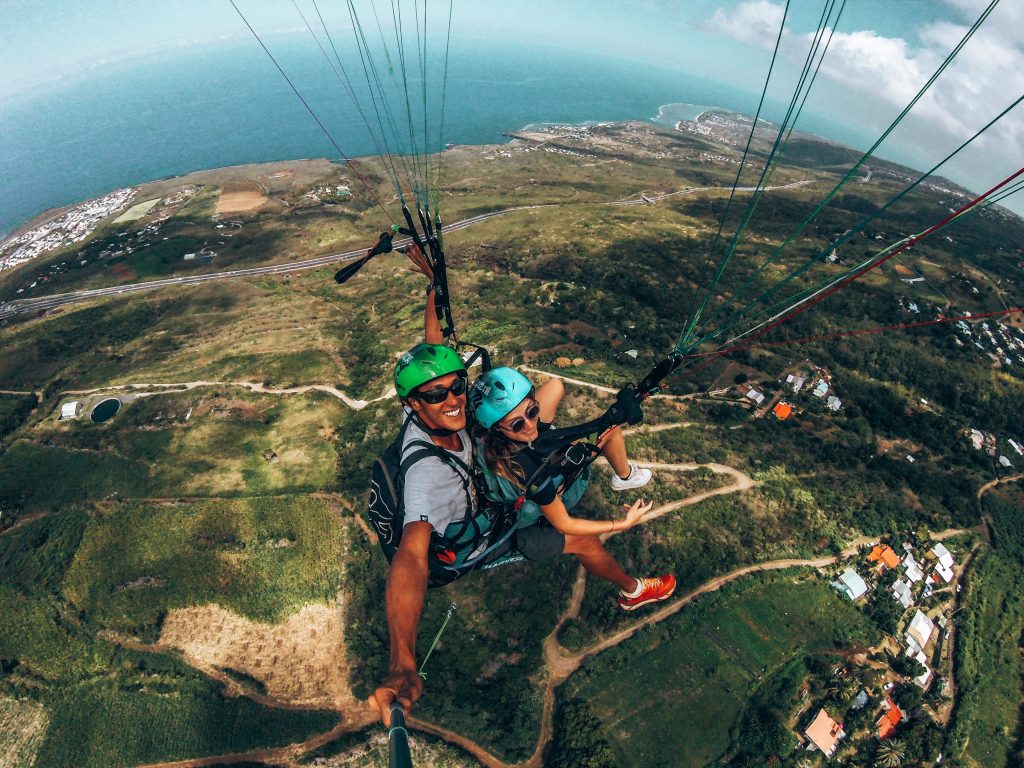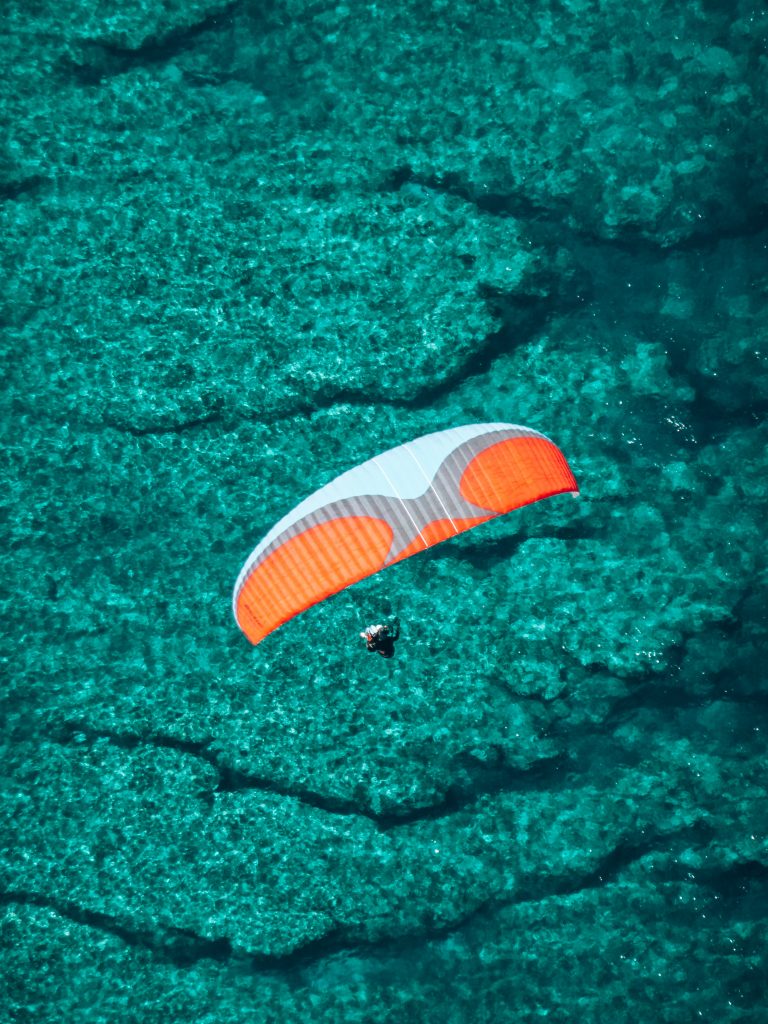 This is the perfect way for those who don't want to do the parachute stage: paragliding. And in Reunion, it's even better. The landscapes are incredible.
— (FRENCH VERSION BEFORE THE PICTURES)
Last month, I had the chance to do a paragliding flight with Azurtech. HAPPINESS. This is the perfect alternative for those who aren't addicted to big doses of adrenaline, who want to see pretty landscapes and enjoy a nice time above the lagoons of Reunion. The main companies offering paragliding flights are in Saint-Leu, in the south-west of the island.
WITH WHICH COMPANY ? WHAT PRICE ? HOW IS IT WORKING ?
You will meet Azurtech in a small tent at 9:00 am, located on the right of the grass in front of the beach of Kelonia. You will be welcoming by Julien, a very cool Reunionese (very tall too, we could compare him to a basketball player). No need of a particular outfit, shorts is fine. Just take a pair of sunglasses to avoid crying during the flight because of the wind. You will then go towards the top of Saint-Leu and after 15 minutes of driving, you will arrive at the esplanade departures. Here, the instructor will give you all the informations and it's time to go for about 30 minutes of happiness! Prices range from 75 € (25 minutes) to 120 € (1 hour) for flights on the coast and lagoon. For those in the mountains, you can pay from € 120 to € 250 but it's worth it too.
TO DO ? THE MUST
For your first time of paragliding, I recommend the flight "Classic 800", 75 €. You will fly over the surroundings and the lagoon. You will even have the opportunity to see some sea turtles ( during all year) or whales (from mid-July to October). Julien explain me how paragliding worked, how he uses the trajectory of "pailles en queue" (Reunion birds) to find his air holes and enjoy his flight at 100%. I also had the right to discover banana fields, bamboo and "flamboyants" trees. It was the second time I was doing a paragliding flight and I'm really not disappointed. Totally different from my first time in the mountainous landscapes of Gap (France). If you have children, there are also special flights called "Marmailles".
O. M-G