Comme vous avez pu le voir sur Instagram et Facebook, nous sommes partis au Maroc pendant 2 semaines. Il est maintenant l'heure pour moi de vous faire un point sur toutes les choses que j'ai découvertes pendant mon voyage. On commence par Chefchaouen, l'un de mes coups de cœur. 
Aussi appelée « La ville bleue », ou « Blue pearl », Chefchaouen se situe à 115 km de Tanger. Pas de train pour vous y rendre, mais un bus ou un taxi. Il vous faudra environ 3 h pour rejoindre ce petit paradis en bus (compagnie CTM) et pour 4,50 euros. Le taxi propose des forfaits aller-retours à environ 20 euros. À vous de choisir, si vous voulez y passer seulement une journée ou plusieurs. Nous y sommes restés deux nuits. Chefchaouen est principalement connue pour ses maisons blanchies à la chaux et peintes en bleu. L'ensemble de la Medina est repeinte 3 fois par an, notamment avant le Nouvel An musulman en septembre.
À FAIRE ?
Perdez-vous dans la Medina et vous trouverez des petites recoins incroyables et vraiment magnifiques pour faire quelques (ou beaucoup) de photos. Allez visiter la Kasbah située au centre-ville et le soir, montez dans les hauteurs à la mosquée espagnole, en direction de la cascade Ras-el-Ma. Après 15 minutes de marche, vous aurez une vue entière sur la ville. Vous aurez même la possibilité de voir les maisons bleues et blanches avec le reflet de la lumière du soleil. Si vous avez le temps et que vous aimez randonner, prenez un taxi et partez en direction des cascades d'Akchour. Prévoyez d'y rester toute la journée. Au programme : forêt, cascades et baignade.
L'HÉBERGEMENT
Nous avons dormi au Riad Rifandalus, situé en plein cœur de la vieille Medina. Super pratique et trop mignon, ce riad possède une terrasse et offre une vue panoramique sur la ville. À 19h30, les prières débutent : spectacle incroyable avec la lumière et l'atmosphère de la soirée !
Nous étions dans une grande chambre, avec un lit double et deux lits simples, idéal pour les familles ! Le petit-déjeuner est inclu dans le prix de la nuit. Il se compose d'un verre de jus d'orange pressé, de thé / café / lait chaud, de céréales, de matlouh, un pain traditionnel de Chefchaouen préparé à base de semoule mais aussi de crêpes et d'un beignet. Le petit-déjeuner est servi sur la terrasse intérieur, super agréable pour débuter une journée.
---
CONSEIL TAXI
Au Maroc, il existent plusieurs types de taxi : les grands et les petits. Les petits taxis doivent obligatoirement mettre le compteur. Si le chauffeur vous propose un forfait, vous devez refuser et lui dire de démarrer le compteur. Pour ne pas vous faire avoir, je vous conseille de grimper directement dans le taxi, en donnant simplement votre destination. Ne demandez pas le prix. S'il allume le compteur, c'est top. Sinon, juste une petite remarque et ça passera.
---
——– (ENGLISH VERSION AFTER THE PICTURES)
COLLECTION DE PHOTOS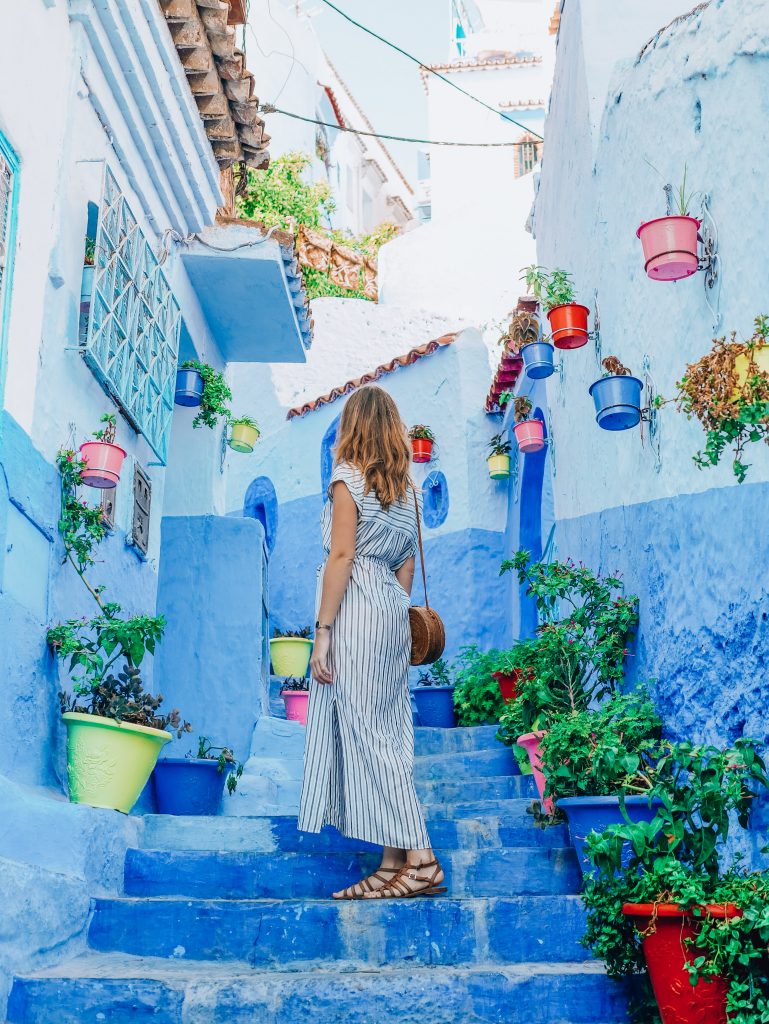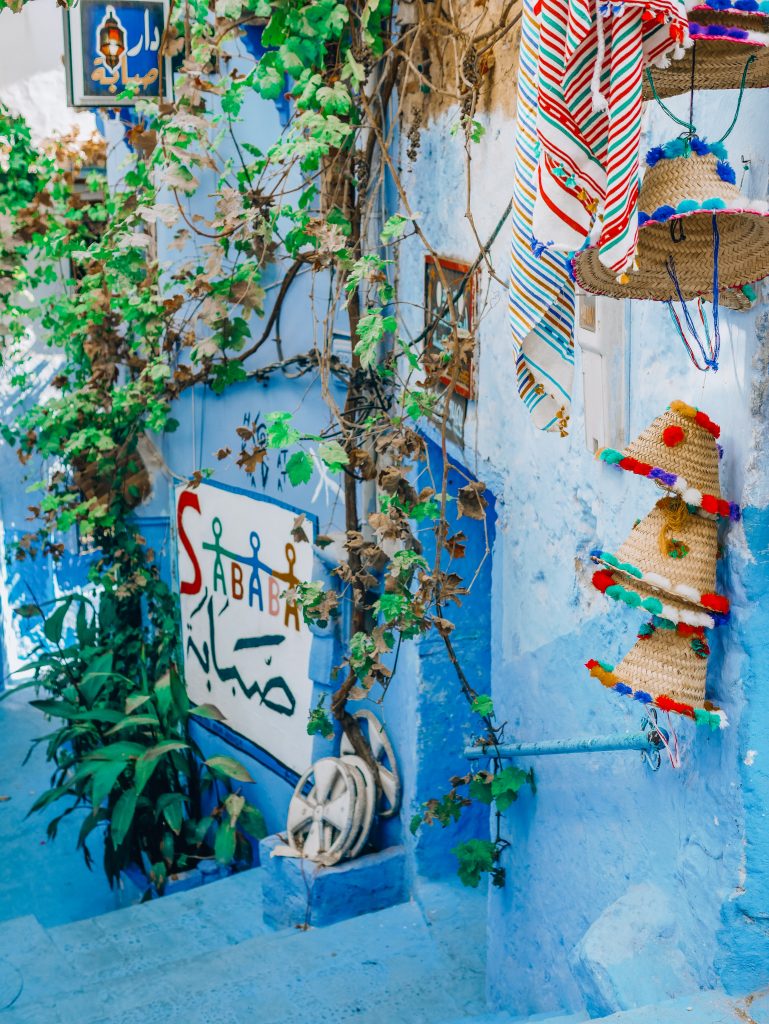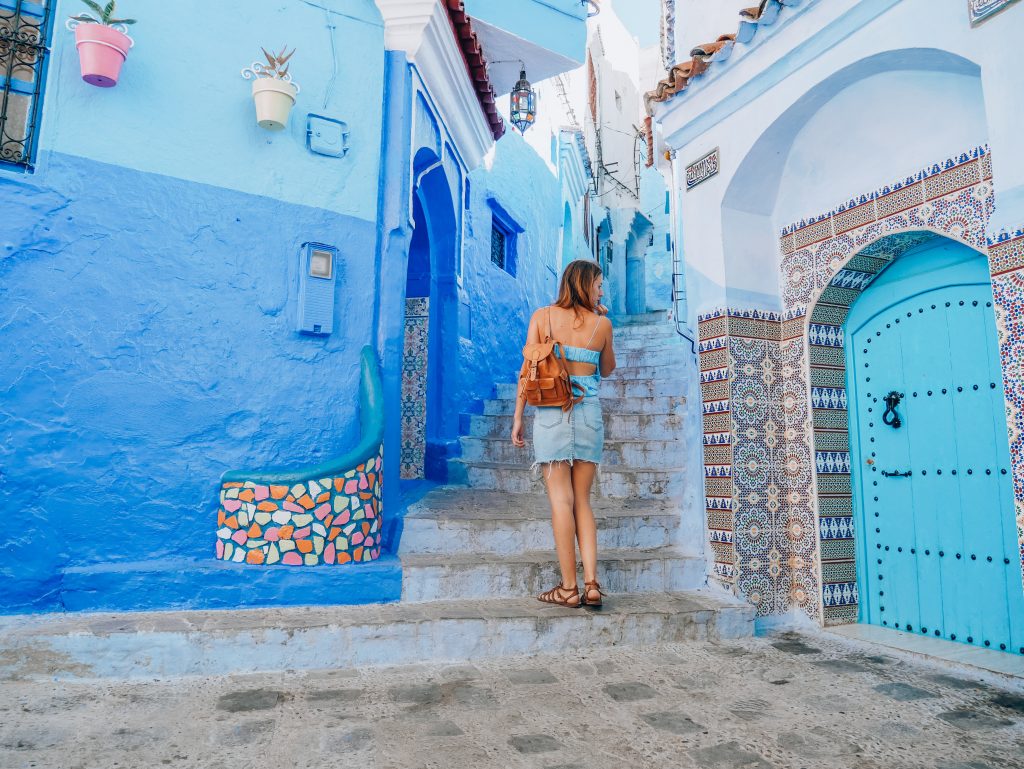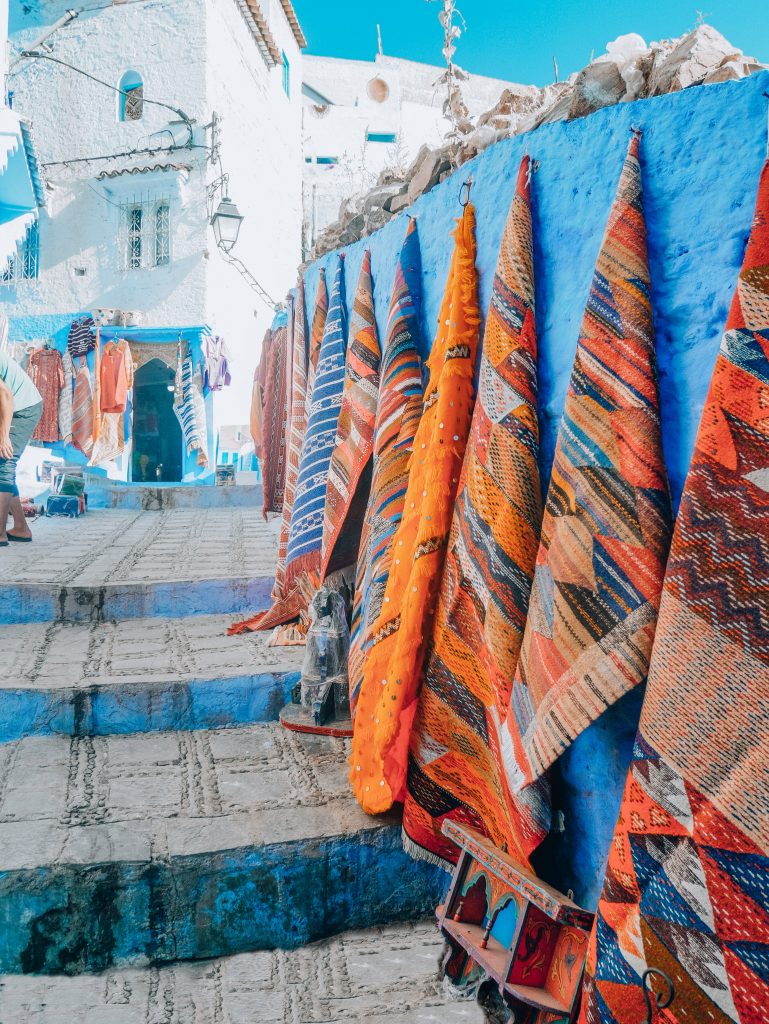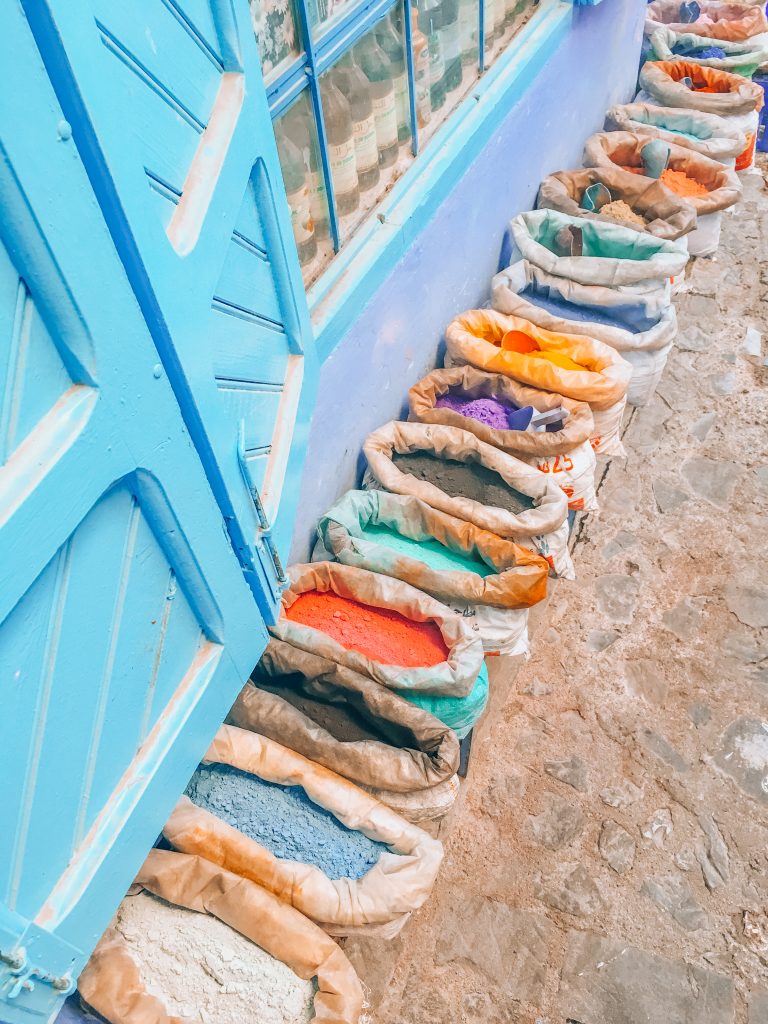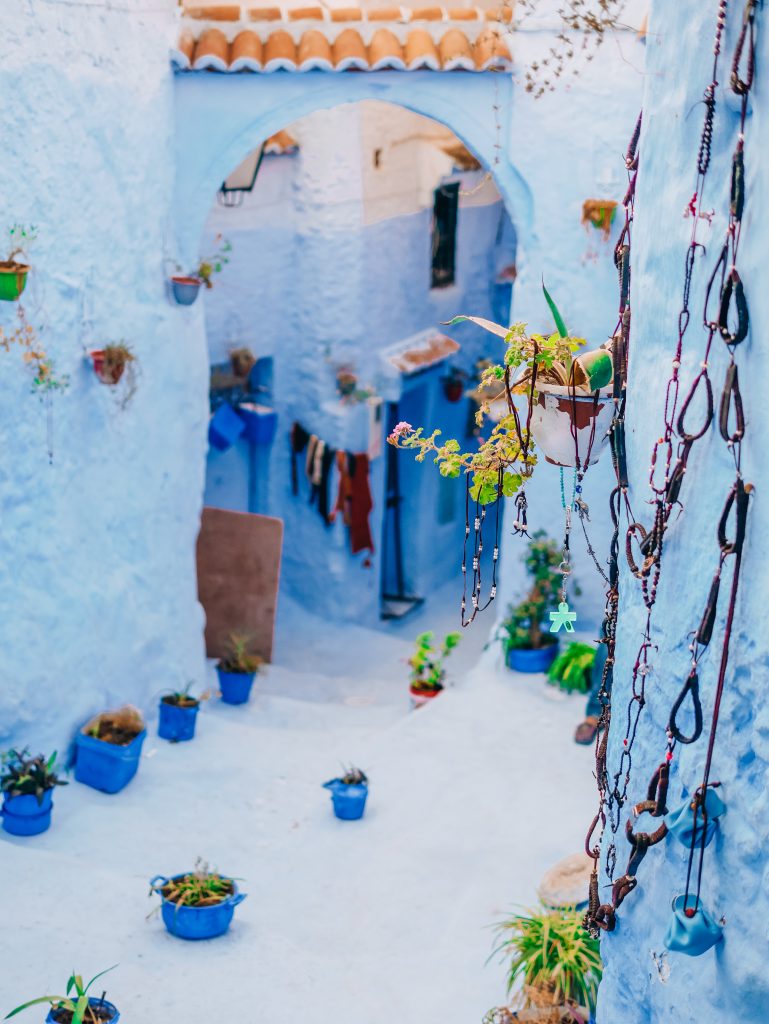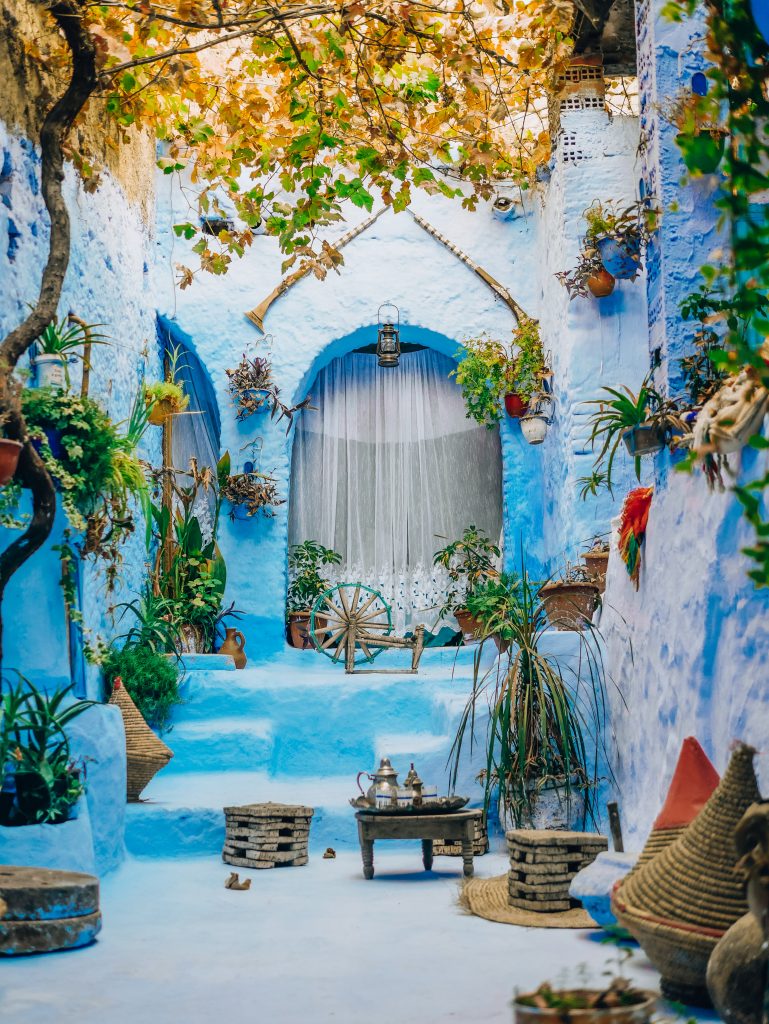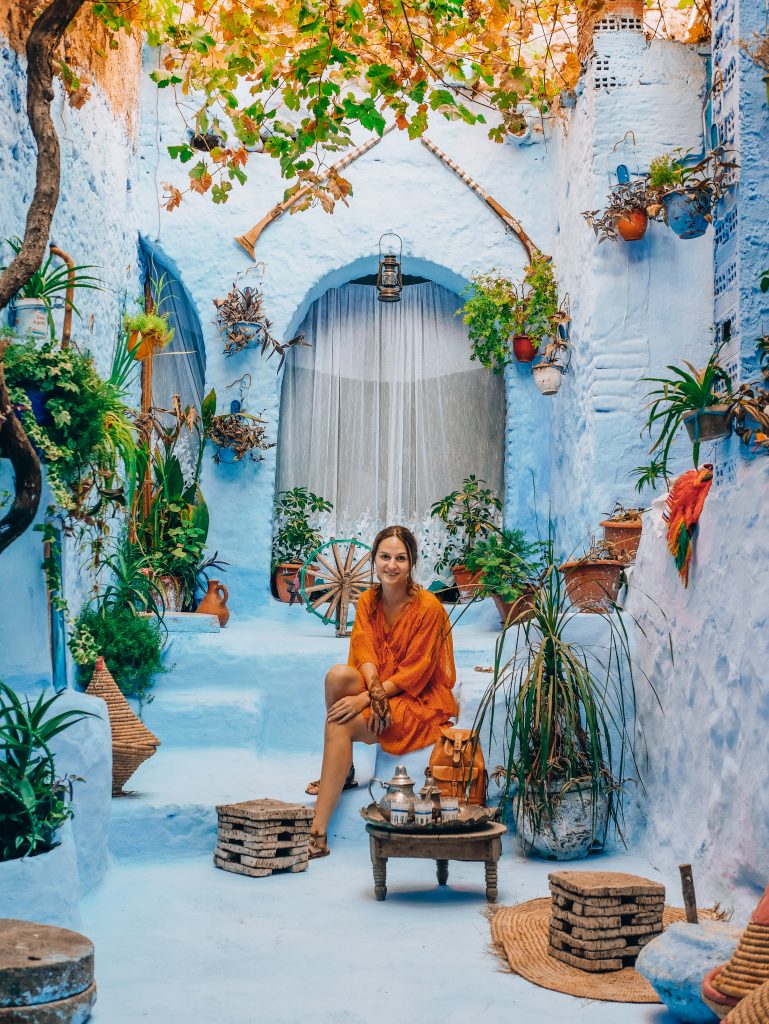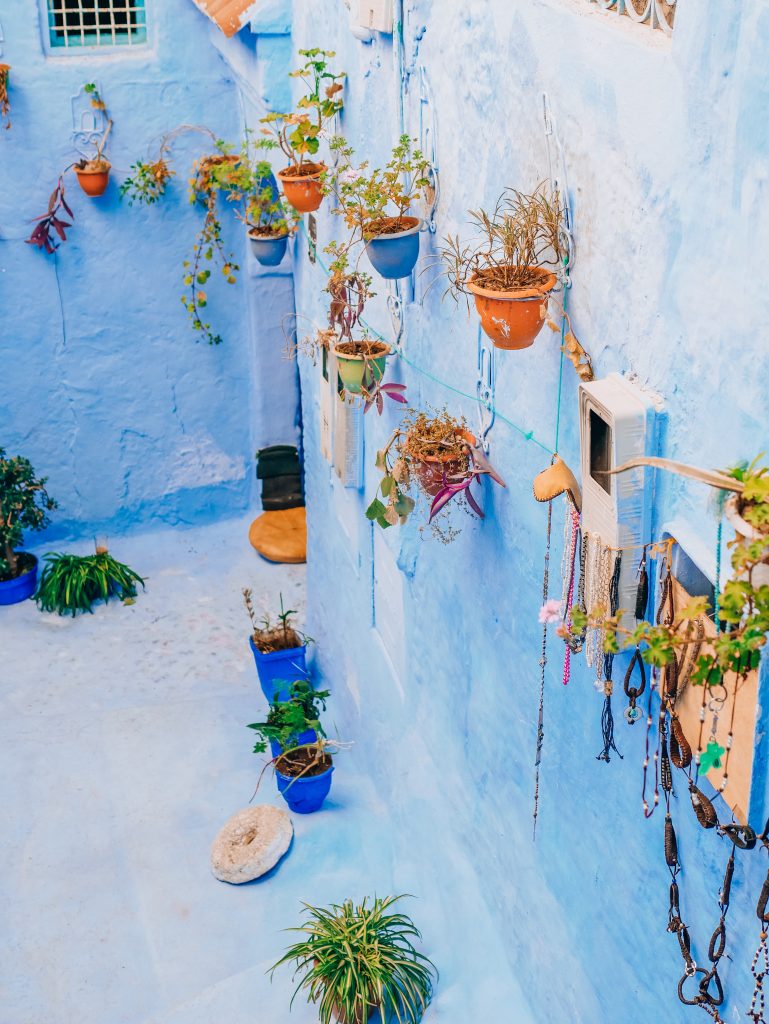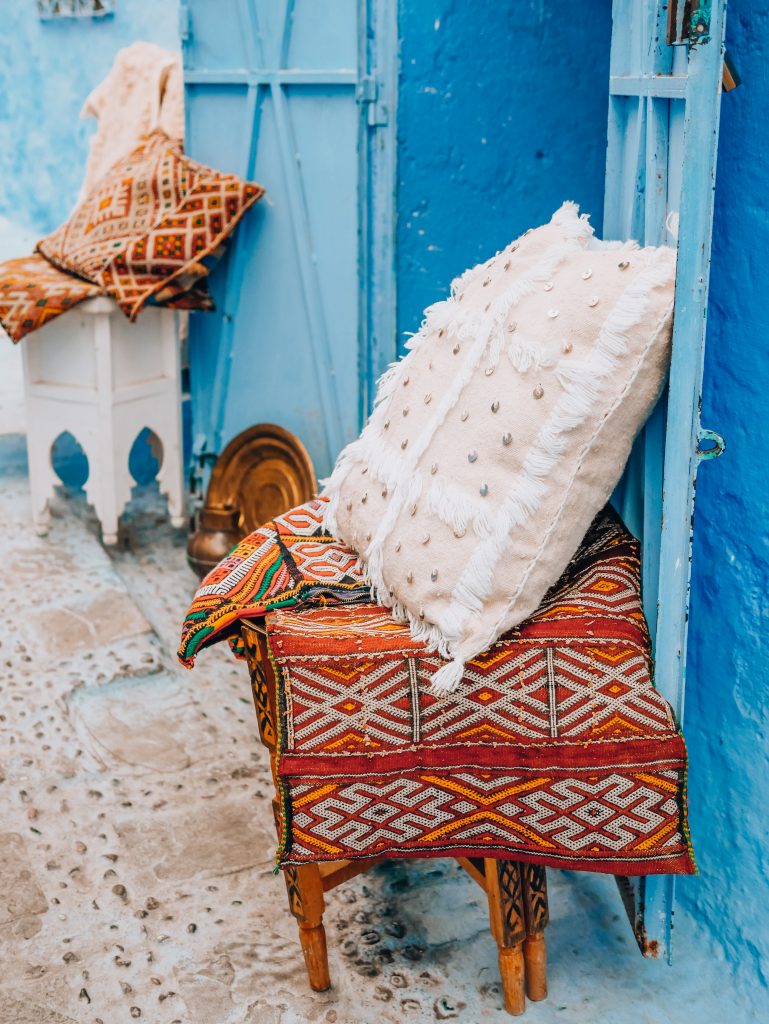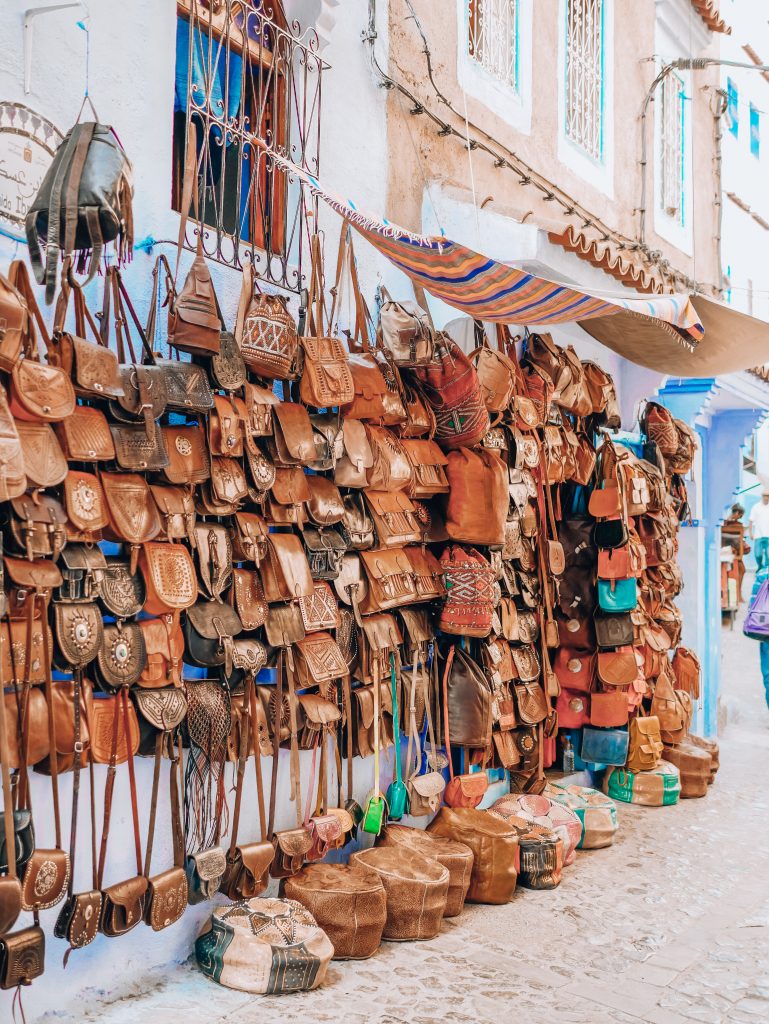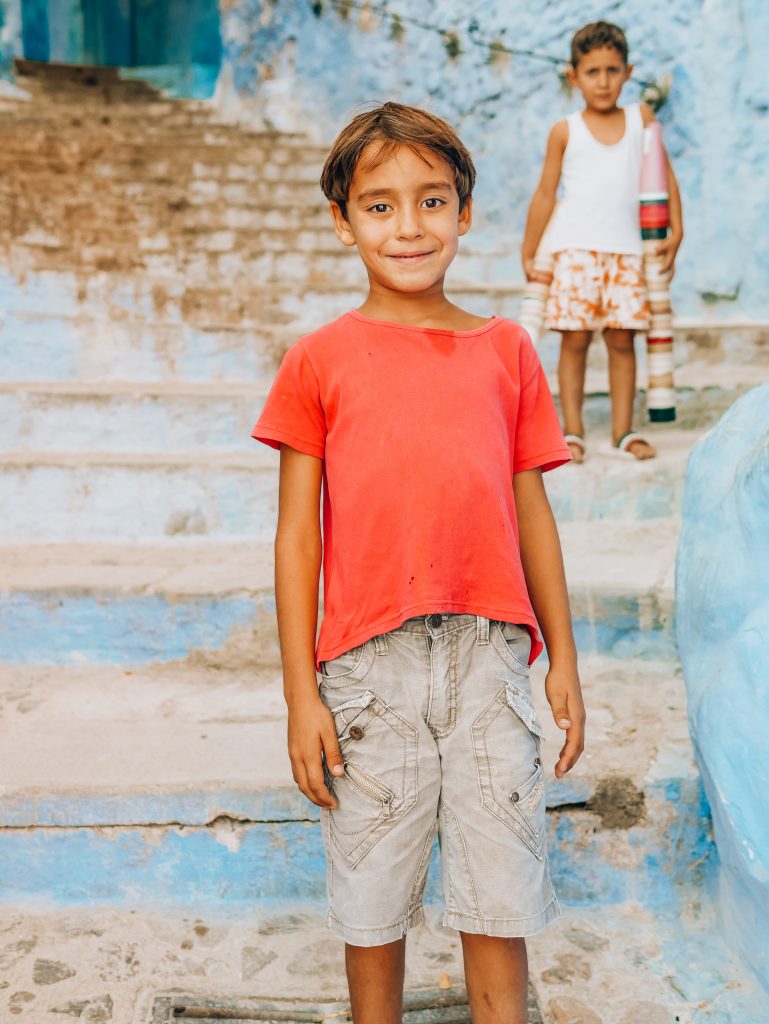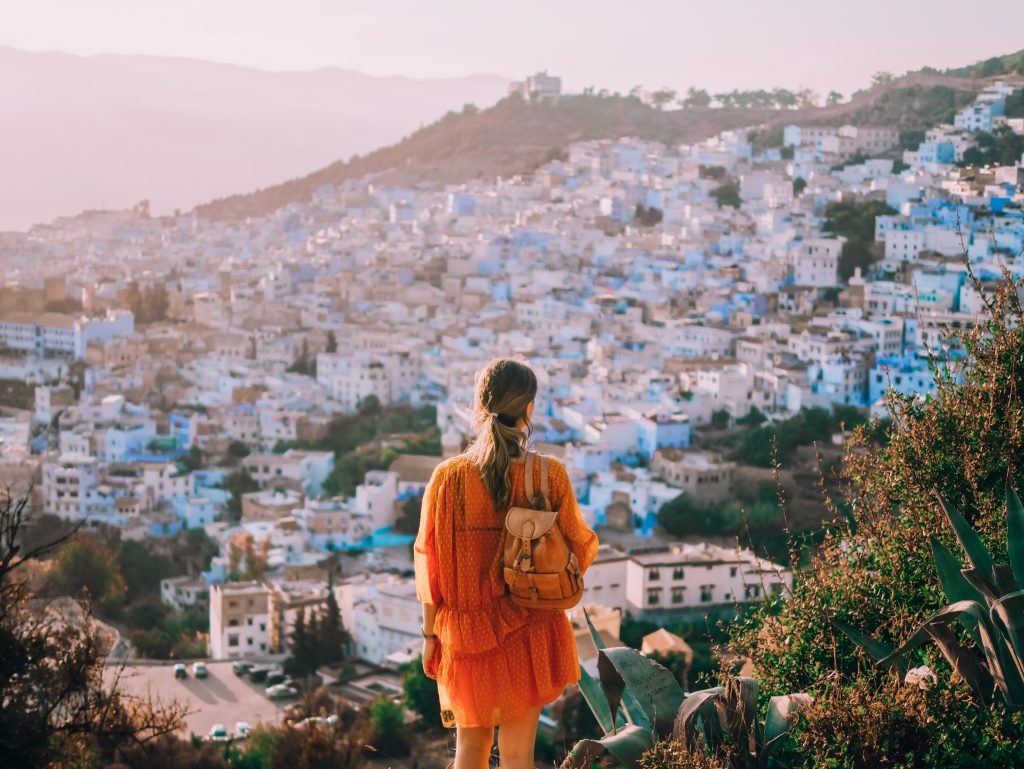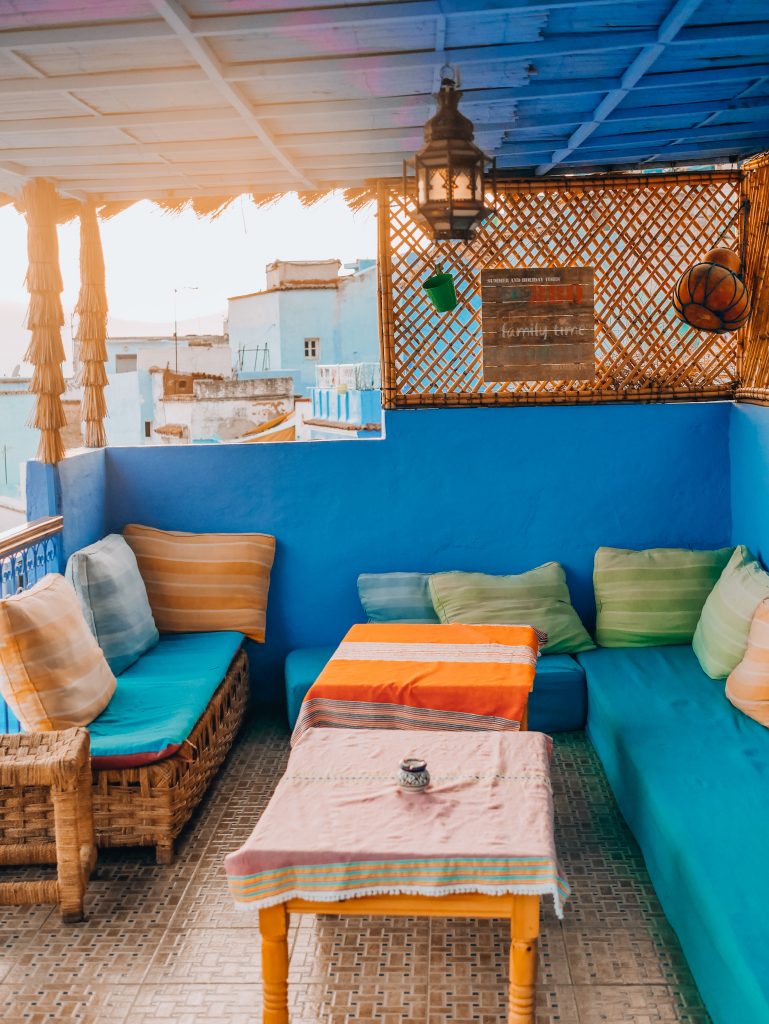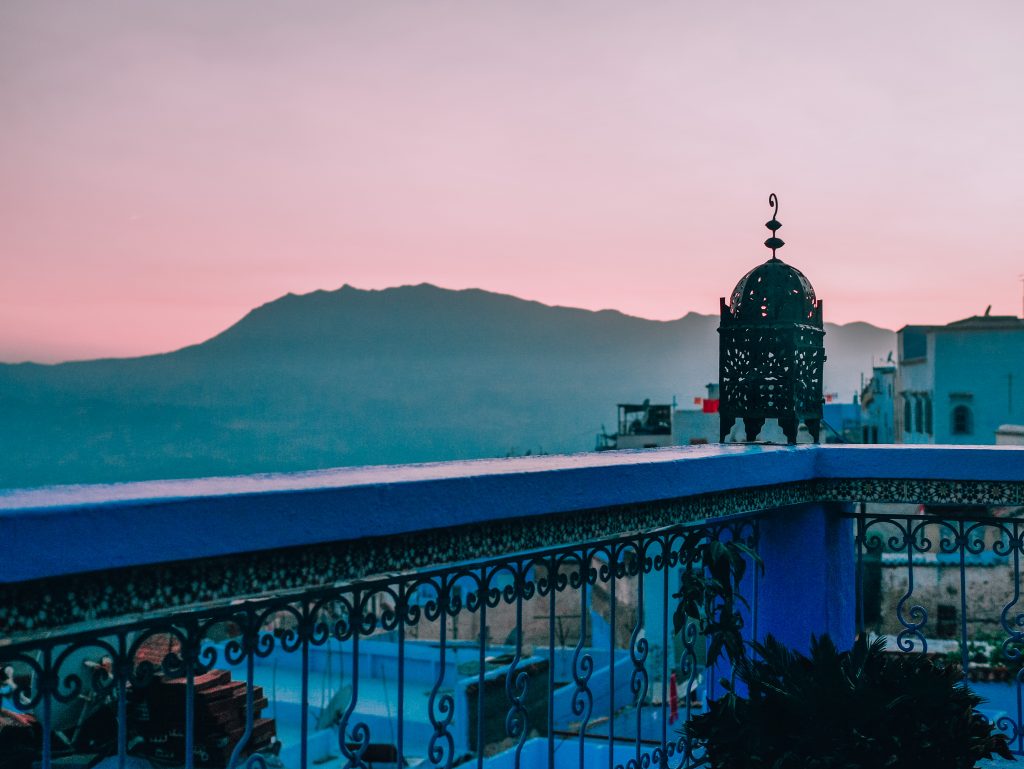 As you can see on Instagram and Facebook, we travelled all around Morocco during 2 weeks. It's time for me to give you all the information about our journey and about all the things I discovered. We start with Chefchaouen, one of my favorites cities.
Also known as « The Blue City », or « Blue pearl », Chefchaouen is located 115 km from Tangier. No train to get there, but a bus or a taxi. 3 hours by bus (company CTM) for 4.50 euros. The taxi offers round-trip packages for 20 euros. It's up to you and if you want to spend only a day or a few. We stayed there during 2 nights. Chefchaouen is mainly known for its whitewashed houses painted with blue. The Medina is repainted 3 times a year, especially before the Muslim New Year in September.
What to do ? Lose yourself in the Medina and you will find incredible little corners and magnificent places to take some (or many) photos. Visit the Kasbah in the city center and in the evening, climb up to the Spanish mosque in the direction of the Ras-el-Ma waterfall. After a 15-minute walk you will have a panoramic view of the city. You will even have the opportunity to see the blue and white houses with the sunlight. If you have time and if you enjoy hiking, take a taxi and go to the Akchour waterfalls. Plan to stay there all day. Program: forest, waterfalls and swimming.
ACCOMMODATION
We stayed 2 nights at Riad Rifandalus, located in the center of the old Medina. Superbly practical and too cute, this riad has a terrace and offers a panoramic view of the city. At 7:30 pm, the prayers begin: it's an incredible show with the light and the atmosphere of the evening! We slept in a large room, with a double bed and 2 single beds, the best for families! Breakfast is included in the price of the night. There are a glass of pressed orange juice, tea / coffee / hot milk, cereals, matlouh, a traditional Chefchaouen bread prepared with semolina but also pancakes and a traditional donut. Breakfast is served in the indoor terrace, which is great to start a day.
TAXI
In Morocco, there are several types of taxi: big and small. Small taxis must start the meter. If the driver offers you a package, you must refuse and tell him to start it. I advise you to jump directly into the taxi and simply giving your destination. Don't ask for the price. If he turns on the meter, it's the best. Otherwise, just a small word and it will pass.
O. M-G