On se retrouve aujourd'hui pour découvrir l'un des deux hôtels où j'ai séjourné à Dubaï : le One&Only Royal Mirage. Il est considéré comme l'un des hôtels les plus élégants sur les plages de la ville. L'expérience était vraiment inédite. On ne le savait pas en arrivant mais on allait pouvoir passer une nuit au paradis, digne d'un Palais des Mille et une nuits.
——– (ENGLISH VERSION AFTER THE PICTURES)
Au One&Only Royal Mirage, vous pouvez tout faire et profiter de l'intégralité des services qui seront proposés lors de votre séjour. Certains disent que c'est l'un des meilleurs hôtels du monde, d'autres vous diront qu'ils ont passé un séjour inoubliable. Quoi qu'il en soit, ce ne sont que des remarques positives qui ressortent d'un séjour dans cet hôtel. L'établissement se compose de trois espaces aux univers bien différents : le Palace, l'Arabian Court et la Residence & Spa. Avec 232 chambres au Palace, 172 chambres à l'Arabian Court et 49 à la Résidence, la capacité d'accueil de l'établissement dépasse toutes les attentes et pourtant… Je ne m'en suis pas rendue compte. L'hôtel est tellement intimiste et à l'écart. L'intérieur est spacieux, l'extérieur aéré. Il y a plusieurs piscines, un terrain de golf, un centre de fitness, 8 restaurants… En définitive, vous ne risquez pas de vous ennuyer. C'est une vraie expérience à la fois bien-être et gastronomique qui vous attend.
LA CHAMBRE
On a eu la chance de tester une nuit dans l'une des Suites Superior Executives. La chambre était vraiment incroyable. Avec un espace salon – cuisine, un balcon, une chambre digne de celle des rois et une salle de bain aux allures de celle d'un palace oriental… Tout était là. On avait des étoiles dans les yeux. Le balcon de la chambre donne sur les jardins du Palace, des espaces verts de qualité où l'on peut y voir aussi quelques fontaines, des palmiers et la piscine. Chaque détail de la décoration a été pensé dans un esprit luxe et raffiné.
Prix : à partir de 417 €/ nuit (petit-déjeuner inclus)
MON AVIS
CE QUE J'AIME
La plage de l'hôtel est privée et vous pouvez à la fois avoir une vue incroyable sur les gratte-ciels de Jumeirah, Logo Island et The Palm Jumeirah.
Il y a une navette au sein même de l'établissement. Vous pourrez vous déplacer entre le Palais, l'Arabian Court et la Residence & Spa.
Les soins au traditionnel hammam oriental : j'avais déjà eu l'occasion de tester un vrai hammam lors de mon séjour au Kenzi de Marrakech et celui-ci a vraiment dépassé toutes mes attentes. Les masseurs viennent du Maroc, de la Tunisie ou encore même de la Turquie. Après avoir appliqué du savon noir sur l'ensemble de votre corps, vous irez pendant une dizaine de minutes dans le hammam, chauffé par la vapeur à 50 degrés. La masseuse passera ensuite à l'étape de l'exfoliation, dites « Loofah » pour vous enlever toutes les peaux mortes. Elle terminera par un massage léger.
CE QUE VOUS DEVRIEZ SAVOIR AVANT DE RÉSERVER
Si vous ne voulez pas vous déplacer en taxi (on ne sait jamais), l'hôtel se situe à deux pas de la station de métro Nakheel et Palm Jumeirah. C'est l'idéal quand vous souhaitez aller faire du shopping. Un petit point bonus en + pour cet hôtel même si, entre nous, beaucoup de clients se déplacent en taxi.
L'hôtel se situe tout près de la Jumeirah et donc du Burj Al Arab. Attention, il vous faudra environ 30 minutes pour rejoindre les environs du Burj Khalifa.
Vous pouvez demander un transfert privé pour l'aéroport. Le Dubai International Airport se se situe à 30 minutes de l'hôtel.
MA NOTE
Lieu : 8/10
Décoration : 9/10
Piscine : 10/10
Les environs de l'hôtel : 9/10
Les chambres : 10/10
La nourriture : 9/10
Spa : 9/10
Service : 10/10
Rapport qualité-prix : 10/10
Expérience globale : 9,3/10
Vous pouvez trouver toutes les informations nécessaires sur le site du One&Only Royal Mirage.
Ophélie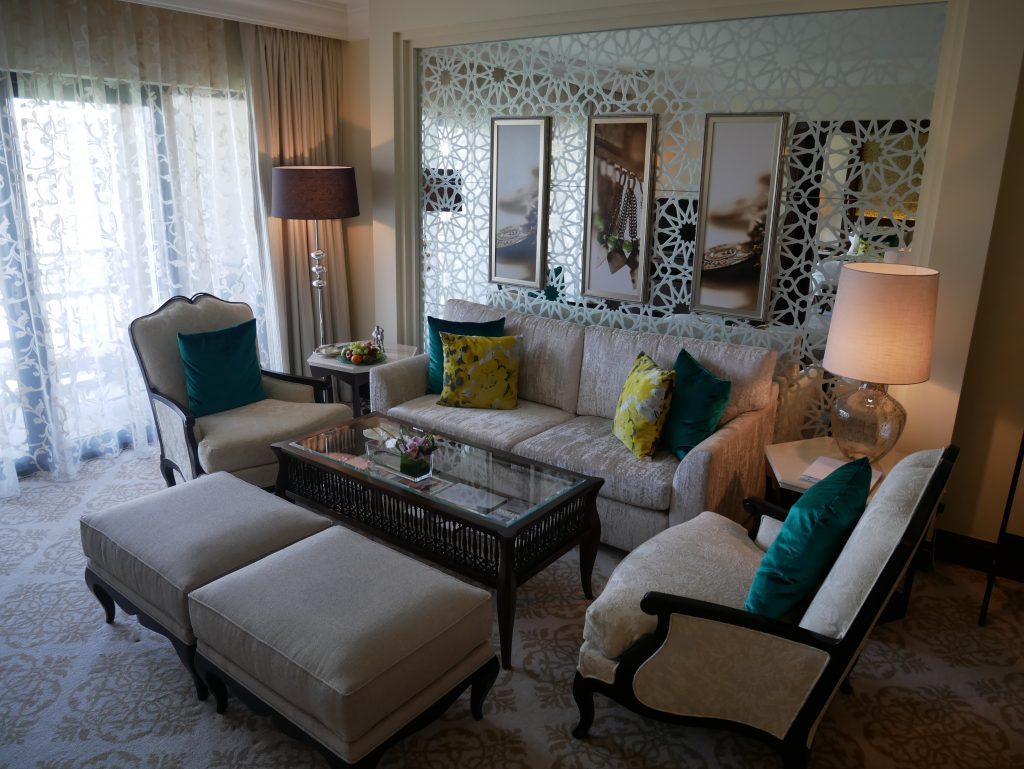 Today, we are here to talk about one of the two hotels where I stayed in Dubai: the One&Only Royal Mirage. It's considered like one of the most elegant hotels on the beaches of the city. The experience was really new and so good. We didn't know it before we arrived but we were going to be able to spend a night in a paradise, worthy of a Palace of Thousand and One Nights.
——– (VERSION FRANÇAISE AVANT LES PHOTOS)
At the One&Only Royal Mirage hotel, you can do everything and enjoy all the services offered during your stay. Some people say it's one of the best hotels in the world, others will tell you they had an unforgettable experience and stay. Anyway, these are just positive remarks after a stay at this hotel. The establishment consists of three quality spaces with very different universes: the Palace, the Arabian Court and the Residence & Spa. With 232 rooms at the Palace, 172 rooms at the Arabian Court and 49 at the Residence, the capacity of the establishment exceeds all expectations and … I didn't realize at all during the time I was there. The hotel is so intimate and calm. The interior is spacious, the outside airy. There are several pools, a golf course, a fitness center, 8 restaurants … At the end, you won't be bored. It's a true well-being and gastronomic experience waiting for you.
LA CHAMBRE
We had the chance to test a night in one of the Superior Executives Suites. The room was really amazing. With a living room – kitchen, a balcony, a room worthy of the kings one and a bathroom looking like one of an oriental palace… Everything was there. We had little stars in our eyes. The balcony of the room overlooks the gardens of the Palace, quality green spaces where you can also see some fountains, palm trees and the pool. Every detail of the decoration has been thought in a luxurious and refined spirit.
Price : from 477 $/ night (breakfast included)
MY OPINION
WHAT I LIKE
The hotel's beach is private and you can both have incredible views of Jumeirah's skyscrapers, Logo Island and The Palm Jumeirah.
There is a shuttle bus within the hotel. You can move between the Palace, the Arabian Court and the Residence & Spa.
The treatments of the traditional oriental hammam: I had already had the opportunity to test a traditional hammam during my stay in Kenzi Marrakech. The masseurs come from Morocco, Tunisia or even from Turkey. After applying black soap on your entire body, you will go for ten minutes in the steam room, heated by steam at 50 degrees. Then, the therapist will do the exfoliation, called « Loofah », to remove all the dead skin. She will finish with a light massage.
WHAT YOU SHOULD KNOW BEFORE BOOKING
If you don't want to travel by taxi (you never know), the hotel is near to the subway station of Nakheel and Palm Jumeirah. This is the best when you want to go shopping. A bonus point for this hotel even if, between us, many customers travel by taxi.
The hotel is close to the Jumeirah and Burj Al Arab. Be careful, it will take you about 30 minutes to reach the Burj Khalifa area.
You can request a private transfer for the airport. Dubai International Airport is located 30 minutes from the hotel.
MY RATE
Location: 8/10
Decoration: 9/10
Pool: 10/10
The surroundings of the hotel: 9/10
Rooms: 10/10
Food: 9/10
Spa: 9/10
Service: 10/10
Value for money: 10/10
Overall experience: 9,3/10