Nous avons eu le plaisir de séjourner une nuit dans une magnifique villa sur l'île privée de Round Island, aux Seychelles. Le JA Enchanted Island Resort est un écrin de beauté luxueux, entouré par le parc national marin de Sainte-Anne. Située à 15 minutes en bateau de l'île de Mahé, le JA Enchanted Resort possède tous les atouts pour vous faire passer un bon séjour. Nous, on a complètement succombé à son charme.
——– (ENGLISH VERSION AFTER THE PICTURES)
LES VILLAS
Le JA Enchanted Island Resort possède 10 villas, parsemées sur la petite île de Round Island. Construite en harmonie avec la nature et l'océan, les villas disposent toutes d'une piscine privée, d'une salle de bain à l'extérieur, d'une master bedroom et d'une terrace pour profiter du soleil et manger en toute tranquillité. Chaque villa a un accès privé à une petite plage. Côté chambre, les lits sont dotés d'oreillers conçus pour vous garantir un sommeil réparateur (et ça, c'était vraiment top!). En tant que resort de luxe, vous aurez le droit à un service 24/24, quelque soit la demande. Vous serez étonné de trouver vos chemises pliées et votre lit fait après votre dîner, aucun détail n'est laissé au hasard. Le personnel est incroyablement attentionné et ne vous laissera pas indifférent. N'hésitez pas à leur poser des questions sur le lieu et les choses à faire aux alentours, ils se feront un plaisir de vous aider. Pour information, nous avons eu une Private Pool Villa. Chaque villa a une vue sur l'océan, il n'y a pas de jaloux.
LES EXPÉRIENCES
Dès notre arrivée, nous avons eu le droit à 1 heure de soin dans le spa de l'hôtel. L'accueil y est chaleureux et les massages sont incroyables. Cette prestation est parfaite pour vous détendre après de longues heures d'avion ou de marches dans les montagnes des Seychelles. L'hôtel propose également des cours de yoga, des sorties en bateau au coucher du soleil, des sessions snorkeling et pourra même organiser votre mariage sur la plage. Côté resto, le menu est varié. Il n'y a qu'un seul restaurant et c'est suffisant puisque n'oubliez pas qu'il y a 10 villas, soit environ 15 personnes. Quoi qu'il en soit, la carte change du matin au soir, les plats sont divins et le cuisinier prêtera attention à toutes vos demandes (je suis intolérante au lactose… imaginez!).
SITUÉ À QUELQUES MINUTES
Ile Moyenne et Long Island : parfaites pour le snorkeling
L'île aux Cerfs (il n'y en a pas qu'une à l'île Maurice 😉 )
La capitale Victoria à 15 minutes en bateau
Ste Anne Marine National Park avec l'Anse Cabot
MON AVIS
CE QUE J'AIME
L'accueil chaleureux de toute l'équipe, les petites attentions et les sourires
Le matin, vous pourrez rejoindre l'île voisine à pied puisqu'avec la marée basse, un large banc de sable se dessine sur l'océan ! Impressionnant
L'intimité, la détente à 100%
CE QUE VOUS DEVRIEZ SAVOIR AVANT DE RÉSERVER
Vous serez sur une île privée, il n'y pas d'accès direct aux autres îles, à part en bateau ou à pied pendant la marée basse (juste pour une île).
Les Private Pool villas sont conçues pour 2 personnes et 1 enfant. Les Enchanted Signature Villas peuvent accueillir 4 adultes et 2 enfants.  Les Owner's Signature Villa ont une capacité de 5 personnes (4 adultes et 1 enfant). Faites bien attention avant de choisir votre villa.
Les petits déjeuners sont INCROYABLES !
MA NOTE
Lieu : 10/10
Décoration : 10/10
Piscine : 10/10
Les environs de l'hôtel / appartement : 10/10
Les chambres : 10/10
La nourriture : 10/10
Spa : 10/10
Service : 10/10
Rapport qualité-prix : 10/10
Expérience globale : 10/10 (oui, c'était PARFAIT!)
Vous pouvez trouver toutes les informations nécessaires sur le site de JA Enchanted Island Resort.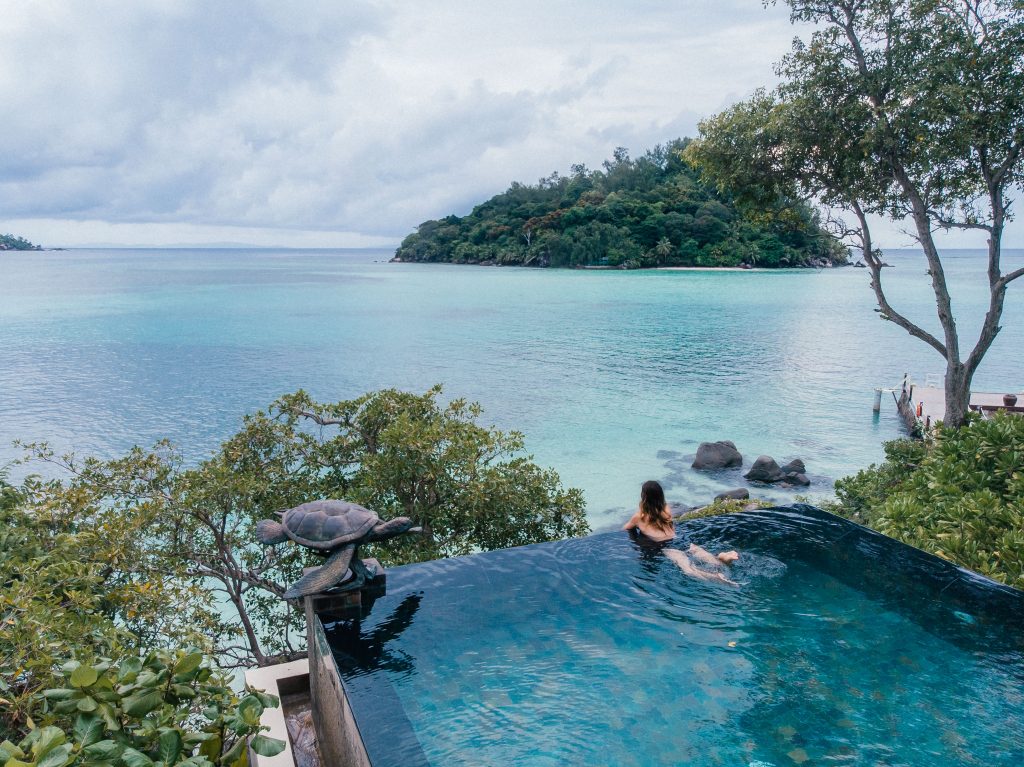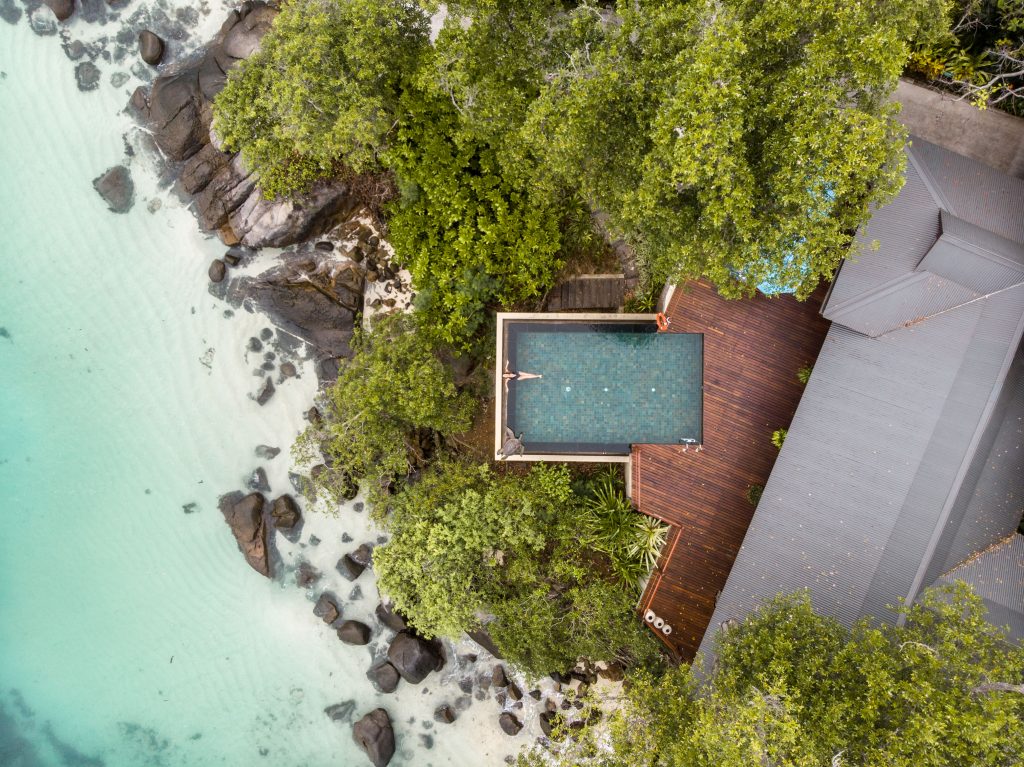 We had the pleasure to stay 1 night in a beautiful villa on the private Round Island in Seychelles. JA Enchanted Resort is a luxurious place of beauty surrounded by the Sainte-Anne Marine National Park. Located 15 minutes by boat from Mahé Island, JA Enchanted Island Resort has everything you need for a pleasant stay. We are completely in love with its creole charm.
——– (VERSION FRANÇAISE AVANT LES PHOTOS)
VILLAS
JA Enchanted Island Resort has 10 villas scattered on the small island of Round Island. For information, we had a Private Pool Villa. Each villa has an ocean view, there is no jealousy between customers haha. Built in harmony with nature and the ocean, all the villas have a private pool, an outside bathroom, a master bedroom and a terrace to enjoy the sun and eat with privacy. Each villa has private access to a small beach. On the bedroom side, the beds are equipped with pillows designed to guarantee a restful sleep (and that was really great!). As a luxury resort, you will have a 24/24 service, whatever you want. You will be amazed to find your shirts folded and your bed made after your dinner. The staff is incredibly attentive and won't leave you indifferent. Feel free to ask them about the place and things to do around, they will be happy to help you. 
EXPERIENCES
Upon arrival, the hotel offered to all customers 1 hour of treatment in the spa. The welcome is warm and the massages are incredible. This service is perfect for relaxing after long hours of flight or after hiking in the Seychelles mountains. The hotel also proposes yoga classes, boat trips at sunset, snorkeling sessions and can even arrange your wedding on the beach. Concerning the restaurant, the menu is varied. There is only one restaurant and that's enough. Don't forget there are 10 villas and about 15 people. Anyway, the menu changes from morning to evening, the dishes are divine and the cook will pay attention to all your requests (I am lactose intolerant … imagine!).
WHAT YOU CAN FIND AROUND ?
Moyenne Island and Long Island : great for snorkeling
Cerfs Island (there isn't just the one in Mauritius island haha)
Victoria, the capital of Seychelles, 15 minutes by boat
Ste Anne Marine National Park and Anse Cabot
MY OPINION
WHAT I LIKE
The warm welcome of the whole team, the little details and smiles of people
In the morning, you will be able to join the neighboring island on foot. With the low tide, a large sandbank is drawn on the ocean!
Impressive intimacy, 100% relaxation
WHAT YOU SHOULD KNOW BEFORE BOOKING
You will be on a private island, there is no direct access to other islands, except by boat or on foot during low tide (just for one island).
Private Pool Villas are designed for 2 people and 1 child. Enchanted Signature Villas can accommodate 4 adults and 2 children. Owner's Signature Villa has a capacity of 5 people (4 adults and 1 child). Be careful before choosing your villa.
The breakfasts are AMAZING!
RATE
Location: 10/10
Decoration: 10/10
Pool: 10/10
The surroundings of the hotel / apartment: 10/10
Rooms: 10/10
Food: 10/10
Spa: 10/10
Service: 10/10
Value for money: 10/10
Overall experience: 10/10 (yes it was perfect!)
You can find all the information on the JA Enchanted Island Resort website.
Ophélie M-G