Cet article sera le dernier de la série du Maroc (jusqu'à ce que j'y retourne bien sûr) avant de passer à la Réunion. Aujourd'hui, on s'intéresse aux ville proches de Merzouga et du Sahara. Nous nous sommes arrêtés à Tinghir et Aït Ben Haddou. Pas de VS ici, les deux valent vraiment le coup de s'y arrêter. Voici le résumé. 
——– (ENGLISH VERSION AFTER THE PICTURES)
COMMENT Y ALLER ? PRIX ?
Pour se rendre à Tinghir et Aït Ben Haddou, nous avons loué une voiture à Marrakech. Notre périple a débuté par un arrêt à Aït Ben Haddou, avant de dormir une nuit dans le désert et de revenir sur nos pas par Tinghir avant de passer une dernière nuit à Marrakech.
À savoir : ne vous lancez pas dans un parcours non préparé. Le temps de trajet est d'environ 5 heures pour se rendre jusqu'à Aït Ben Haddou et 4 heures du désert à Tinghir. Prévoyez des bouteilles d'eau ! Il vous arrivera parfois de rouler pendant des dizaines et des dizaines de minutes avant de tomber sur un restaurant ou une pompe à essence.
Au final, comptez environ 130 euros la location de la voiture pour 4 jours et 3 pleins d'essence.
À FAIRE ? LES INCONTOURNABLES
Aït Ben Haddou
Arrivés dans la cité d'Aït Ben Haddou (province de Ouarzazate), vous n'allez pas en revenir ! Le décor est stupéfiant. Perso, je me suis enclenchée en mode Game of Thrones à fond pendant la journée (d'ailleurs je viens tout juste de voir que la cité avait été utilisée pour la saison 3 en 2013). Les paysages sont très secs et les maisons sont montées de toutes pièces en terre. Entourés de murailles, ce village a été classé au Patrimoine Mondiale de l'UNESCO. Une journée est suffisante pour visiter la cité. Perdez-vous dans les petites ruelles, flâner dans les boutiques artisanales berbères, buvez un thé devant une vue incroyable et montez jusqu'au sommet de la cité.
Tinghir
Située dans la vallée du Todgha, Tinghir est une immense oasis. Elle s'étend sur plus de 30 km. Vous allez donc pouvoir voir de nombreux palmiers au milieu d'une forte sécheresse. Ici coule la rivière de Todgha. Prenez votre voiture et allez admirer les gorges de Todgha, elles sont incroyables. Encore une fois, on se sent minuscule face à cette immense nature. Lors de votre trajet en direction des gorges, faites quelques arrêts sur les parkings pour admirer la vue. Le spectacle est saisissant.
L'HÉBERGEMENT
Kasbah Valentine, Aït Ben Haddou
À la fin de la journée, là où vous dormez est très important. La Kasbah Valentine est l'endroit parfait pour faire une pause avant de reprendre la route le lendemain matin. Elle se situe à 10 minutes à pieds de la cité. Un thé vous attend à votre arrivée, le personnel est accueillant et les repas sont fabuleux. Le tajine que j'ai mangé est l'un de mes préférés de tout le voyage. Au coucher du soleil, allez sur la terrasse panoramique. La vue sur la cité est incroyable. La nuit, il est même possible d'admirer les étoiles. La Kasbah dispose d'une wifi, de chambres confortables et décorées à la perfection. Vous disposez également d'une salle de bains privée. Le prix des chambres est à partir de 30 euros la nuit. La Kasbah Valentine propose également des programmes d'excursions, à voir directement sur place ou par mail avec le propriétaire.
Hôtel Tomboctou, Tinghir
Vous rêvez de séjourner dans une ancienne Kasbah en terre crue ? Rendez-vous à l'hôtel Tomboctou à Tinghir, ancienne demeure du cheikh Bassou. Vous serez accueillis à l'arrivée par Roger Mimó, écrivain espagnol et Edi Kunz. L'hôtel se compose de 16 chambres, accueillantes et confortables, décorées dans des tons chauds. Ici c'est un mélange de produits artisanaux africains et marocains. D'ailleurs, tout ce que vous voyez accrochés sur les murs peut être achetés. Au centre de la Kasbah se trouve une piscine, le bonheur au Maroc qu'on se le dise. L'atmosphère ici est chaleureuse, digne d'une vraie oasis. L'hôtel dispose également d'un restaurant où il est possible de prendre le petit-déjeuner, déjeuner et dîner. Les plats sont incroyables. D'ailleurs, il n'y a pas un seul restaurant au Maroc qui m'a déçue. J'ai goûté l'omelette au fromage et le tajine au poulet citron, un délice !
COLLECTION DE PHOTOS TINGHIR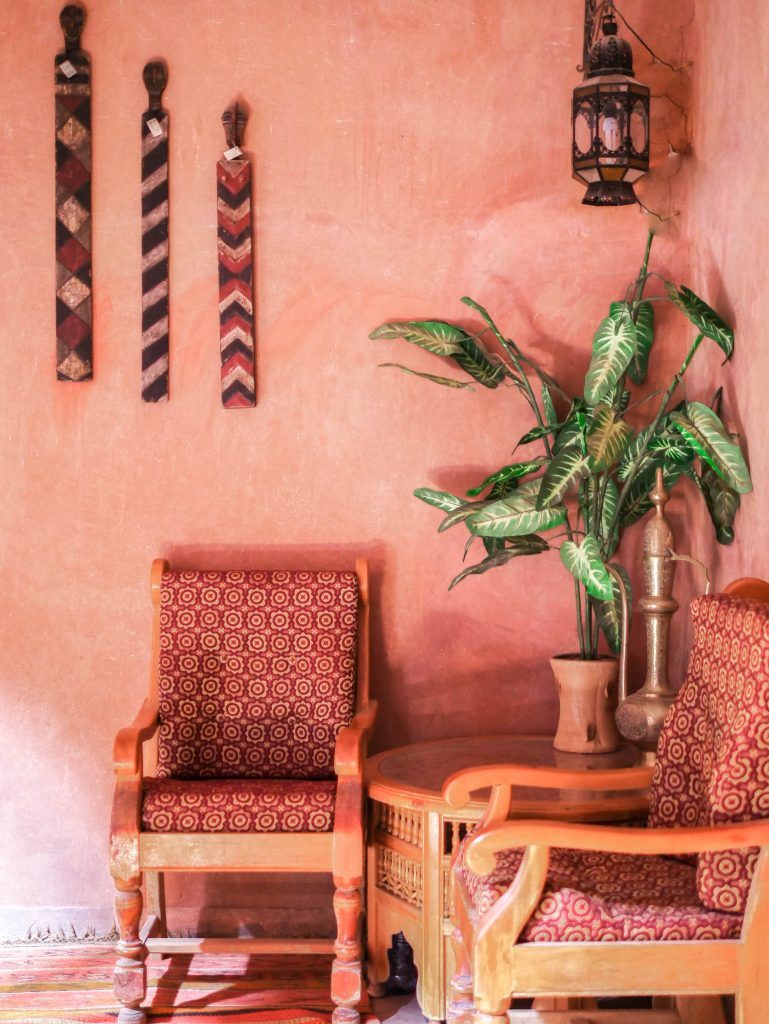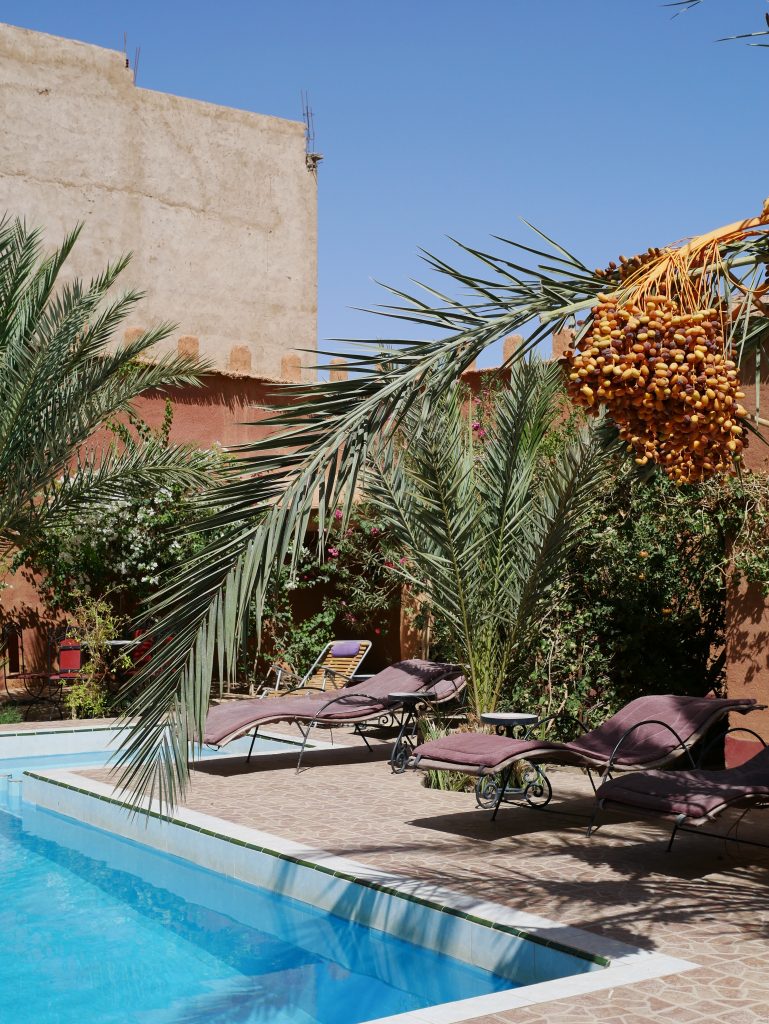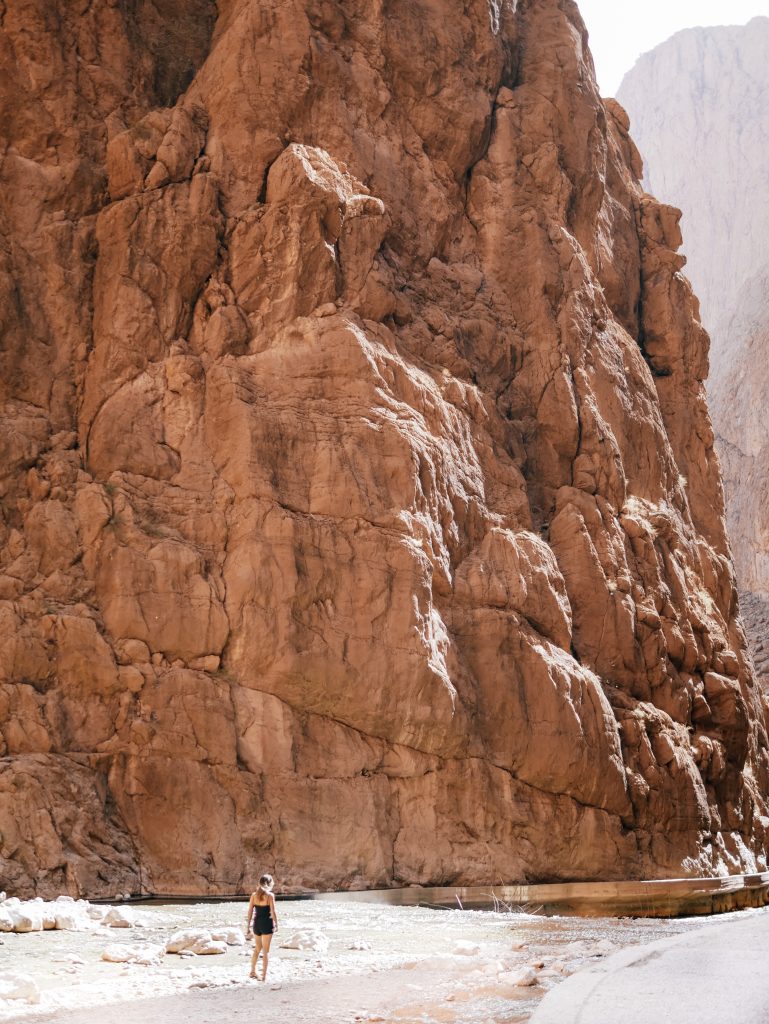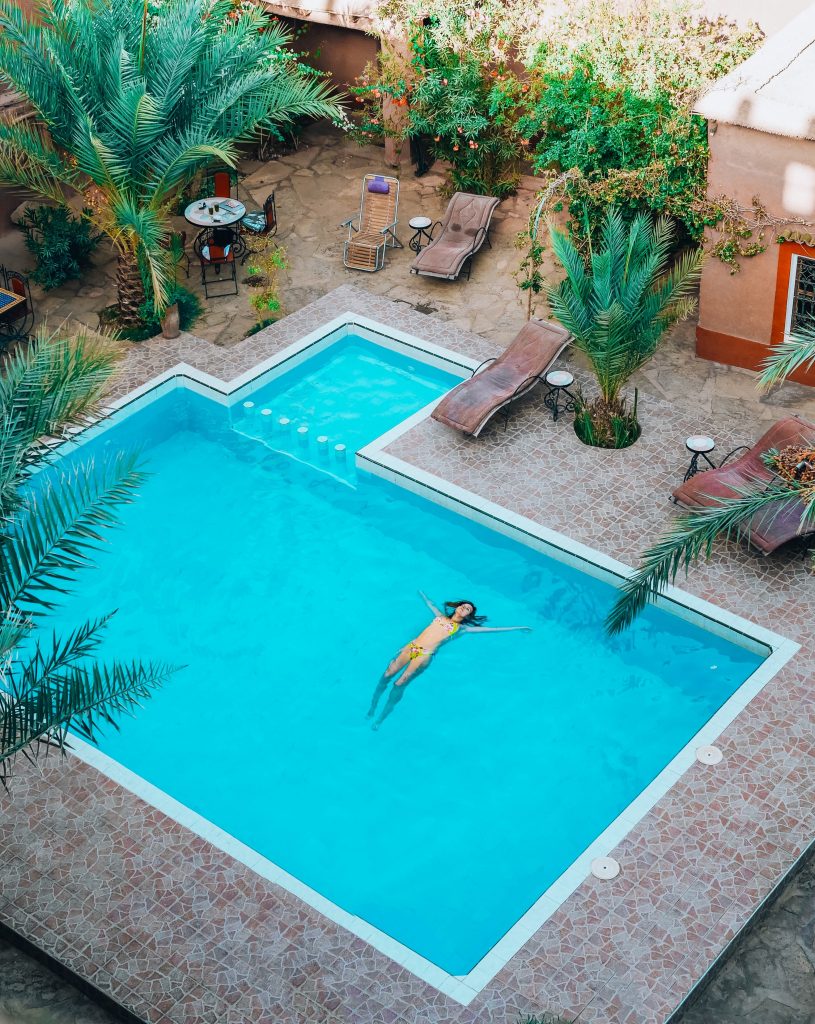 COLLECTION DE PHOTOS AÏT BEN HADDOU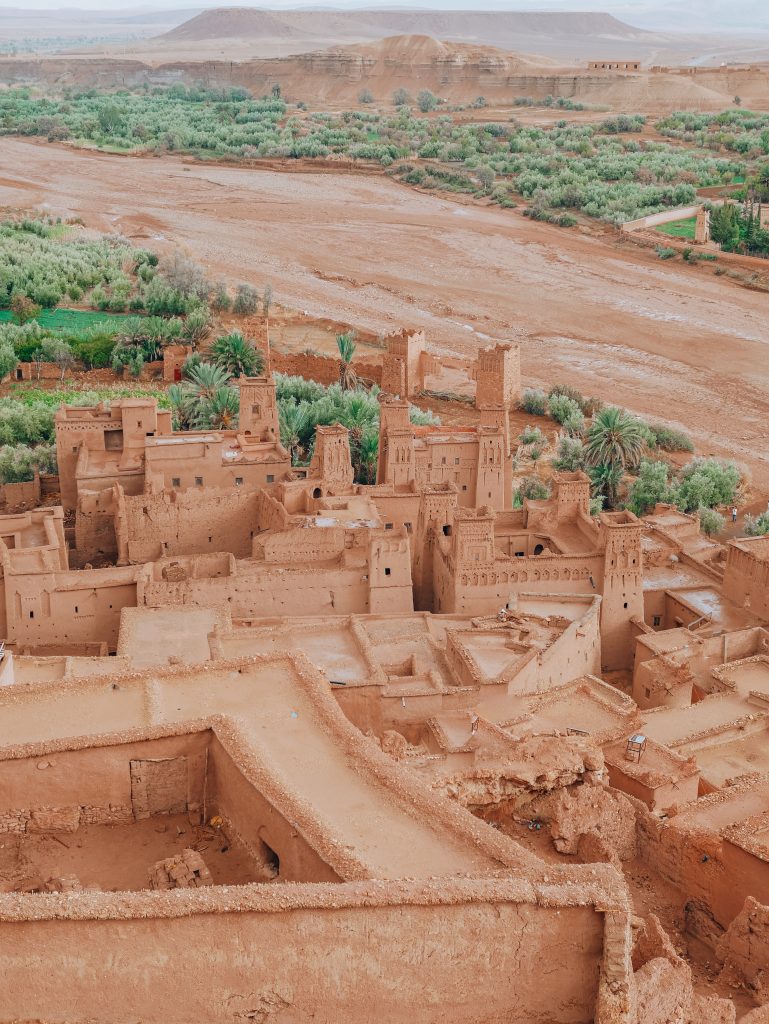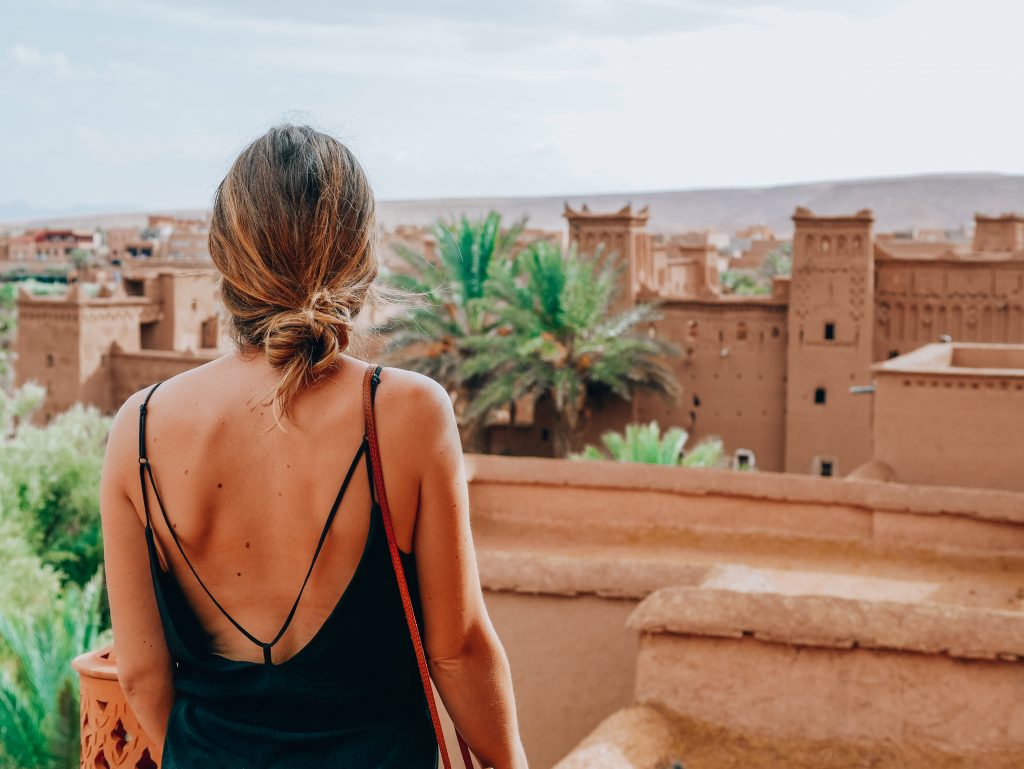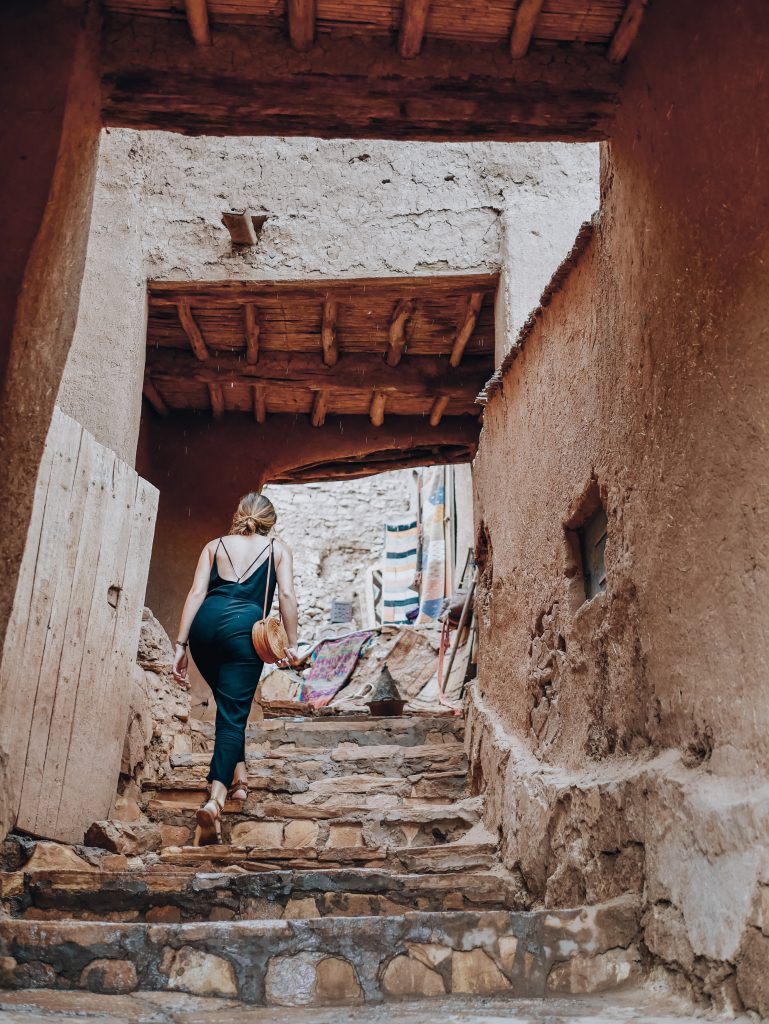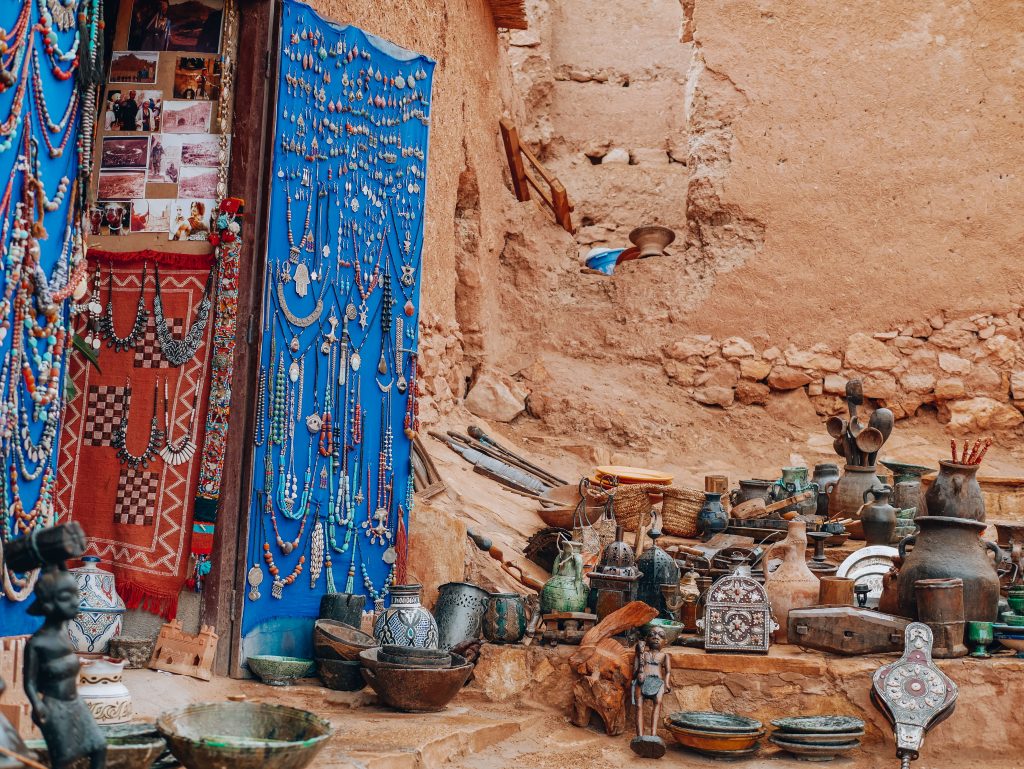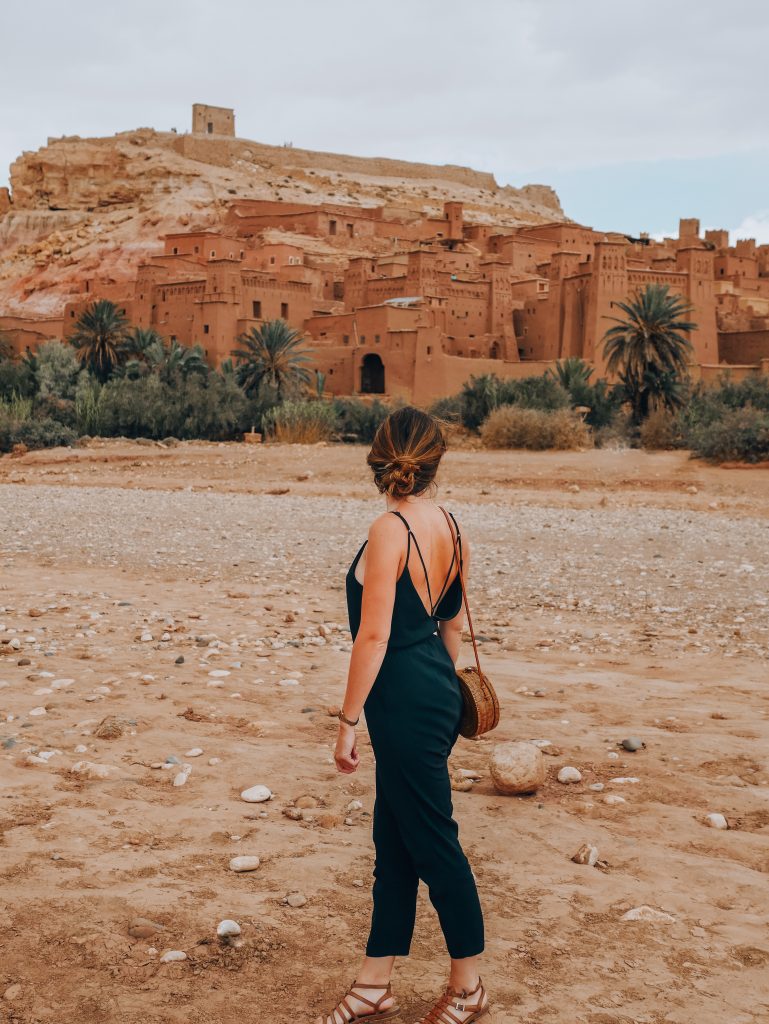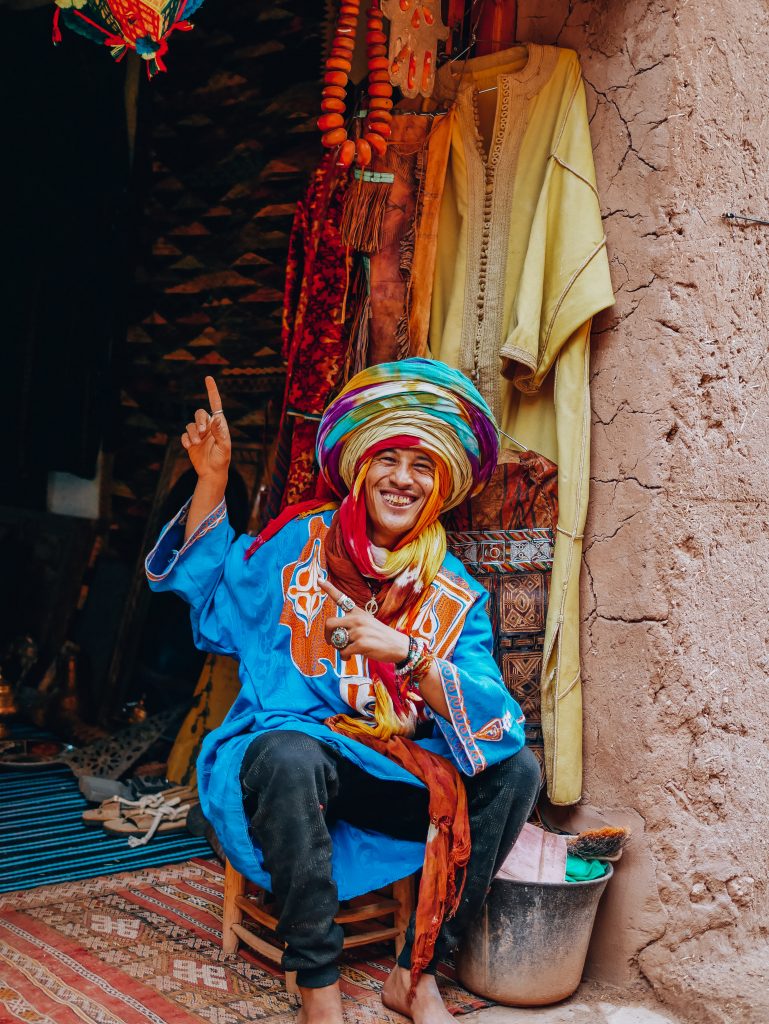 This article will be the last of Morocco (until I return there of course) before to present you the island of Reunion. Today, we will talk about the cities around Merzouga and Sahara. We will make a stop in Tinghir and Ait Ben Haddou. No battle or competition here, both are worth a stop. Read below to have all your answers about it.
HOW TO GET THERE ? PRICE?
To get to Tinghir and Ait Ben Haddou, we rented a car in Marrakech. Our journey began with a stop at Ait Ben Haddou, before sleeping one night in the desert and go back in Marrakesh by Tinghir.
To know: don't start your way unprepared ! The journey time is about 5 hours to get to Ait Ben Haddou and 4 hours from the desert to Tinghir. Take some bottles of water with you! Sometimes you'll be driving for hours before you find a restaurant or a gas pump.
At the end, count about 130 euros renting the car for 4 days and 3 full of gas.
TO DO ?
Ait Ben Haddou
The city is so stunning! The decor is amazing. Personally, I thank about Game of Thrones during all the day (besides I just saw that the city had been used for season 3 in 2013). The landscapes are very dry and the houses are built with earth. Surrounded by walls, this village has been classified as World Heritage by UNESCO. A day is enough to visit the city. Lose yourself in the narrow streets, walk through the Berber craft shops, drink tea in front of an incredible view and hike to the top of the city (just a few minutes by walk).
Tinghir
Located in the Todgha valley, Tinghir is a huge oasis. It extends for more than 30 km. You will be able to see many palm trees in the middle of a dry area. Here flows the Todgha River. Take your car and go to the Todgha gorges, they are incredible. Once again, we feel really tiny around this immense nature. On your way to the gorges, make a few stops to admire the view. The show is breathtaking.
ACCOMMODATION
Kasbah Valentine, Ait Ben Haddou
At the end of the day, where you sleep is very important. The Kasbah Valentine is the perfect place to take a break before heading back the next morning. It is located 10 minutes walk from the city. A tea awaits you on arrival, the staff are welcoming and the meals are fabulous. The tajine I ate is one of my favorites of the whole trip. For the sunset (or sunrise), go to the panoramic terrace. The view of the city is amazing. At night, it's even possible to admire the stars. The Kasbah has wifi, comfortable and pretty decorated rooms. You also have a private bathroom. The price of rooms is from 30 euros per night. The Kasbah Valentine also offers excursion programs. Talk directly with the owner to know more about it.
Tomboctou Hotel, Tinghir
Do you dream of staying in an old Kasbah made with earth? Go to the Tomboctou hotel in Tinghir, former residence of Sheikh Bassou. You will be welcoming by Roger Mimó, Spanish writer and Edi Kunz. The hotel has 16 rooms, welcoming and comfortable, decorated in warm tones. Here it's a mixture of African and Moroccan handicraft products. By the way, anything you see on the walls can be bought. In the center of the Kasbah you can find a pool, such a good point for Morocco (it's really hot during the summer). The atmosphere here is warm, worthy of a true oasis. The hotel also has a restaurant where it is possible to have breakfast, lunch and dinner. The dishes are incredible. Besides, there is not a single restaurant in Morocco that disappointed me. I tasted the cheese omelette and the lemon chicken tajine, a delight!
O. M-G