Après avoir passé plusieurs jours à Marrakech et dans le désert, nous sommes partis en direction de Casablanca, située à environ 3 h au nord de la Ville Rouge. Au programme : visite de la Medina, découverte de la mosquée Hassan II, dîner au 7e ciel et pause détente au Kenzi Sidi Maarouf Hotel. 
——– (ENGLISH VERSION AFTER THE PICTURES)
Casablanca, aussi appelée "la Ville Blanche" est la capitale économique du Royaume du Maroc. Elle est bordée par l'Océan Atlantique à l'ouest. En plus d'être l'une des villes les plus modernes du Maroc, c'est aussi l'une des plus incroyables, la plus dynamique et la plus grande. Tout au long de l'année, vous allez pouvoir assister à des évènements variés. Resto et bars branchés, Medina, mosquées… Vous ne risquez pas de vous ennuyer !
COMMENT Y ALLER ? PRIX ?
Deux possibilités s'offrent à vous lorsque vous souhaitez vous rendre à Casablanca.
La première : vous souhaitez faire un court séjour dans la ville, vous choisirez donc l'option avion Paris – Casablanca pour environ 200 €. Air France vous propose des vols directs d'environ 3 h, au départ de Paris CDG et à destination de l'aéroport international Mohammed V.
La seconde : vous décidez de faire un petit tour du Maroc, comme nous l'avons fait. Après avoir visité Marrakech, vous prendrez un train en direction du centre de Casablanca. Le train est à 4,50 €. Il y a environ 10 départs par jour, pas de quoi vous affoler quand aux horaires. Il vous faudra un peu moins de 4h pour arriver à destination. Le bus est aussi une alternative mais pour ceux qui ne seraient pas à l'aise, je vous conseille le train. En plus la 2e classe est plutôt agréable pour le prix.
À FAIRE ? LES INCONTOURNABLES
Nous ne sommes restés que 2 jours à Casablanca, voici notre programme :
La Mosquée Hassan II : c'était l'une des choses que je ne voulais absolument pas manquer. Et en effet… ça valait vraiment le coup. À l'extérieur, c'est un feu d'artifices de couleurs, de mosaïques… Le minaret mesure environ 210 m de hauteur. Je me sentais toute petite en face de l'une des portes d'entrées pour tout vous dire. À l'intérieur, couvrez-vous et venez découvrir  la salle de prières, une salle d'ablutions, des bains, une école coranique, une bibliothèque et un musée. L'entrée coûte 12 euros.
L'ancienne Medina : à chaque ville marocaine sa Medina. Celle-ci était plutôt petite et calme, comparée à l'extérieur du vieux centre-ville. Comme toute Medina, je vous conseille de vous perdre dans les allées. Vous allez pouvoir y faire d'étranges découvertes.
La nouvelle Medina, dans le quartier des Habous : ne manquez pas cette jolie partie de la ville. Encore une fois, je n'ai pas d'endroits principaux à conseiller. Perdez-vous simplement dans les ruelles, admirez l'architecture des bâtiments et faites quelques pauses shopping dans les boutiques typiques marocaines. Vous pouvez aussi faire une halte au Palais Royal.
Un verre ou un dîner au Sky 28 : le Sky 28 est le bar lounge restaurant situé au 28e étage de la tour du Kenzi Tower Hotel. C'est la plus haute tour du Royaume. Vous allez pouvoir avoir une vue panoramique sur toute la Ville Blanche, de jour comme de nuit. Et le spectacle est saisissant. Nous sommes arrivés après le coucher du soleil aux alentours de 20H30 mais la vue vaut vraiment le détour en fin de journée pour admirer la lumière sur Casablanca.
L'HÉBERGEMENT
Adepte des dodos hors centre-ville, nous avons choisi l'hôtel Kenzi Sidi Maarouf pour nos 2 jours dans la capitale économique. Adoré par les voyageurs d'affaires, l'hôtel se situe dans le quartier Sidi Maarouf, à environ 20 minutes en voiture de la Medina. Les taxis ne sont pas chers au Maroc, il n'y avait donc aucun problème à choisir un hôtel en dehors du centre-ville.
Pour tout vous dire, celui-ci était l'un de mes préférés de tout le voyage. Style, couleur, design, services… Aucune fausse note, tout était simplement parfait. Les chambres sont spacieuses et confortables. Il y a 3 espaces de restauration, dont le Market, où est servi un buffet le midi et très souvent des plats à la carte le soir. Les plats sont variés et conviendront à toutes les papilles et types de personnalités. Ce que j'ai préféré ? Forcément… La magnifique piscine sur le toit de l'hôtel. Elle permet de se détendre après une longue journée de marche ou de travail. Il y a également un bar sur le toit, où vous pourrez vous rafraichir avec des cocktails et manger quelques tapas le soir. Bref, le toit est un endroit parfait pour admirer le coucher du soleil (voir les photos en bas de l'article). Enfin, allez vous détendre au spa de l'hôtel. C'est clairement celui que j'ai préféré pendant tout mon séjour au Maroc. Le personnel était très accueillant, le hammam est magnifique et les soins pour le visage sont incroyables !
Vous trouverez plus d'informations sur l'hôtel ici : www.kenzi-hotels.com/kenzisidimaarouf
COLLECTION DE PHOTOS CASABLANCA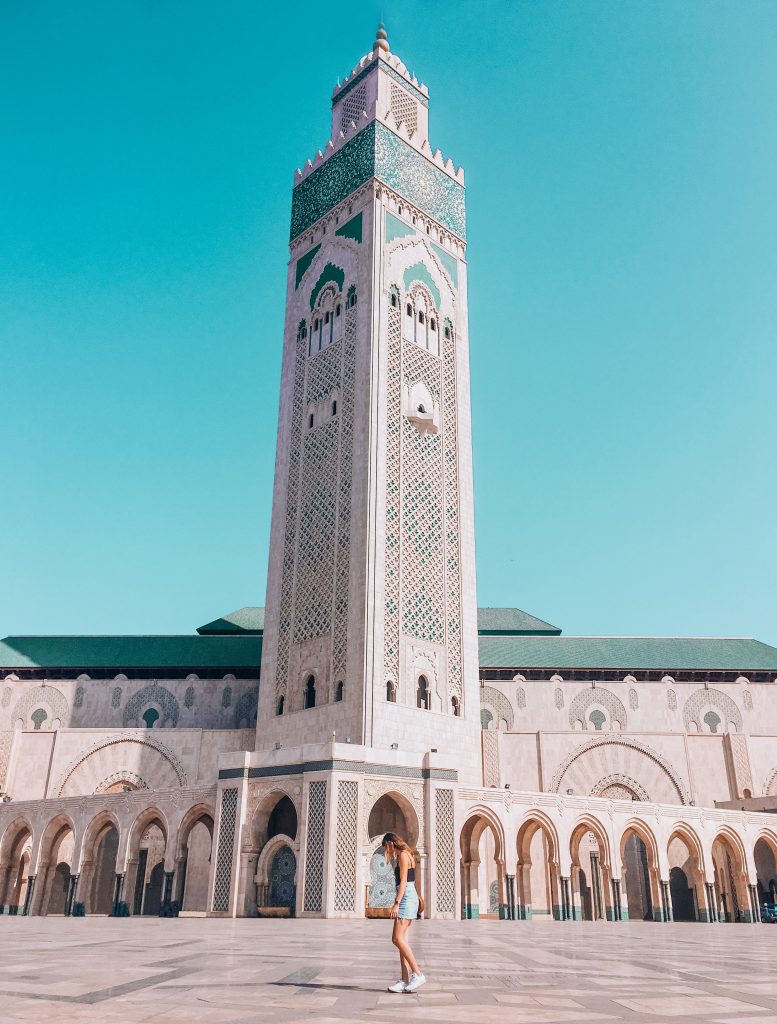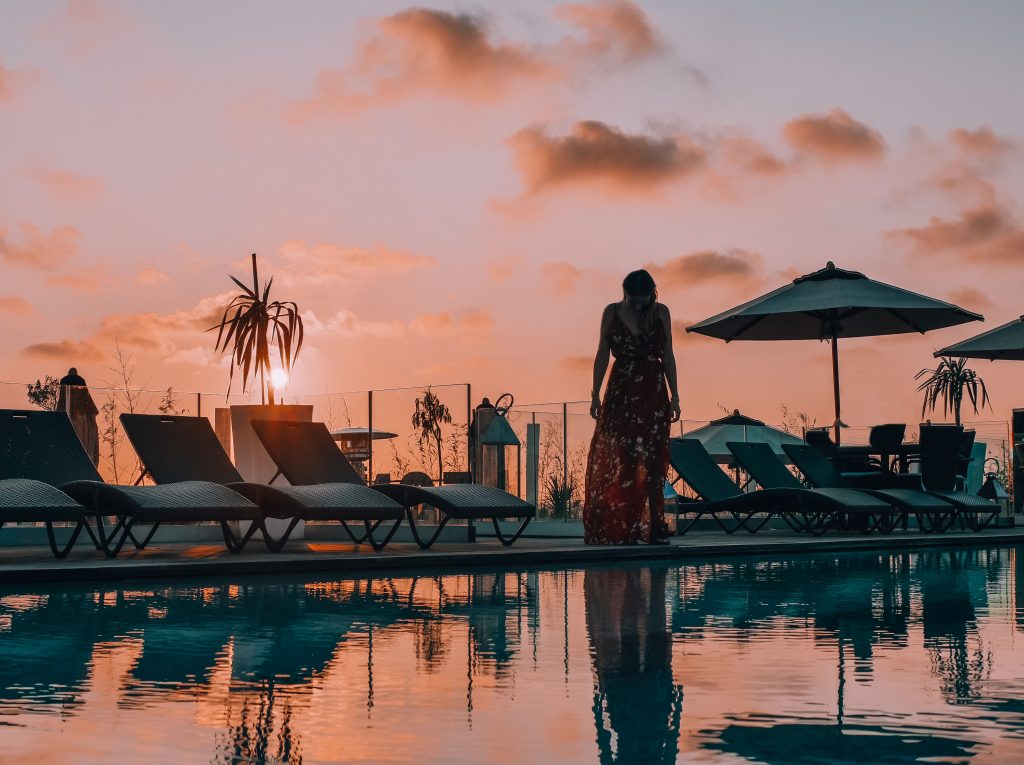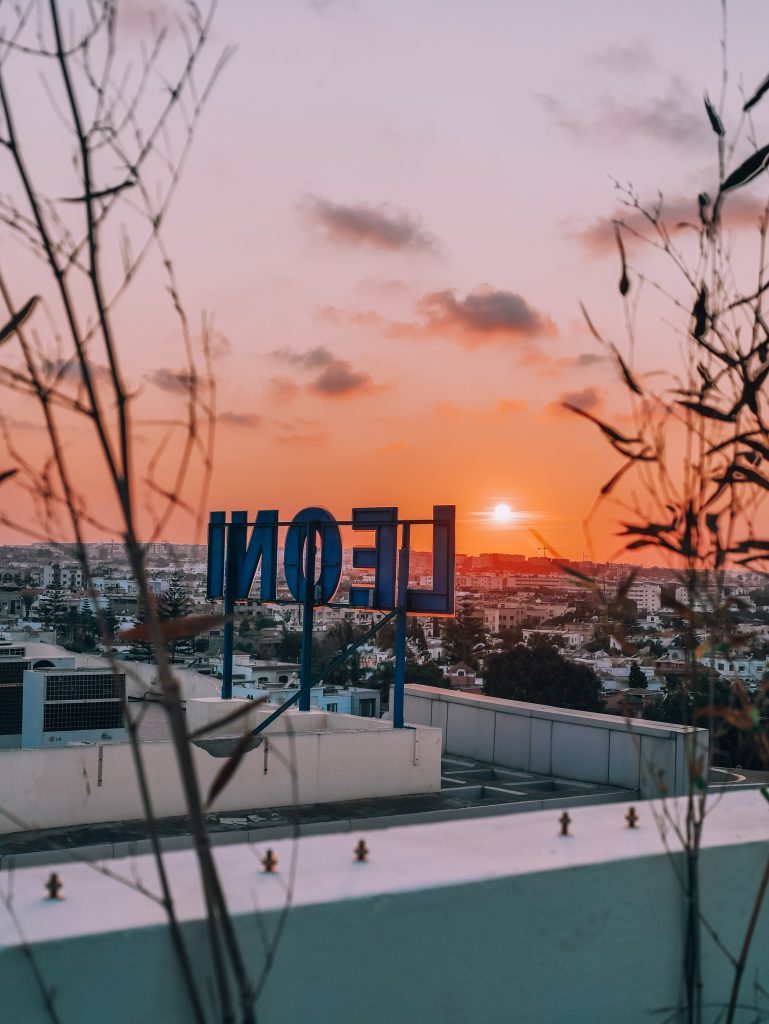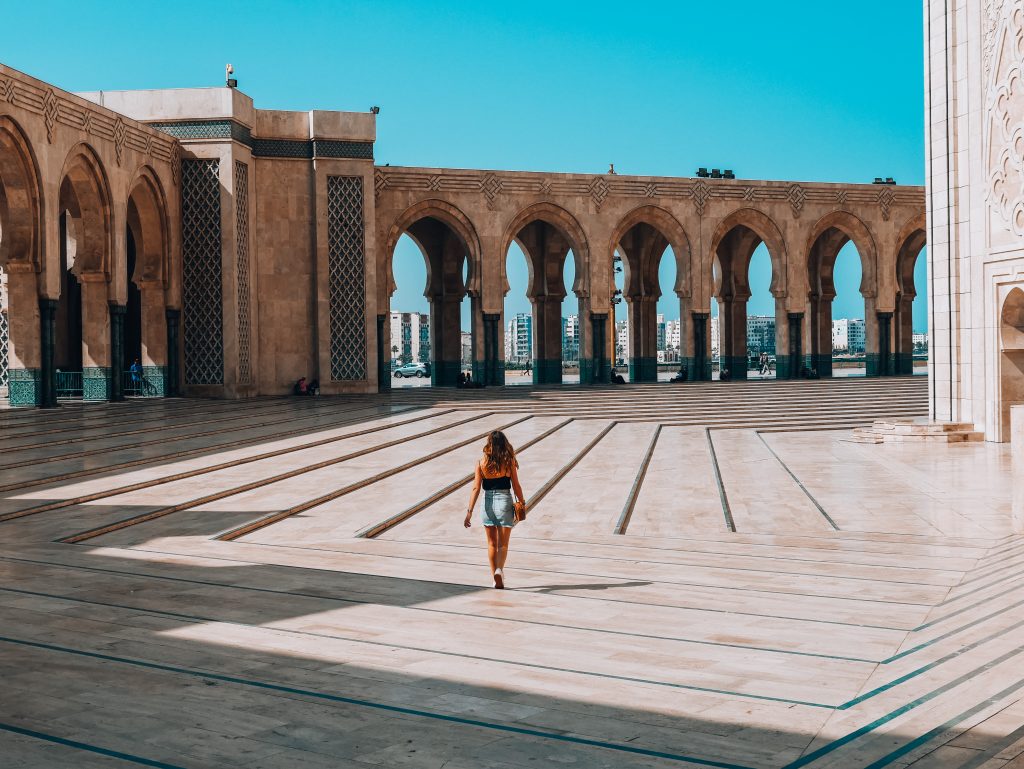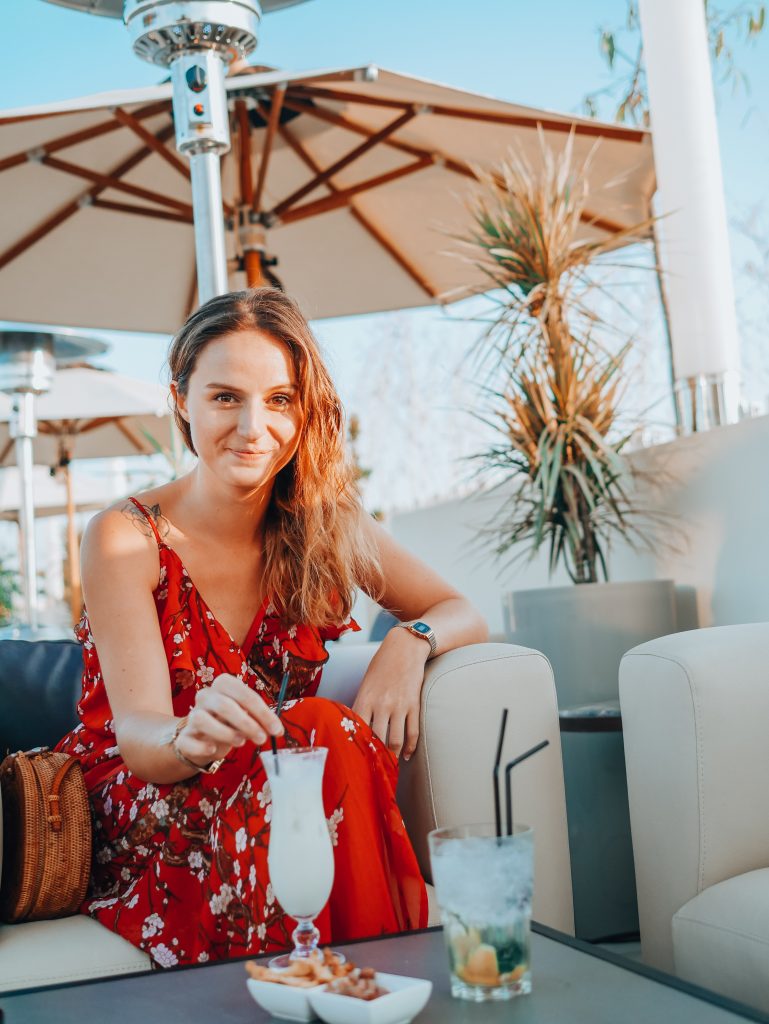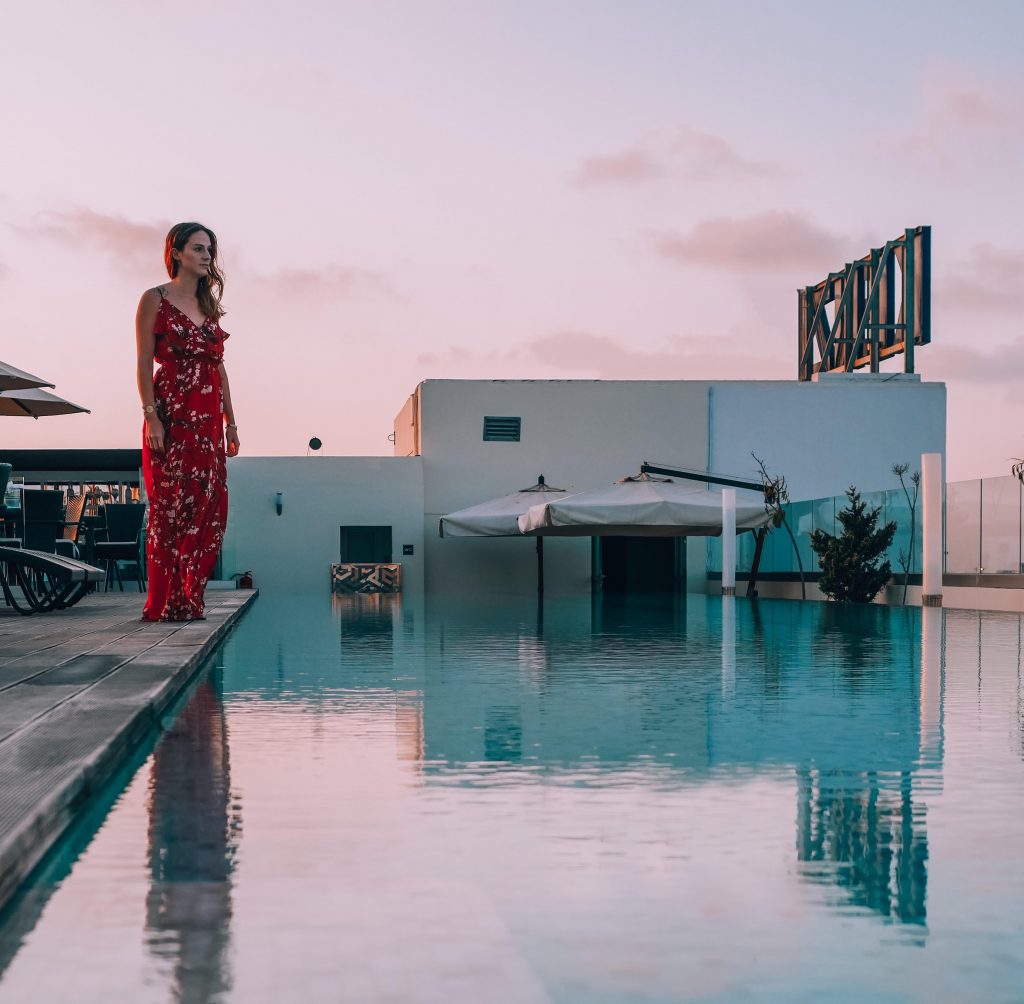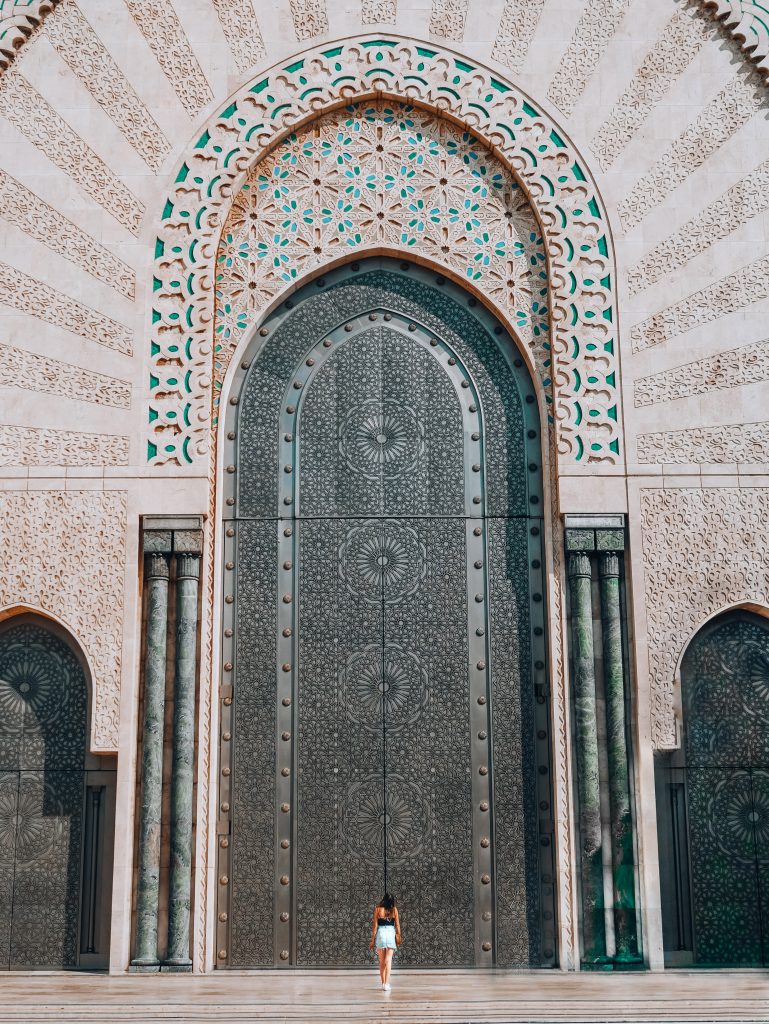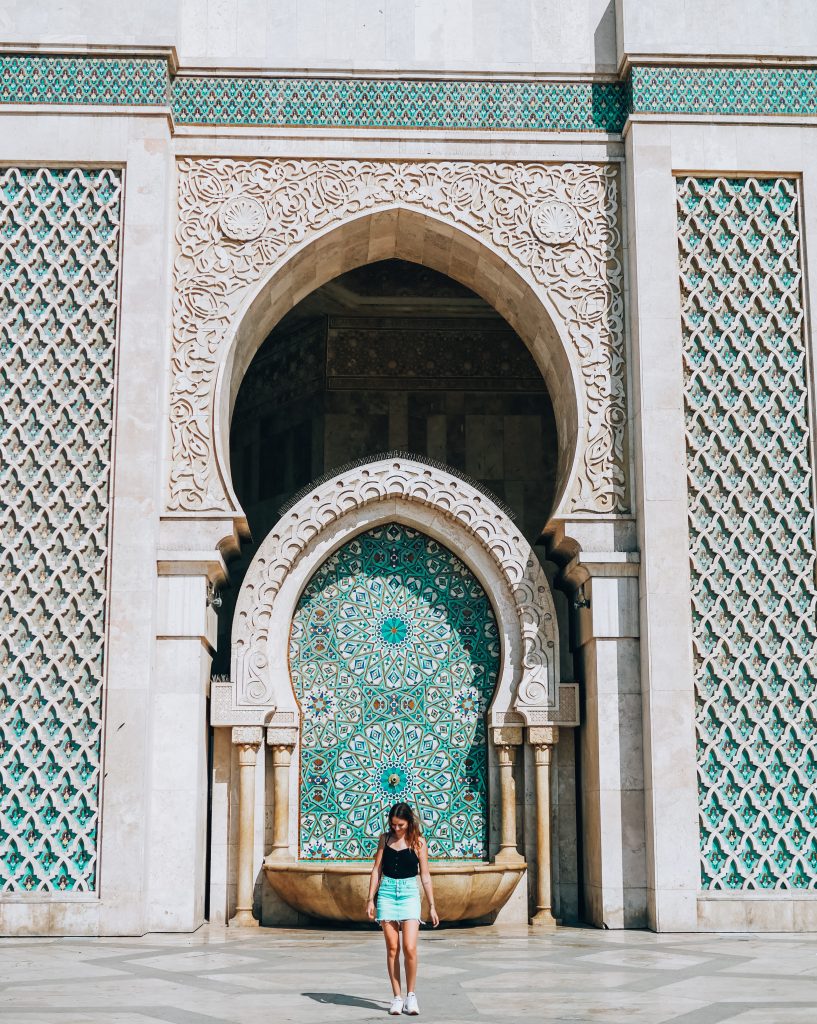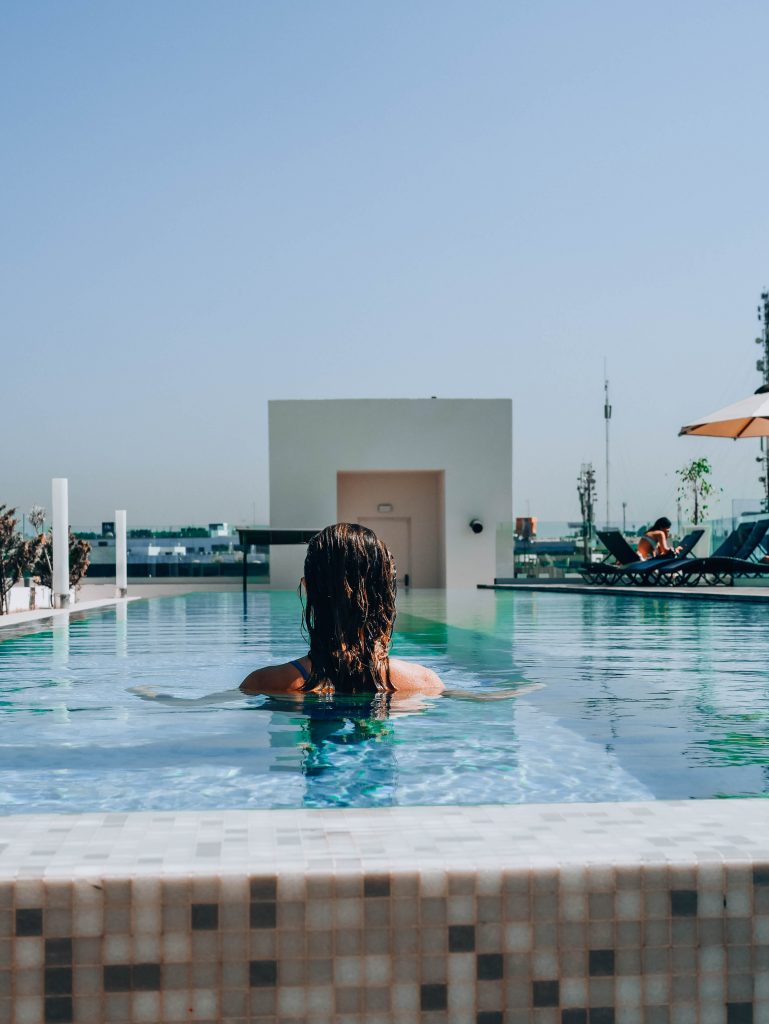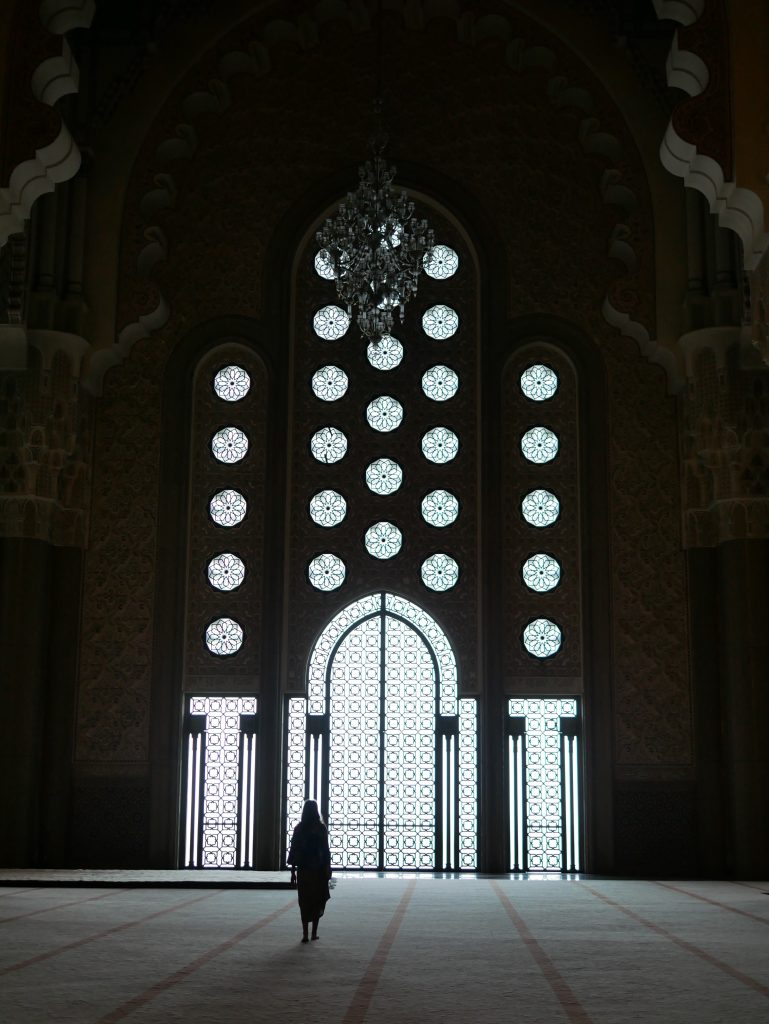 After a few days in Marrakech and in the desert, we left for Casablanca. This city is located about 3 hours north of the Red City. The program: Medina, the Hassan II mosque, dinner on the 7th heaven and break at the Kenzi Sidi Maarouf Hotel.
Casablanca, also called "the White City" is the economic capital of the Kingdom of Morocco. It's bordered by the Atlantic Ocean. In addition to being one of the most modern cities in Morocco, it's also one of the most incredible, the most dynamic and the largest. Throughout the year, you will be able to participate in various events. Restaurants and trendy bars, Medina, mosques … You will not be bored at all and you will love it!
HOW TO GO ? PRICE?
There are 2 options when you want to go to Casablanca.
The first one: you want to make a short travel in the city, so you will choose a flight to make Paris – Casablanca for about 200 €. Air France offers direct flights departing from Paris CDG and arriving at Mohammed V international airport. You have approximately 3 hours of flight.
The second one: you decide to make a little trip around Morocco, as we made. You can take a train from Marrakech to arrive in the center of Casablanca. The train is 4.50 €. There are about 10 departures a day, you don't have to be worried about schedules. It will take you a little less than 4 hours to reach your destination. The bus is also an alternative but for those who wouldn't be comfortable in buses, I recommend you the train. The 2nd class is pretty nice for the price.
TO DO ?
We only stayed 2 days in Casablanca, here is our program :
The Hassan II Mosque : it was one of the things I absolutely didn't want to miss. And indeed … it was well worth it. Outside, it's a fireworks of colors and mosaics. The top of the Mosque is about 210 meters high. I felt tiny in front of one of the doors. Inside, cover yourself and come to discover the prayer room, an ablutions room, baths, a Koranic school, a library and a museum. The entrance costs 12 €.
The old Medina: every Moroccan city has its Medina. This one was small and quiet, compared to outside of the old city center. Like any Medina, I advise you to get lost in the little streets. You will be able to make strange and beautiful discoveries 🙂
The new Medina, in the Habous district: don't miss this pretty part of the city. Again, I have no places to advise. Just lose yourself in the streets, admire the architecture of the buildings and make some shopping breaks in typical Moroccan shops. You can also stop at the Royal Palace.
A drink or a dinner at Sky 28: Sky 28 is the lounge bar restaurant located on the 28th floor of the Kenzi Tower Hotel. You will be able to have an amazing and panoramic view on the White City, during the day and the night. The show is startling. We arrived after the sunset around 8:30 pm but the view is definitely huge at the end of the day to admire the light on Casablanca.
ACCOMMODATION
We chose the Kenzi Sidi Maarouf for our 2 days in the economic capital. Adored by business travelers, the hotel is located in the Sidi Maarouf area, about 20 minutes by car from the Medina. Taxis are cheap in Morocco, so for us there was no problem choosing a hotel outside the city center.
To be true, this one was one of my favorites during the whole trip. Style, color, design, services … No false note, everything was just perfect. The rooms are spacious and comfortable. There are 3 dining areas, including the Market, where a lunch buffet is served during the lunch and few dishes during the evening. The dishes are varied and will suit all taste and personalities. What I preferred ? The beautiful pool on the rooftop. It allows you to relax after a long day of walking or working. There is also a rooftop bar where you can refresh yourself with cocktails and eat tapas during the evening. The roof is a perfect place to admire the sunset (you can see the pictures on the top). Finally, you can relax at the hotel's spa. It's clearly the one I preferred during my entire trip in Morocco. The staff were very welcoming, the hammam is beautiful and the facial treatments are amazing!
You can find more information about the hotel here: www.kenzi-hotels.com/kenzisidimaarouf
O. M-G