Il ne me reste plus que notre passage dans le désert à vous présenter. Je commence par notre nuit dans le Sahara, au Desert Luxury Camp.
——– (ENGLISH VERSION AFTER THE PICTURES)
COMMENT Y ALLER ? PRIX ?
Pour aller dans le désert, vous avez le choix entre :
louer une voiture à Marrakech : faire une pause à Aït Ben Haddou ou dans les gorges de Toudra pour vous séparer le trajet en deux. Au total, il vous faut environ 10 heures pour rejoindre la petite ville de Merzouga (Sahara). Prix : environ 130 euros pour 4 jours de location. Sur le chemin, vous allez pouvoir admirer les petits villages berbères, les montagnes de l'Atlas et les jolies étendues désertiques.
louer une voiture à Fès : nous avons préféré l'autre solution mais vous pouvez choisir un road trip de Fès à Merzouga, puis Marrakech, Essaouira…
en bus : des bus partent de Marrakech et Fès. Attention, le trajet se fait sur toute une journée. Les billets sont à 10 euros environ.
en avion : il existe deux aéroports, un à Ouarzazate et un à Errachidia, ce qui vous permet d'arriver au plus près du désert avant de continuer votre chemin en voiture.
À FAIRE ? LES INCONTOURNABLES
Pour ceux qui ont le budget et le temps, je vous conseille une excursion en 4×4 sur 4 jours et 3 nuits. Nous, nous sommes restés une nuit dans un camp, à 1 heure de voiture du village de Merzouga. Au programme : sandbord, lecture, coucher et lever du soleil, nuit sous un ciel clair et étoilé, petite balade en chameau, diner typique et chants berbères au coin du feu. Généralement, lors que vous réservez votre nuit dans un camp, les propriétaires viendront vous chercher directement dans le village de Merzouga. Vous pourrez laisser votre voiture dans un endroit sûr, aucun problème.
L'ambiance dans le désert est vraiment particulière, tellement calme et paisible. Que ce soit pour le lever ou le coucher du soleil, vous en prendrez plein les yeux.
L'HÉBERGEMENT
Nous avons dormi une nuit au Desert Luxury Camp. L'accueil était parfait. Nous avons commencé par une balade en chameau de 45 minutes avant de boire un thé à la menthe en face des grandes dunes de sable. Alessio a ensuite joué avec la planche de sandboard et je me suis posée dans un hamac avec un livre.
Les tentes du camp sont très spacieuses, vous y trouverez un grand lit, un coin salon, une douche et des toilettes. Petit conseil : il fait très chaud pendant la journée, laissez l'entrée ouverte pour éviter d'étouffer le soir. Les nuits sont plutôt fraiches dans le désert, vous dormirez comme des bébés.
Côté activités, vous allez pouvoir goûter à un délicieux dîner dans la tente principale avant de vous allonger au coin d'un feu pour écouter des chants berbères. Les musiciens vous proposent même d'essayer les différents instruments. Plus chaleureux ? On ne peut pas faire ! C'était simplement parfait.
COLLECTION DE PHOTOS DESERT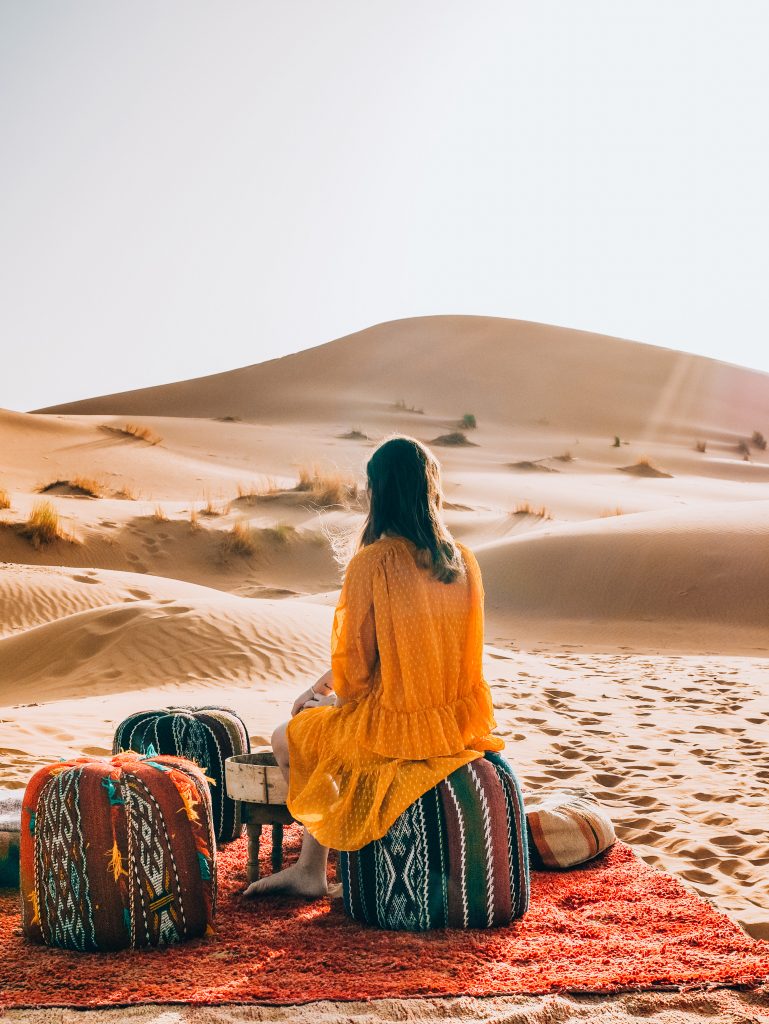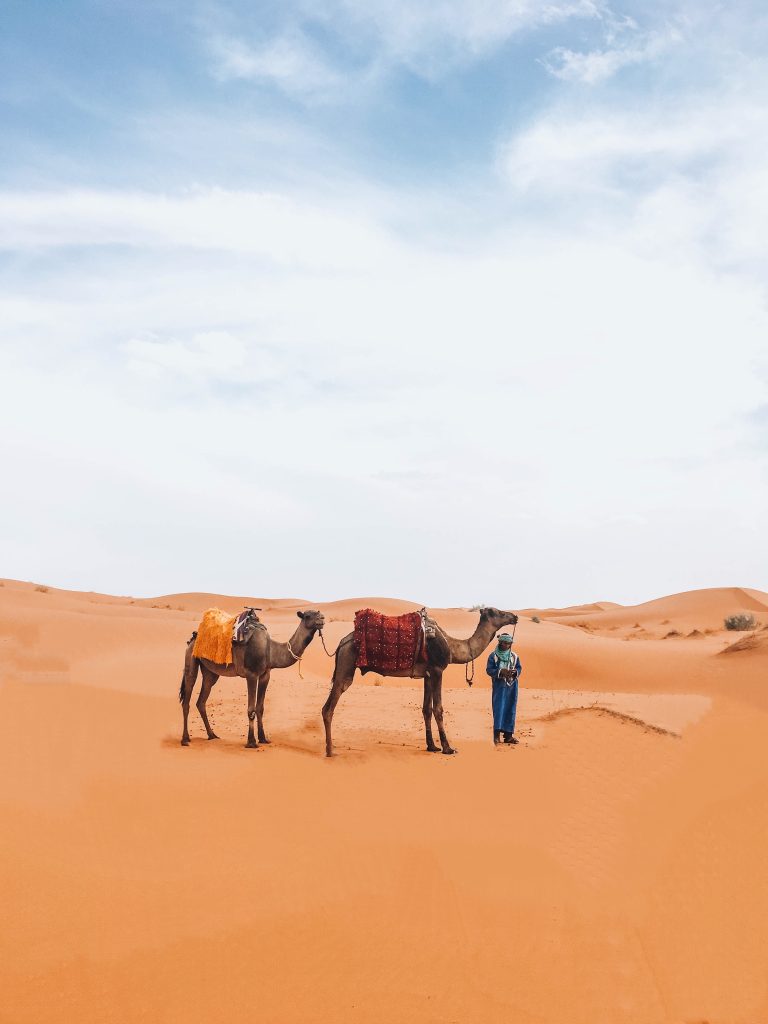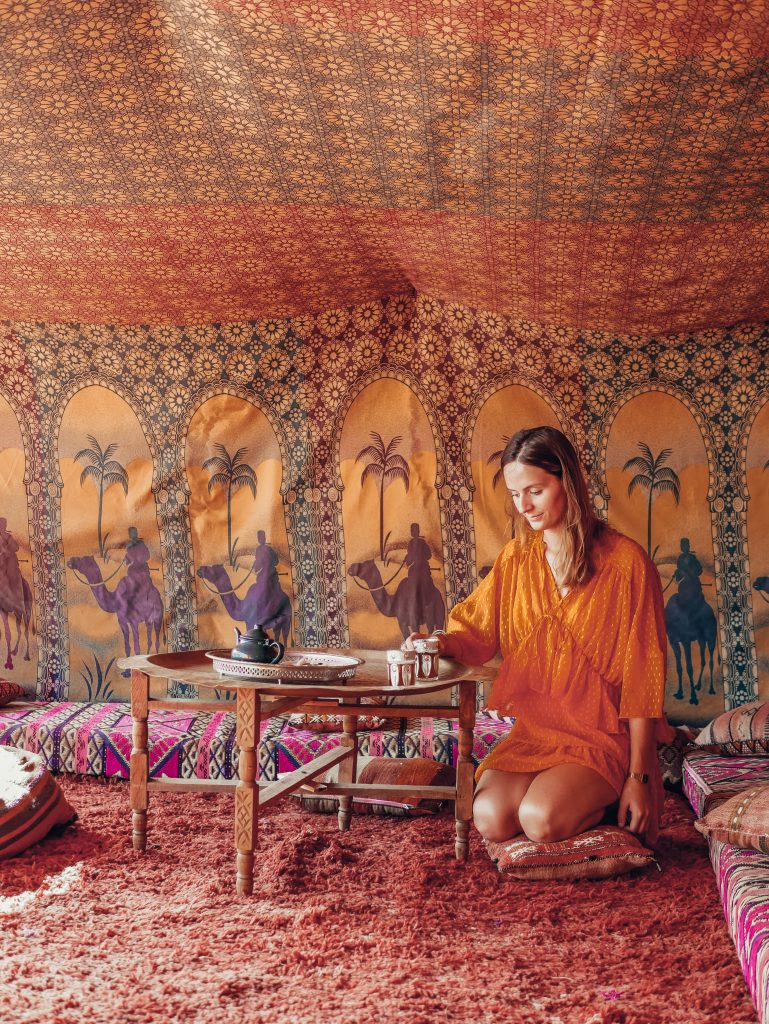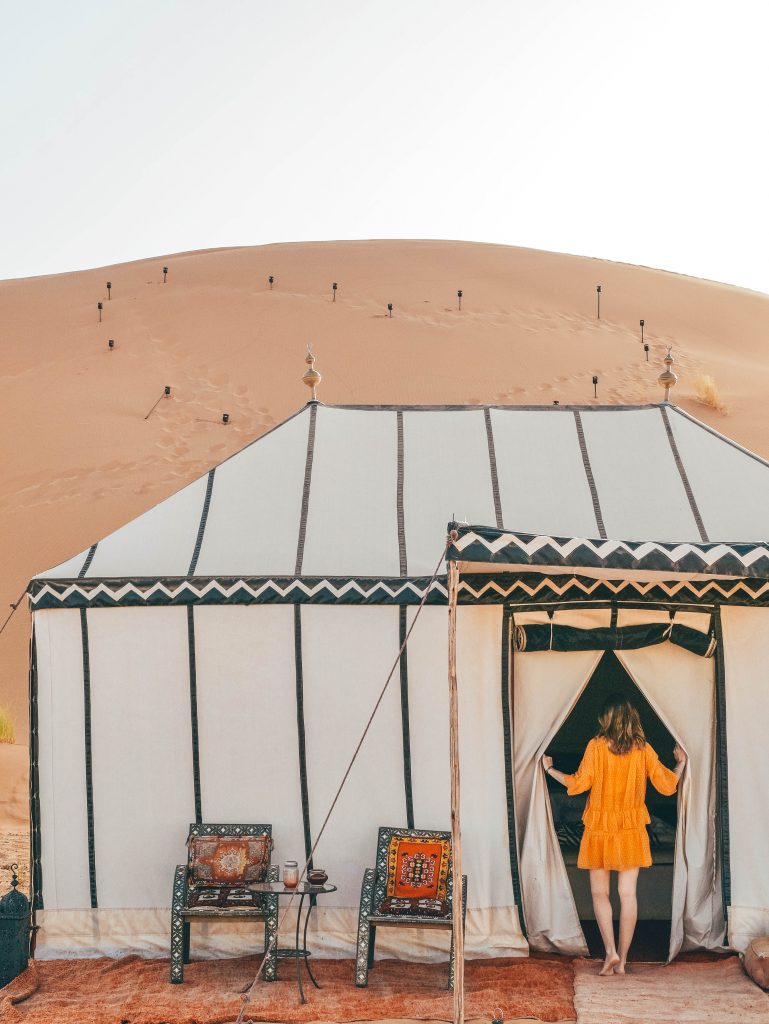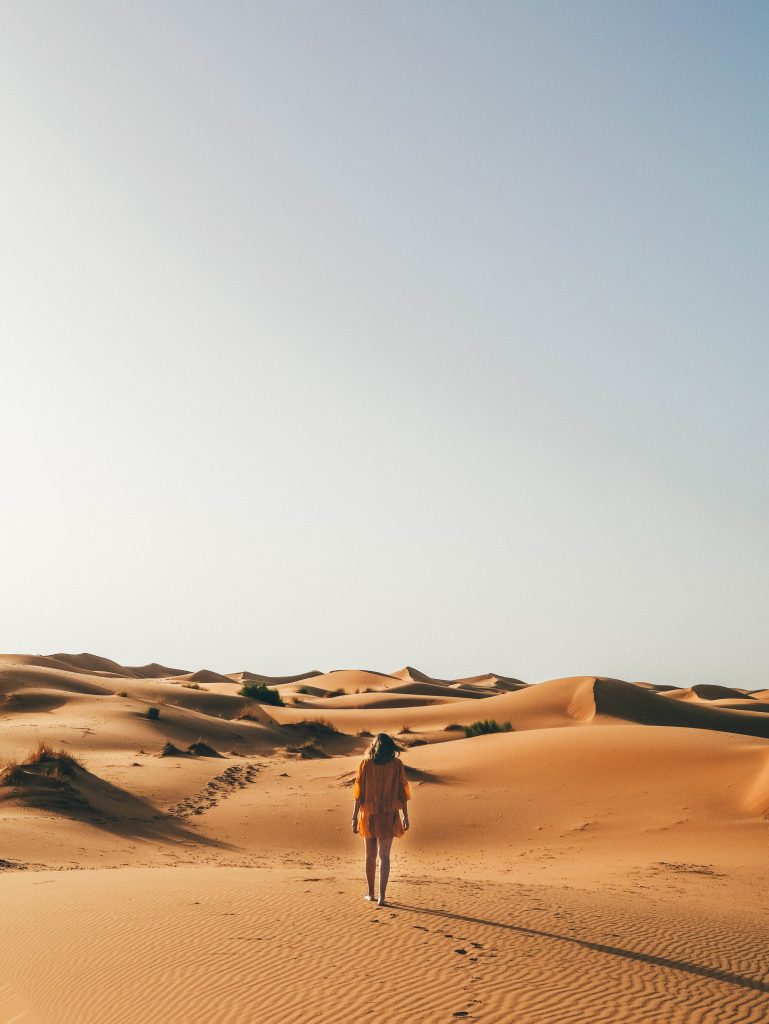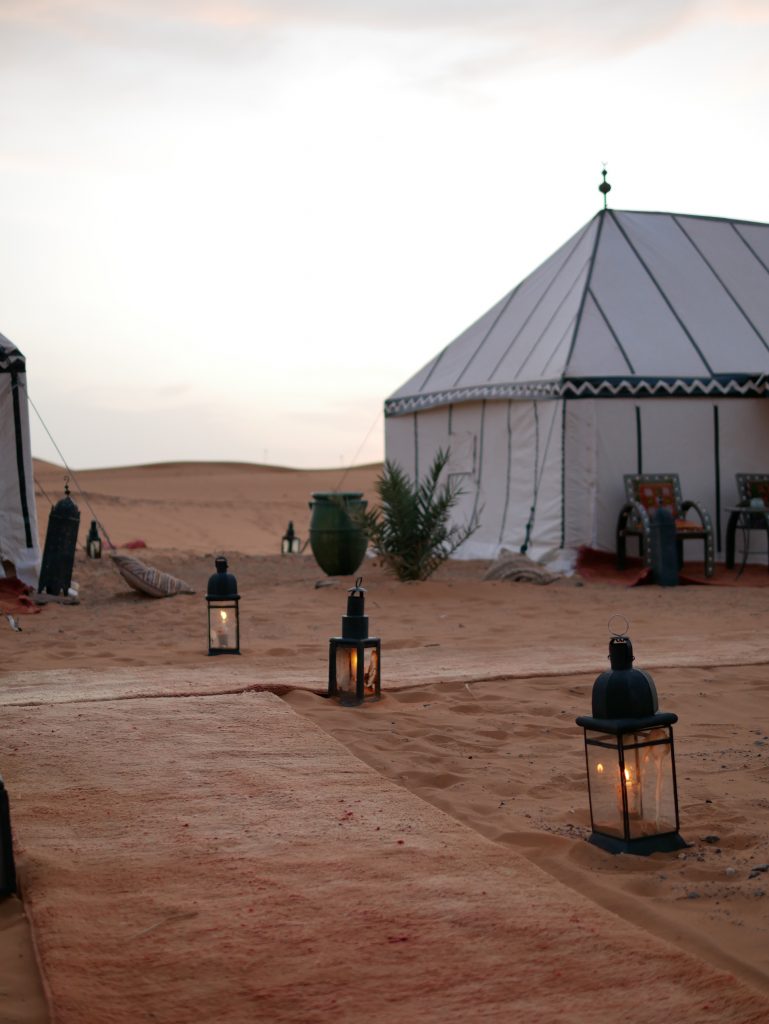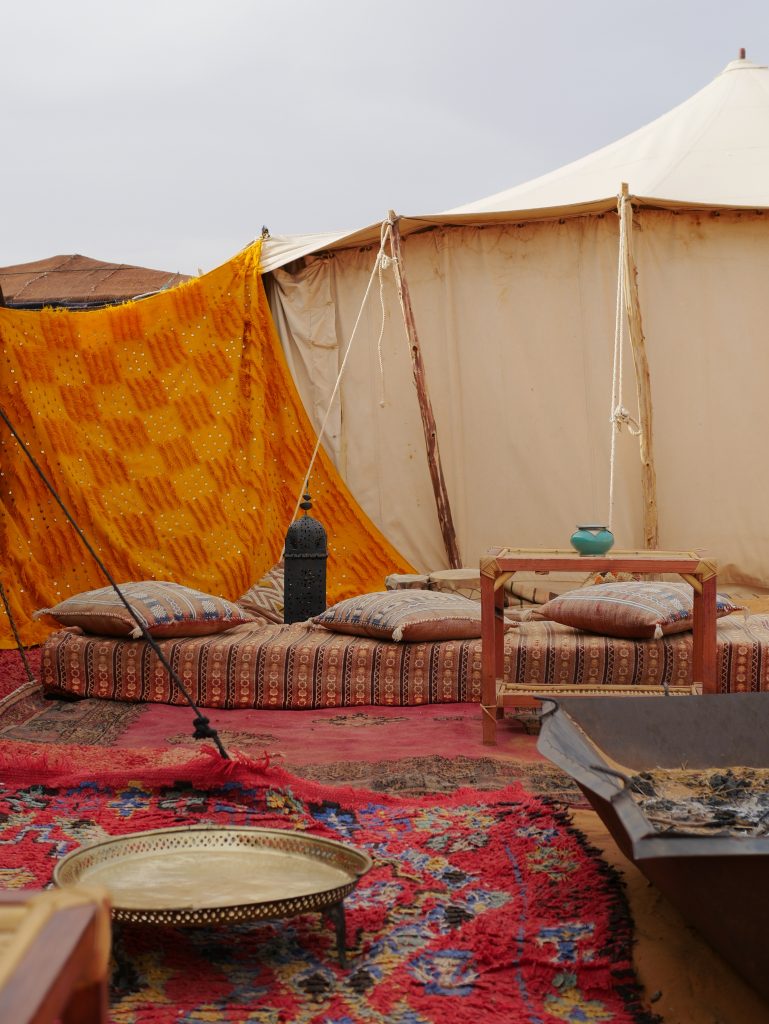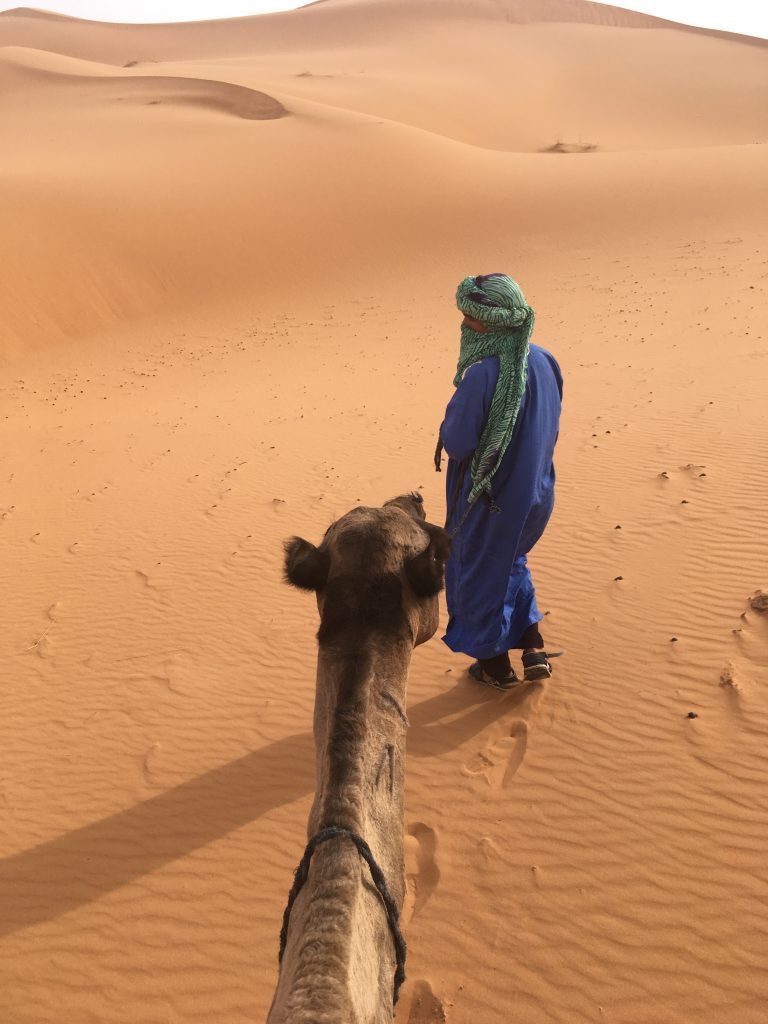 I have some other places to present you. One is our visit to the desert, Aït Ben Haddou and Tinghir. I start with our night in the Sahara at Desert Luxury Camp.
HOW TO GET THERE ? PRICE?
To go to the desert, you have the choice between:
Rent a car in Marrakech: take a break in Ait Ben Haddou or in the gorges of Toudra to have a little break during your journey. In total, it takes you about 10 hours to reach the small town of Merzouga (Sahara). Price: about 130 euros for 4 days of car + the fuel. On the way, you will be able to admire the small Berber villages, the Atlas mountains and the pretty desert landscapes.
Rent a car in Fez: we preferred the first solution but you can choose to begin your road trip from Fez to Merzouga, then Marrakesh, Essaouira …
By bus: buses from Marrakesh or Fez. Attention, the trip is a whole day. It's around 10 euros.
By plane: there are two airports, one in Ouarzazate and one in Errachidia, which allows you to get closer to the desert before continuing your way by car.
TO DO ?
For those who have the budget and time, I recommend a 4×4 excursion over 4 days and 3 nights. We stayed one night in a camp, 1 hour drive from the village of Merzouga. On the program: sandbord, reading, sunset and sunrise, night under a clear and starry sky, small camel ride, typical dinner and Berber songs by the fire. Generally, when you book your night in a camp, the owners will pick you up directly in the village of Merzouga. You can leave your car in a safe place, no problem.
The atmosphere in the desert is really special, so calm, peaceful and quiet. Whether for sunrise or sunset, you will be in heaven.
ACCOMMODATION
We slept one night at Desert Luxury Camp. The staff members were perfect. We started with a 45-minutes camel ride before drinking a mint tea in front of the big sand dunes. Then, Alessio played with the sandboard and I relaxed in a hammock with a book.
The tents of the camp are very spacious, you will find a large bed, a sitting area, a shower and toilet. Tip: It is very hot during the day, leave the entrance open to avoid choking in the evening. The nights are really fresh in the desert, you will sleep like babies 😉
Activities are not finished, you will be able to enjoy a delicious dinner in the main tent before lying down by the fire to listen to Berber songs. They even propose you to try the different instruments. More warm? We can't do! It was just perfect.
O. M-G