You finally decided! This year it will be Iceland. You have 10 days to travel and you want to go on a road trip. Places to see, activities, van or car … In other words, you are a bit lost and I completely understand! You want to see everything and it's legitimate! Today is JACKPOT for you! Here are all the keys to a successful 10-day road trip to Iceland.
You leave for 10 days for a Road trip in Iceland and you don't know yet how to organize your time, which van or which car to choose, which places not to miss? So many questions that are in your head right now and that I hope will find answers with this 10-day road trip guide in Iceland. For this new travel guide, I change my form. I advise you to print it and go directly with it, it will be easier for you 🙂
To know: this guide is written with every steps of my trip realized in June (beginning of the summer). The month of visit is very important in Iceland. Indeed, you won't see any Aurora Borealis at this time. These are popular with photographers in winter (mid-September to mid-March). Choose the dates of your stay according to what you want to see or not. For example, I had the chance to ride at the edge of dozens of lupine fields throughout the road trip;)

1st step: the choice of van / car for a 10-day road trip in Iceland
For our 10-day road trip in Iceland, we have chosen campers from Go Campers, a 100% Icelandic company. It was the most affordable option depending on our budget and rental period.
3 things to consider when choosing a van / car for a 10 day road trip in Iceland:
the number of people (for two, a little van-car is ok 😉 )
the duration of the road trip. If you leave for 10 days, you will endure the lack of space, the cold nights and the showers spaced. Will it be the same for 3 months?
the desired comfort (a camper with a shower or a well-appointed car just to sleep?)
the places to visit. Super important point: in Iceland, there are normal roads that all types of cars can take. BUT … there are also the roads F! For these, you must have a 4×4. Don't play cowboys to tell you that it will pass with your little van … The roads are mostly not cool, there are bumps, holes, and it would be both dangerous for you, and for your car, to drive without 4×4 on this type of road.
On our side, we chose a Go Smart Camper 2-pax, perfect for two people and for a short time. In total, we paid 544 euros for 9 days of rental. Little trick: you will pay the same price if you return the van at 10 am or 5 pm at night;) So, think of reserving full days to enjoy the maximum.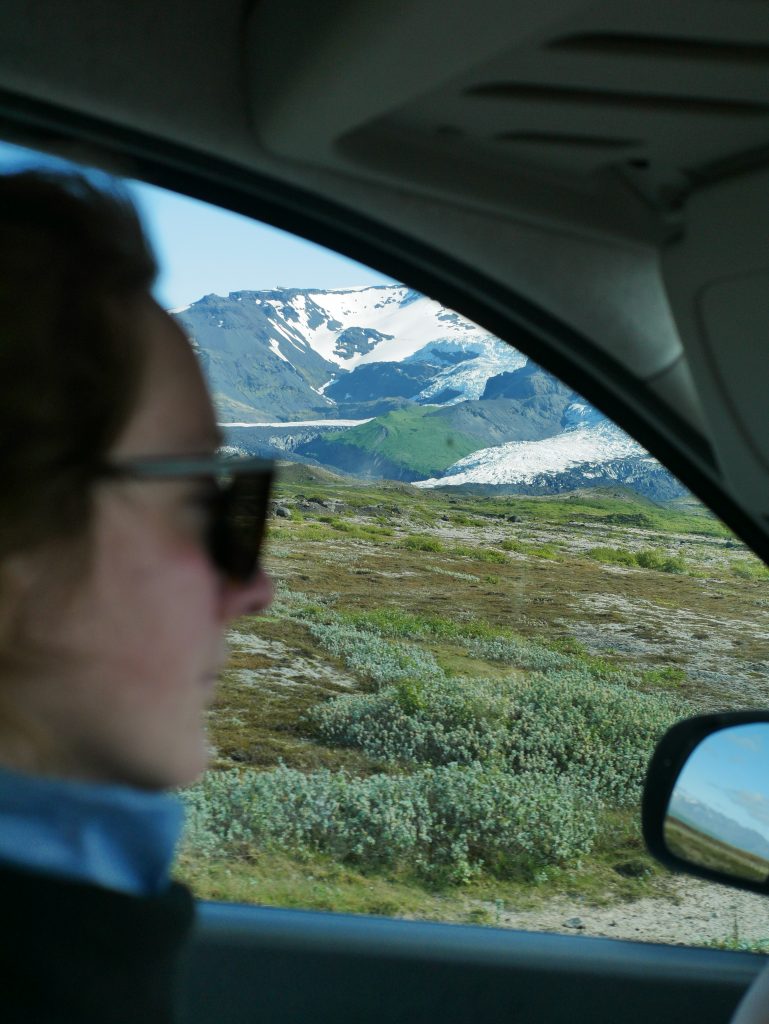 Full gas when you leave, full gas when you return and unlimited mileage! Great when you know you're going to do a lot of miles. For a full gas in the N1 stations (Total for us), you will pay about 70 euros. No need to take an extra driver, it's already included in the final price.
Little trick: when you arrive at the gas station, you will have the choice between several amounts. Either you choose "Full Tank" and at that moment you will pay 128 euros and you will receive the difference within 1 to 3 days on your bank account. Either you choose an amount like 5000 ISK (35 €) very precise. I advise you the precise amounts to avoid bad surprises on your bank account. A 10-day road trip to Iceland is cool! But, it's quite expensive.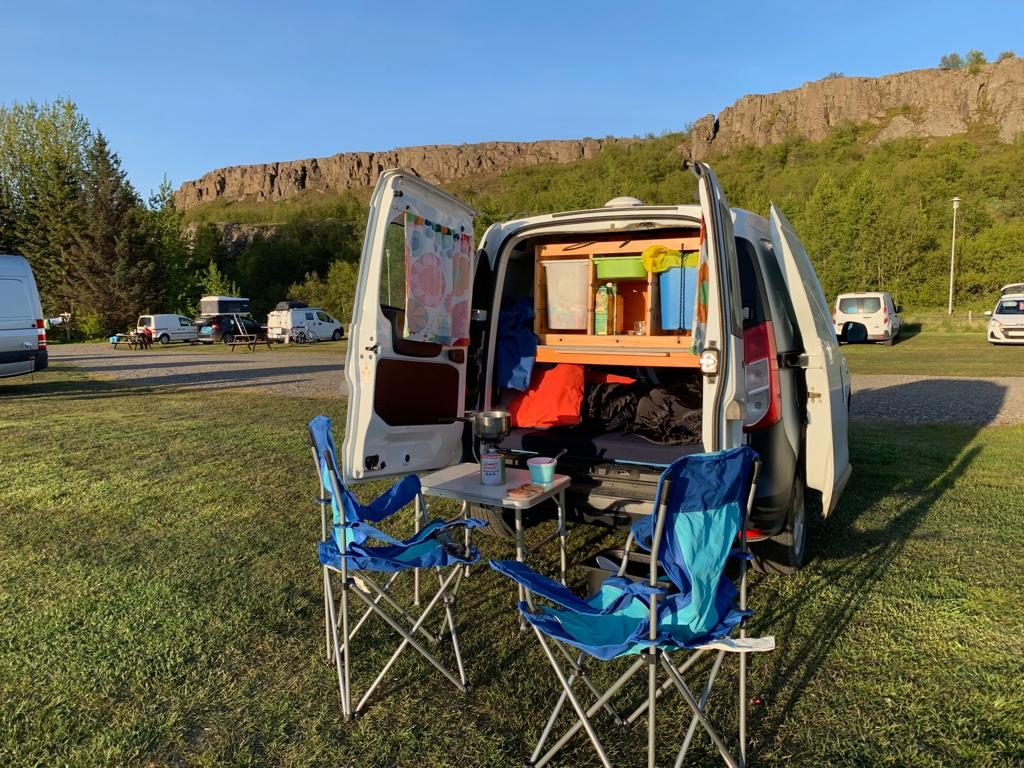 Included in your reservation:
Sleeping bag (5 ° C) + 2 small blankets
CampingGaz Stove and Cartridges
Cutlery and plates for 2
Dishes for cooking (stove, pan, table top …)
Pillows
Small storage shelves
Mattress
A discount card at gas stations (we don't really understand how to use it sincerely)
USB, AUX and bluetooth connections
Supplements: barbecue, camping chairs …
One thing that was missing in the van and that we didn't necessarily think about when preparing our suitcases: the binoculars 😉 Super convenient to admire reindeer and other wild animals.
GREAT NEWS !!! For all bookings between July 1st and December 31st, you have 10% discount by following this link: 10% discount GO CAMPERS The coupon is valid until September 30th.
2nd step: prepare your suitcase / backpack for 10-day road trip in Iceland
It's almost time for the big departure and you don't know what to take with you for your 10-day road trip to Iceland. I can't tell you in details what you will need on site (it all depends on your way of traveling and things you can not do without) but here are the great essentials:
Gloves, scarf, hat (even in summer!). The nights are cold …
Polar
Puffy jacket
Hiking clothing (if you plan to hike)
2 pairs of shoes (sneakers comfort + high hiking shoes to avoid getting cold)
ESPECIALLY NO UMBRELLA (it rains in Iceland yes, but there is a lot a lot of wind!)
Sunglasses: we were lucky to have 2 hours of rain only for 10 days of road trip 😉
2 spares of lighter clothes
A lighter
Devices to charge on USB and cigarette device
At the level of the internet connection, if you are European, you can use internet data Europe and even in Iceland. It's included in your package! So no need to take a GPS in your car for your 10 days of road trip in Iceland. You can do everything with your phone!
3rd step: choose the stops of the 10-day road trip in Iceland
Before beginning your 10-day road trip to Iceland, I advise you to choose the different stops. 10 days are really short! Don't forget it … Especially to go around Iceland. We still managed our shot, except that … we really drove! Follow this road trip if you are ready to drive an average of 3 hours a day.
Before and during each trip, I use the Maps.me application. This is the best when you want to save places to visit and you can use the offline application! Here is what my itinerary looks like for 10-day road trip in Iceland:
The link to my 10-day road trip to Iceland on Maps.me will be available soon! AYYAYAYAYAYAYAYAYAY
In this itinerary, I added:
the campsites (we only took the Camping Card knowing that we only stayed 10 days)
places to visit
the places not to miss for a 10-day road trip in Iceland
To know: nights camping (shower included) are 20 € for 2 people.
10 stops for a road trip in Iceland
Day 1 :
Arrival at the airport and direction Reykjavik by bus (6,999 ISK for 2 people, about 45 minutes with Fly Bus) City buses (cheaper) are possible but there is one every hour.
Visit of Reykjavik (city center, Hallgrímskirkja church, street art, Little vegan pancake at Fire & Ice)
Sleep at Guesthouse Pavi (43 € per night for a private double room and shared bathroom)
Day 2:
The Golden Circle (Silfra Diving, Thingvellir, Strokkur, Geysir, Gullfoss)
3H hike in Reykjadalur for natural hot pools
Sleep at the campsite Arhus Hella in Hella (pretty evening view by the lake, shower included in the price)
Day 3:
Keldur Farm
The waterfalls of Seljadalandsfoss and Skógafoss
View of the glacier of Sólheimajökull
Abandoned plane on the beach of Sólheimasandur
View from the heights of Reynisfjara
The columns of Reynisdrangar
Sleep at the Svinafell campsite (campsite at the bottom of the cliffs, magic + shower included in the price)
Day 4:
Hofskirja church
Glacier views from lupine fields
Jökulsárlón glacier lake and the surrounding beaches
Bathing in a lost bath in the middle of nowhere
Seydisfjödur Bay
Sleep at Egilsstadir camping ground (family friendly, outdoor kitchen, shower included)
Day 5:
Studolagil Canyon (one of my favorite places). Tip: go downstairs. I couldn't because of my ankle but it is really worth it!
Mödrudalur Farm Dettifoss Hverir and the sulfur
The hot baths of Myvatn (35 € the entry)
Grjótagjá cave (swimming prohibited!)
Godafoss waterfalls
Sleep at Hamrar Campsite in Akureyri (beautiful on the heights super warm food)
Day 6:
Siglufjördur
Hofsós
Hamlet of Holar and Glaumbær Museum (green roofs)
Grettislaug hot pool (6 €)
Hvítserkur rock (follow the road 711 and its various stops)
Illugastadir view
Kidka Icelandic wool shop in Hvammstangi
Sleep at the campsite 14 Hvammastangi (impossible to find the name) great camping, horses and fields around, shower at the municipal pool.
Day 7:
Snæfellsnes peninsula (Ytri Tunga and its seals, Arnarstapi lookout point and promenade, Hellnar cliffs, view of Saxhóll, Skardsvík beach)
Sleep at Ólafsvík campsite (my favorite!). Super family camping, at the edge of the mountains and a small river. Outdoor and indoor cuisine!
Day 8:
Kirkjufell mountain and the waterfall (beautiful at sunrise, so… super early in summer … haha)
Landbrotalaug hot springs
Glanni and Paradísarlaut
Langisandur
Hellisgerdi elf park (no elf around but a pretty wedding)
Sleep at Austurvegur Grindavik Campsite (perfect and common rest room super cool to chill and play cards)
Day 9:
Blue Lagoon (before 9am in the morning otherwise too busy)
Reykjanes Peninsula (Gunnuhver, Reykjanesviti Lighthouse, Hafnarberg Rocks)
Well deserved rest in the afternoon
Sleep at Austurvegur Grindavik Campsite
Day 10:
Grænavatn and lakes
Seltún and the sulfur
Skàtalaug hot springs
Kleifarvatn lake and lupins around
Return of our van to Go Campers
Sleep at The Base Hotel by Keflavik Airport (41 € per night in a private double room with shared bathroom with another room) Sincerely, this hotel is super cool and for young people and travelers. Beers are really cheap! Not bad to finish the road trip on point!
Day 11:
Back to Basel very early in the morning (cheap flight at 300 € to go and return so you have bad hours to travel haha)