I recently went to Paris for two days, with my pretty Seynabou. The opportunity for us to spend time together before my departure for South America but also to see the Visit California team during a culinary workshop. Here is a little recap of our 48 hours in Paris. Restaurant ideas, things to do and hotels to sleep in 🙂 Follow the guide!
At the beginning of December, direction Paris for two days before leaving for Geneva with Preferred Hotels (this was what was supposed to happen but because of the train strikes, I had to put an end to this press trip which was looming unbelievable). I arrive in Paris 1 hour late, but that I am also used to. Seynabou had already arrived, we meet to go towards our hotel. Our 48 hours in Paris can begin!
Where to sleep in Paris ?
We stayed two nights at the Hampton by Hilton in Paris Clichy. I can already hear you "Clichy? Ah no, I don't sleep in Clichy." Well, imagine that you might be surprised by what you find when you get there. The Hampton by Hilton in Paris Clichy is the first Hampton in France. Elegant decor, beach ambiance and relaxed luxury, welcoming staff, spacious rooms, equipped rooms, this hotel has it all. It is located 15 minutes from central Paris by car and close to many businesses. There are buses and trams within 10 minutes on foot. In other words, yes you are not in Paris, but you are stuck in Paris and you can sleep in a super cool hotel for an affordable price compared to what is done in the center. Breakfast is included and above all full. The hotel has thought about allergens and the variety of dishes on offer.
In addition to offering a breakfast offer, the hotel works in collaboration with the restaurant La Passerelle. With Seynabou, we had the opportunity to test a Tasting dinner the day before our departure. It was divine. The dishes are worked with care, the products are good and the associations are trendy and completely match. I'll let you see for yourself with these few photos.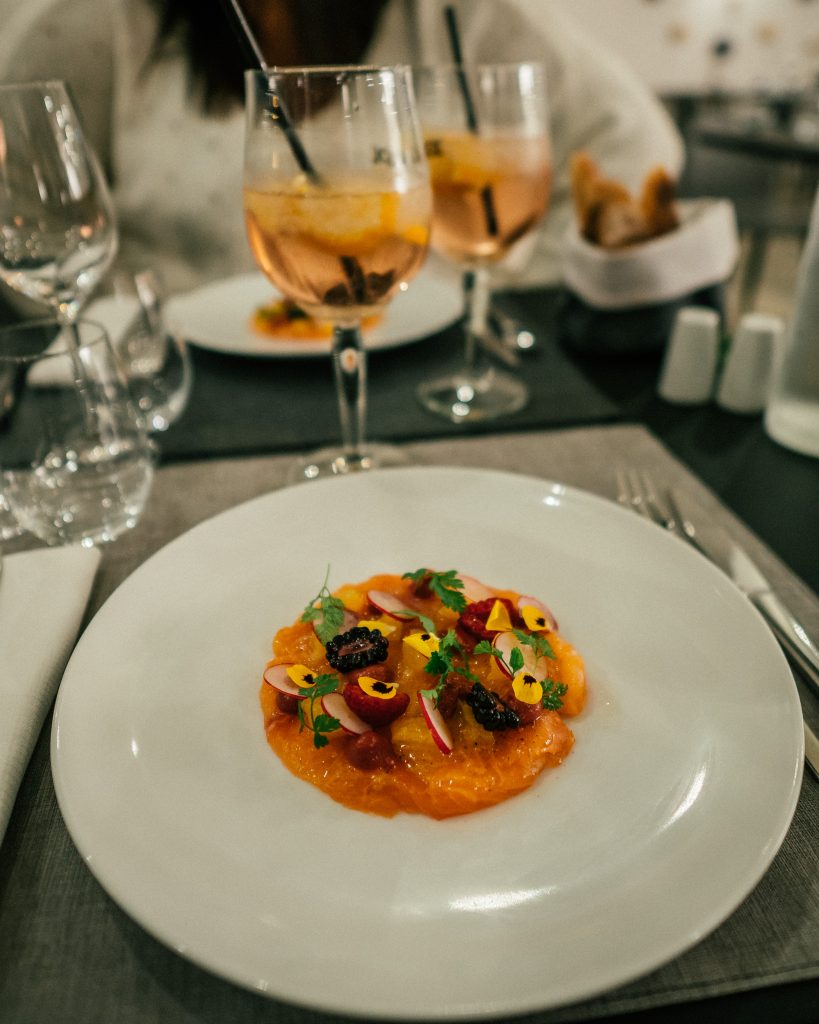 Hampton by Hilton Paris Clichy, 7 Boulevard du Général Leclerc, 92110 Clichy / Night from 145 €
Luxury transport in Paris
Today, I am offering you a new way to get around the capital, aboard pretty luxury cars and in the company of a driver available 24/7. The Hampton by Hilton Paris Clichy works in close collaboration with Eclips International, a company specializing in VIP transport. Based in London, Paris and New York, Eclips International offers a day-to-day transport service, with luxury cars and above all a quality offer. It also offers a jet transport service, the complete organization of trips and the concierge. Eclips International is aimed at VIP customers.
3 things to do in Paris during Christmas holidays
What to do in Paris when you only have 48 hours and especially when it is in the middle of December? Here are three ideas of things to do in Paris during the holidays:
Rooftop of Printemps Haussmann, on the panoramic terrace of Perruche. This restaurant offers a magnificent view of the Capital. Tips: no need to consume, we went up on the terrace and we stood outside the restaurant to take some photos.
Admire the shop windows of the Galleries Lafayette: It is an institution in Paris during the holidays. All the windows are decorated according to a theme and it's really beautiful! However, expect to have people in front of you.
Go to Place Vendôme for Christmas decorations: this place is one of my favorites during the holidays. The decorations are sumptuous.
I hope this little guide will give you ideas for your next city trip to Paris. In the meantime, I'm taking my Christmas vacation. See you on the blog in early January for the start of our road trip in South America.
Ophélie