Who has not dreamed one day of sleeping in a hut in the middle of nature? Who never said that a little bit of camping, it didn't hurt? Who wants to recharge his batteries to 300% to restart on the right foot? Today, that's what I propose. We continue in the heading "Unusual accommodation" with a night in a hut in nature with Huttopia.
What is Huttopia?
This project seemed unrealizable at first sight but they did! Céline and Philippe Bossanne, a couple from Lyon who love nature, decided to begin the adventure 20 years ago. It is while returning from a stay in Canada that they decide to create their place of vacation of dreams but … in France! Pure French glamping … The idea was to be able to break with everyday life without going to the other part of the planet. In Huttopia villages and campsites, you will find simple accommodation connected to nature and the environment. This is perfect for breaking with everyday life, for meeting people and for living moments that are simple and warm. It is also ideal to discover the region! A good coktail that is good for health and especially that leaves very good memories …
South Ardèche Huttopia campsite
It was at the end of September that we put our bags with my family in a camping Huttopia Sud-Ardèche, located a few minutes from Vallon-Pont-d'Arc in the heart of the Ardeche Gorges. It's been almost 6 years since we had not left all together (my mom, my dad and my sister) and it feels good! Especially since we both leave in January for other adventures on the other side of the world … My parents were delighted! And I was also very happy to let them discover my world and this pretty hut in the middle of nowhere with Huttopia.
The Huttopia hut and other accomodation
The campsite village Huttopia Sud-Ardèche has several types of accommodation. We tested a hut in nature for 5 people, but there are also tents called "Bonaventure", "Canadian", "Trapper" or wood huts. Each accommodation corresponds to the number of people with whom you travel but especially to your habits of comfort.
Our hut in nature with Huttopia (N ° 33) provides:
a fully equipped kitchen, a small bathroom, a stove to warm up if the nights are cold, a small tented room with a double bed and three single beds, a terrace with tables and chairs and a gril for summer evenings
a view of the pool and especially a direct access to nature and the forest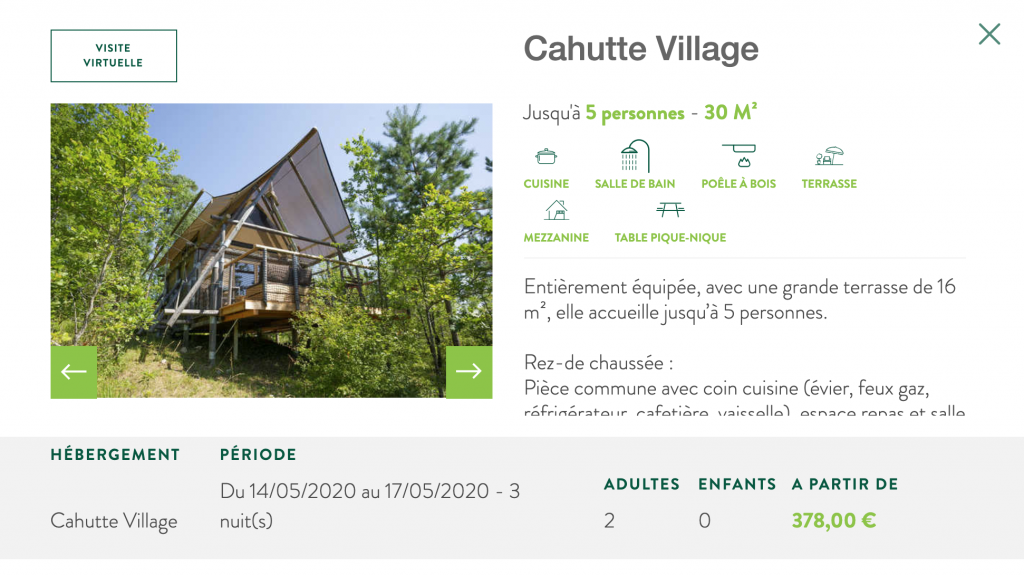 You should know, it's possible to add other services to your booking:
the cleaning fee for 70 € at the end of the stay (you will simply empty the bins and do the dishes)
the comfort pack for 90 € (the beds are made on arrival and cleaning is included at the end of the stay)
the choice of its location, if you already know the campsite, for 65 € it is possible to have breakfast in the restaurant area (several formulas are proposed)
Finally, you should know, there is no car inside the campsite! They are left in the car park upon your arrival and you have access to the accommodations directly from the forest paths.
I told you that you would enjoy nature to the fullest … well that's the case and my god that it's good! This hut in nature was really what we needed.
Eating area
Near the reception is the restaurant area. In high season, the restaurant is open all week. Be careful, in low season, it is possible to eat from Friday evening to Sunday lunch. In the living room you will find wooden tables, chairs, armchairs as well as board games, a television and a table football. In high season, it is also possible to eat a delicious pizza oven Pizza.
Anyway, we tried the food in the restaurant and it was really delicious! The prices are very affordable, the products are fresh and seasonal and above all … many come from the region. The prices of the dishes are between 12 € and 18 €. There are also boards to share with family or friends. For dessert, I let you enjoy a good ice cream or Terre Adélice sorbet. The chocolate is crazy crazy crazy! (I come back again on my problem of lactose intolerance … when you can eat a good thing good choco, it feels good).
Activities and entertainment in Huttopia
The camping village Huttopia Sud-Ardèche offers various activities to campers. Evening "tales", plays, dance shows, music concerts … Entertainment is not lacking. During the day, you can also participate in the activities planned on the schedule. Everything is free. During our weekend there was:
Yoga class
Meditation class
A photo run
An archery session
It is also possible to rent bicycles, simple or electric, for the day. Go to the guide office for all the information on the activities of the campsite and what you can do in the area and visit nearby.
In the campsite, there is also a garden where you can freely come harvest your fruits and vegetables. Near the restaurant area you will find a swimming pool. Finally, with your reservation, you have free access to the forest spa (jacuzzi, sauna). In addition to sleeping in a hut in nature, you will be able to enjoy fully and freely all these activities.
All information on the camping village Huttopia Sud-Ardèche can be found on the website.
Some other pictures of our trip in nature with Huttopia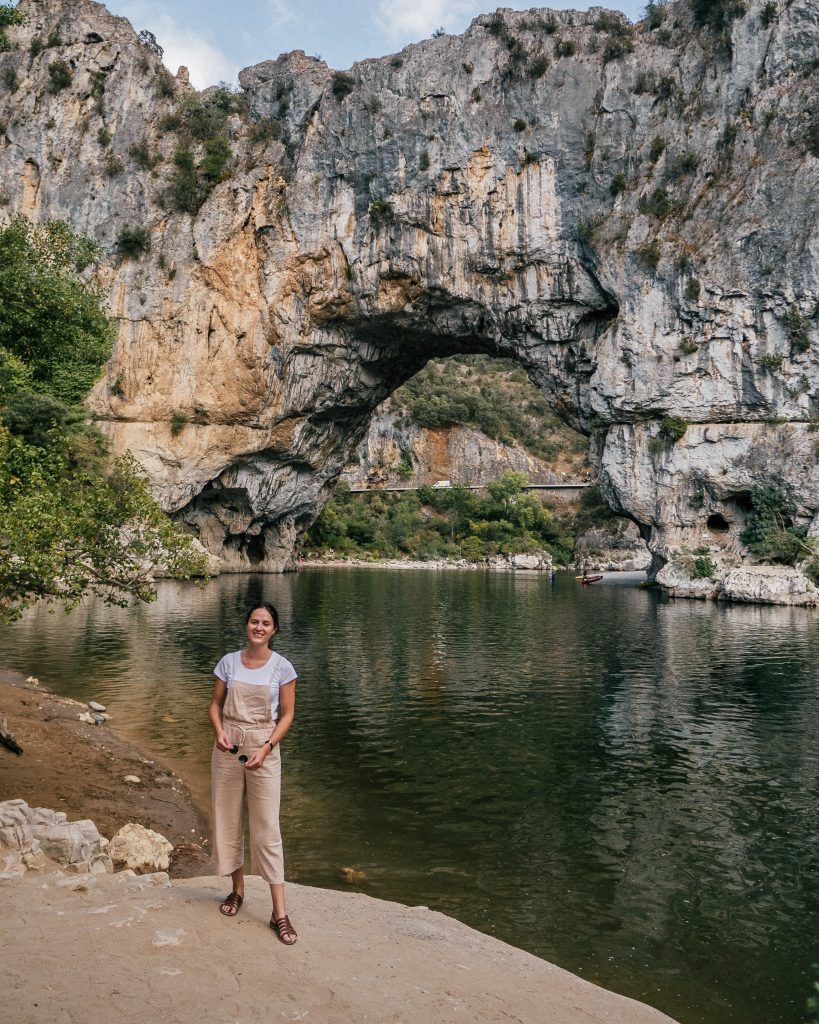 My suitcase for a trip in a hut in nature with Huttopia