As I promised you, here are some tips if you want to go to the Christmas markets in Alsace during December. It's a must in France at this time, here you can find all my ideas, tips and tricks to make your stay the best. Dates, restaurants, shops, decorations … Hope you will find your happiness. Here are the 5 most beautiful Christmas markets in Alsace.
At this time of the year, we all dream of mulled wine with spices, chestnuts, Nutella pancakes, wooden toys and little houses, decorations and Christmas trees. Everyone is waiting for it in France. Indeed, many of you are meeting at the Christmas markets of Alsace to celebrate Advent. At the same time, it's the most famous place for its decorations and markets. Be careful, get ready. I choose for the 5 most beautiful Christmas markets in Alsace.
The largest of the French Christmas markets. This is one of the most famous places in December for its Christmas market. In addition to hosting more than 130 chalets, Strasbourg has new markets each year. Christmas decorations are waiting for you on every street corner. Smells of wine and hot chestnuts will delight young and old people. Everything happens mainly on the place Kléber where you will be able to admire the famous big Christmas tree and around the place of the Cathedral. Eat a salmon cooked in the flame on the place Gutenberg at the Finnish market. Those who love the little quirky stuff will go to the Off Market, Grimmeissen Square. There are second-hand clothes, an igloo and you will be able to exchange clothes.
Food? Like a good tourist, I went to eat at Kamerzell House. This restaurant is a real symbol of Strasbourg. Climbing up the stairs, we realized that many stars have eaten there. The dishes are divine and for a restaurant like this, it's quite cool for the money. Menu at 33 € or 42 € during the evening. Be careful, book your table well in advance. Otherwise, you may not be able to be served (especially during the Christmas markets).
For the Sunday morning brunch, we went to the Graffalgar hotel-restaurant and sincerely … well worth it! The brunches are between 15€ and 19 €. You eat well and good. There is even a brunch for vegetarians. Not bad isn't it ?
When ? Until December 30th.
How to come to Strasbourg? If you don't wanna waste your time looking for a parking lot (you should know that Strasbourg welcomes millions of visitors during December), I advise you to take the train and move either on foot, by bike or in public transport. Especially since some access is forbidden to cars during the markets. There is also an airport in Strasbourg;)
How to move around Strasbourg? All information on car parks, shuttles, trams and buses can be found in the Strasbourg Christmas Market Handbook, page 38. Here is a map of the city and the organization of markets: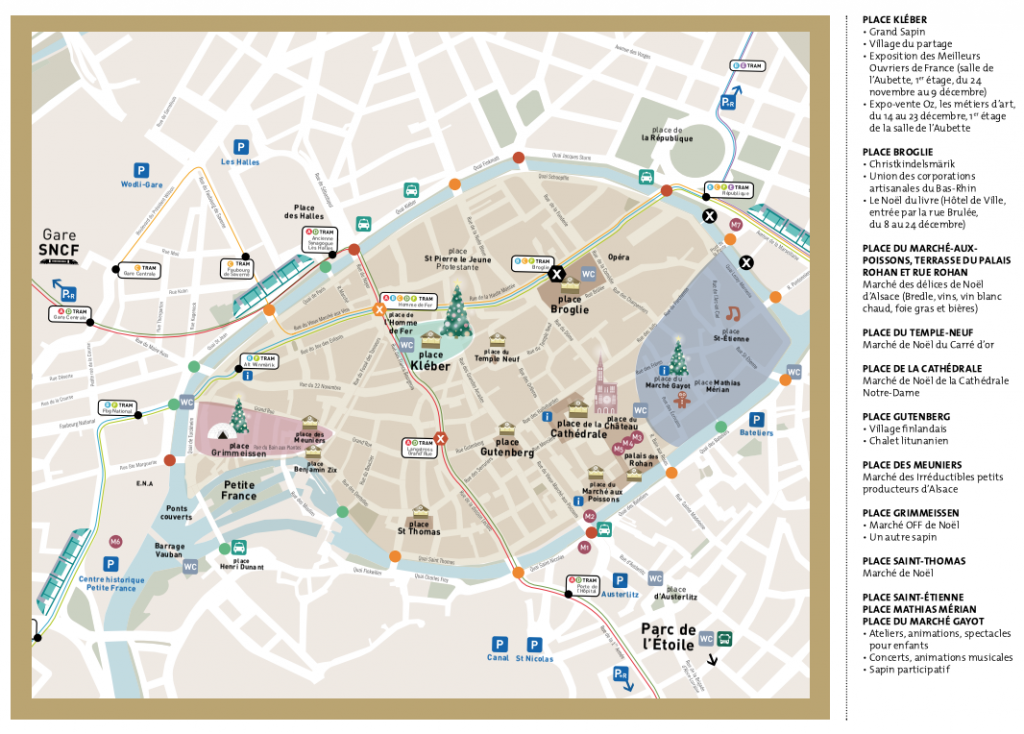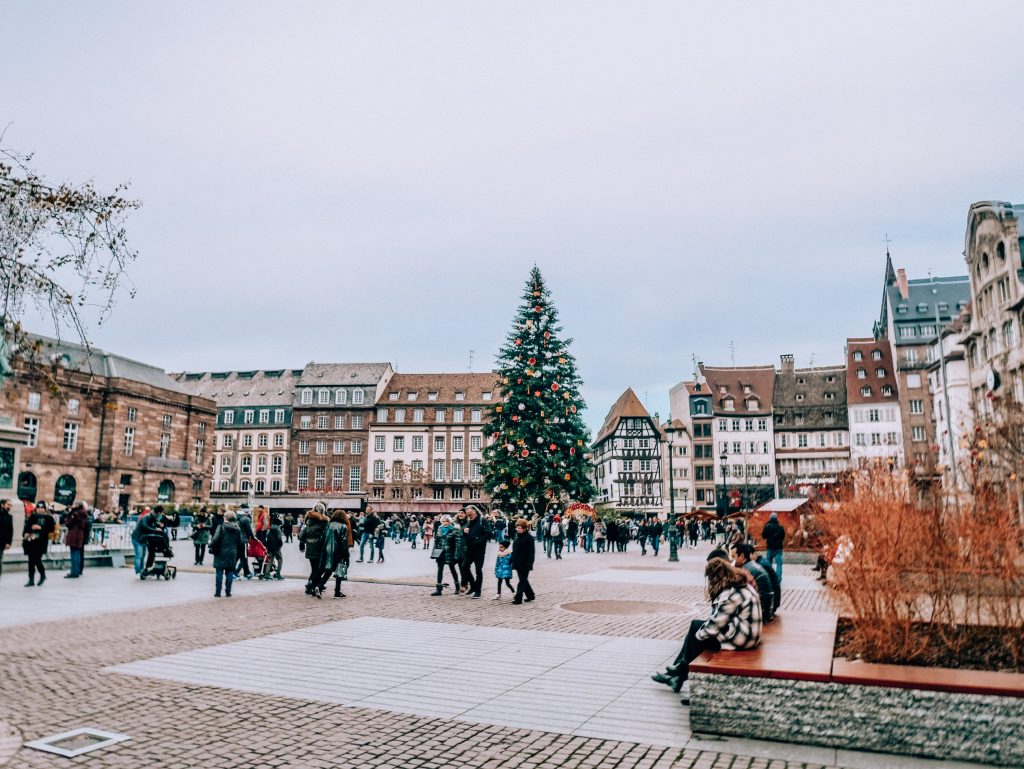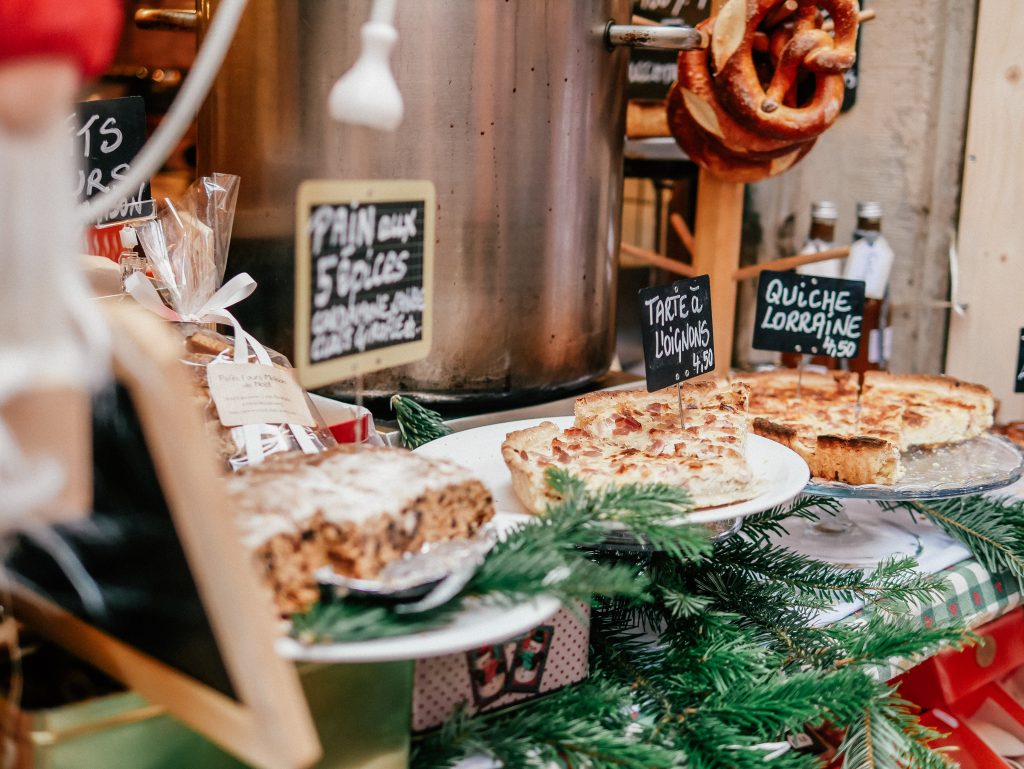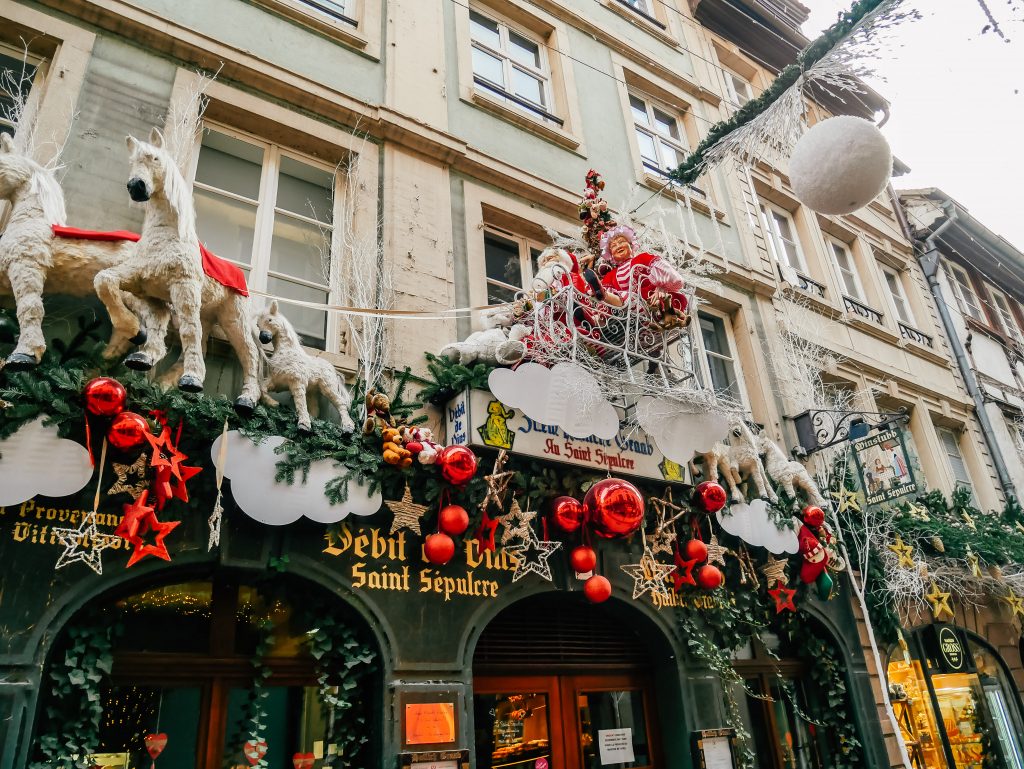 Little Venice and its Christmas market. Often tourists who decide to come to the Christmas market in Strasbourg also stop in Colmar during the weekend. Located 1 hour from the city of Strasbourg, this is the perfect place to see fairy lights in a magical setting. I loved the place of Dominicans, the sqaure Jeanne d'Arc, the shop of the Vieux-Pignon or the Little Venice. For the photos, go in front of the bakery Lorber and find the very famous white Christmas tree of Colmar.
Food? We went to breakfast at Jadis and Gourmande, not so far from Little Venice. The decor is super cute and breakfast is around 9€ and super good (breads, jams, squeezed orange juice, brioche and eggs).
When ? Until December 30th.
How to come to Colmar? To come to Colmar, you can either take your car and park it in the free or paid car parks of the city. A shuttle is set up from 9:30 am every day market. Otherwise, choose the train. It may be less cheap but at least you won't be bothered to park your car in the city.
How to move around Colmar? All information on car parks and transport can be found in the presentation booklet of the Christmas Market in Colmar 2018. Here is the map of the various markets of the city, there are 6 in total: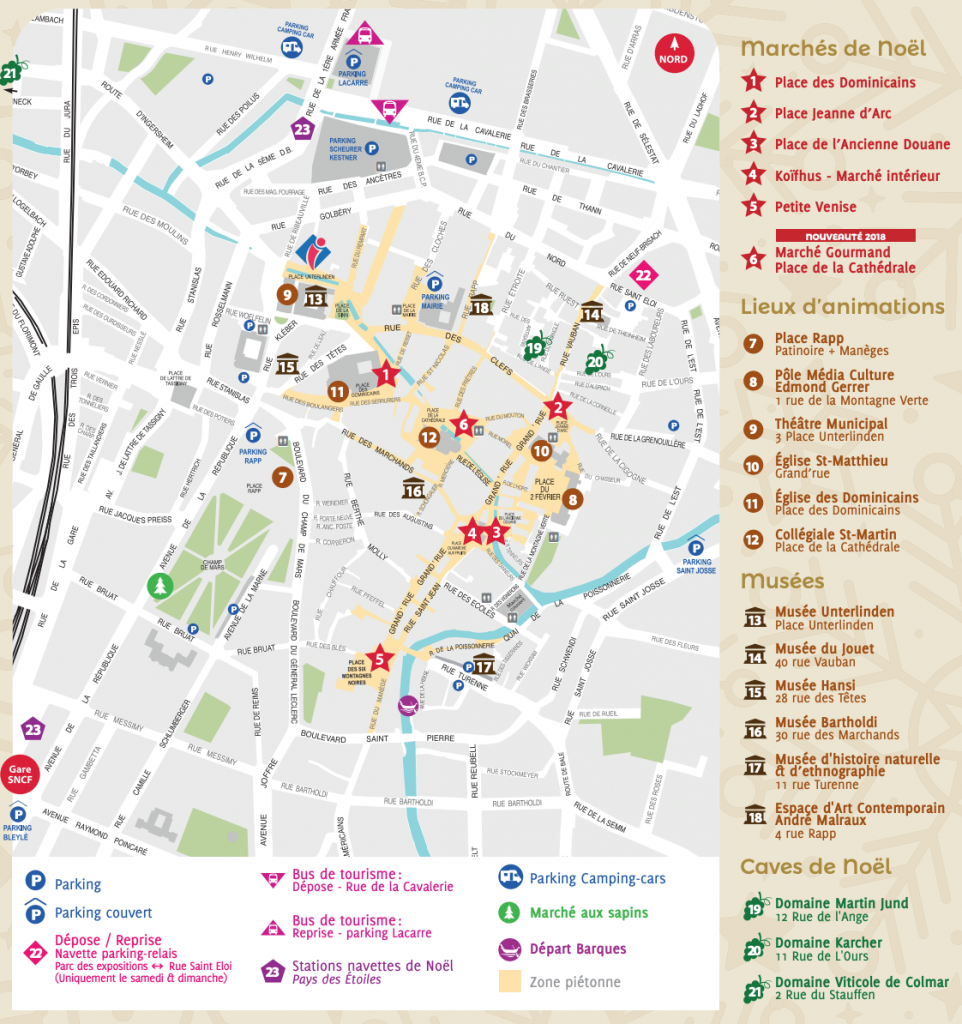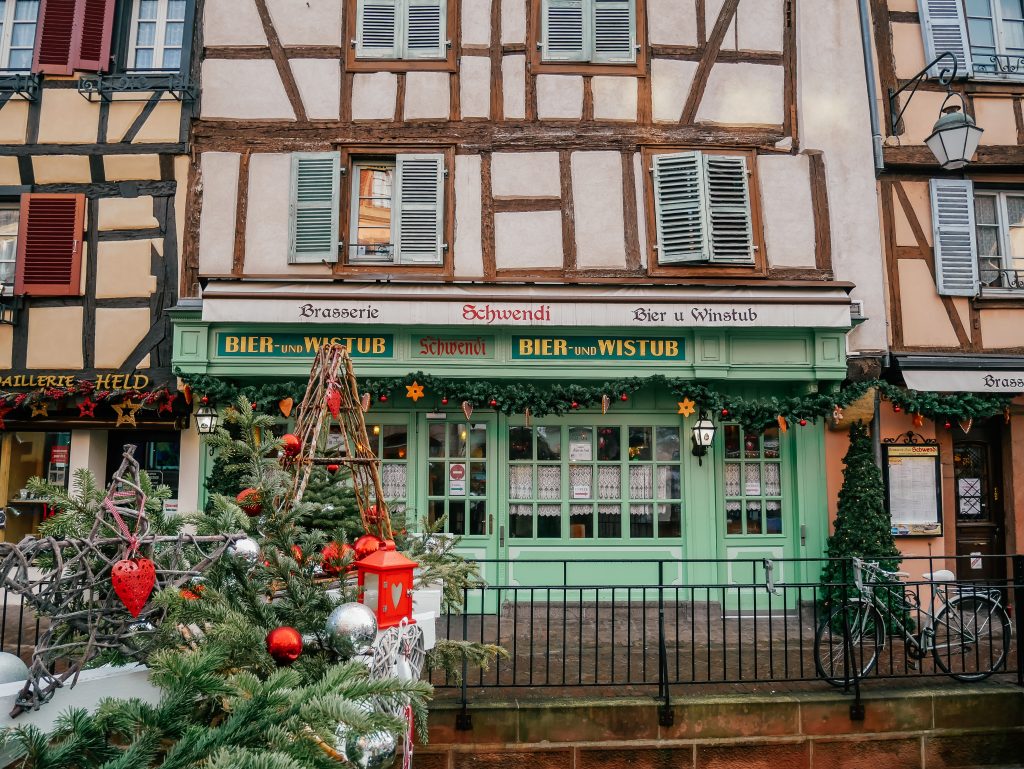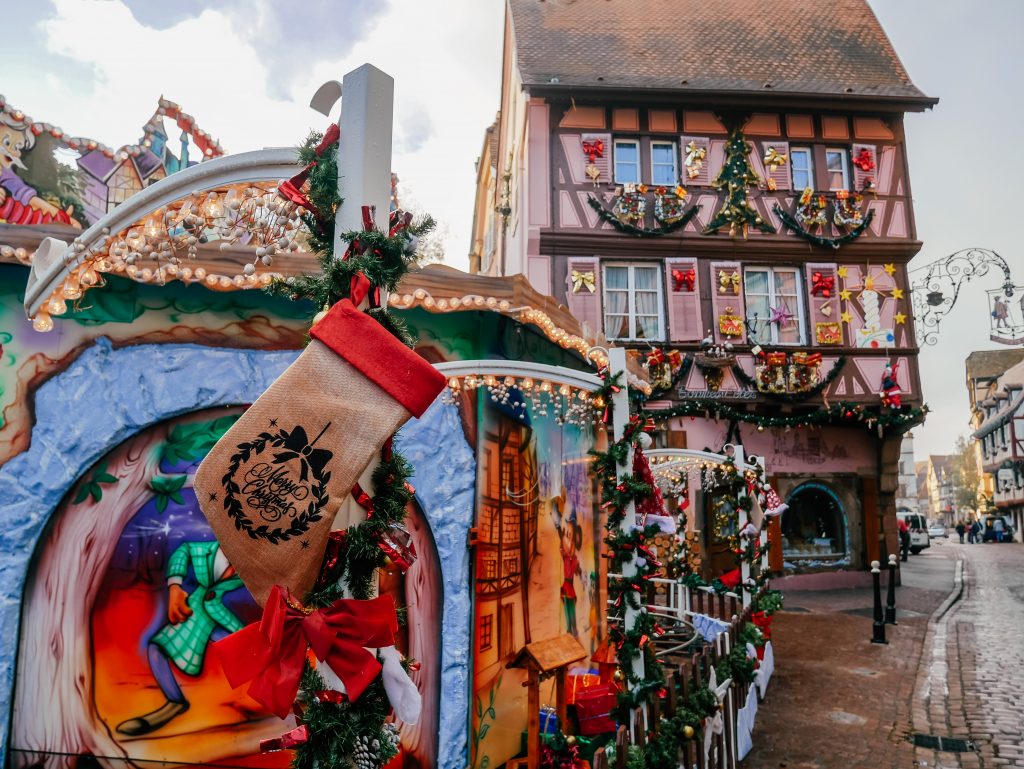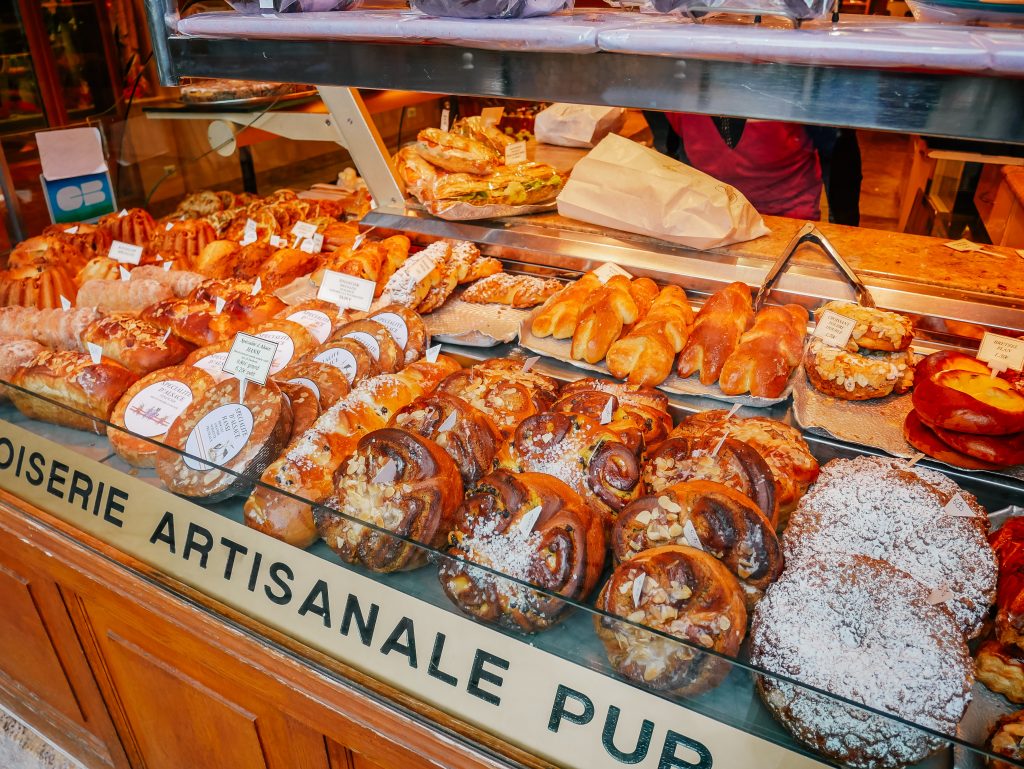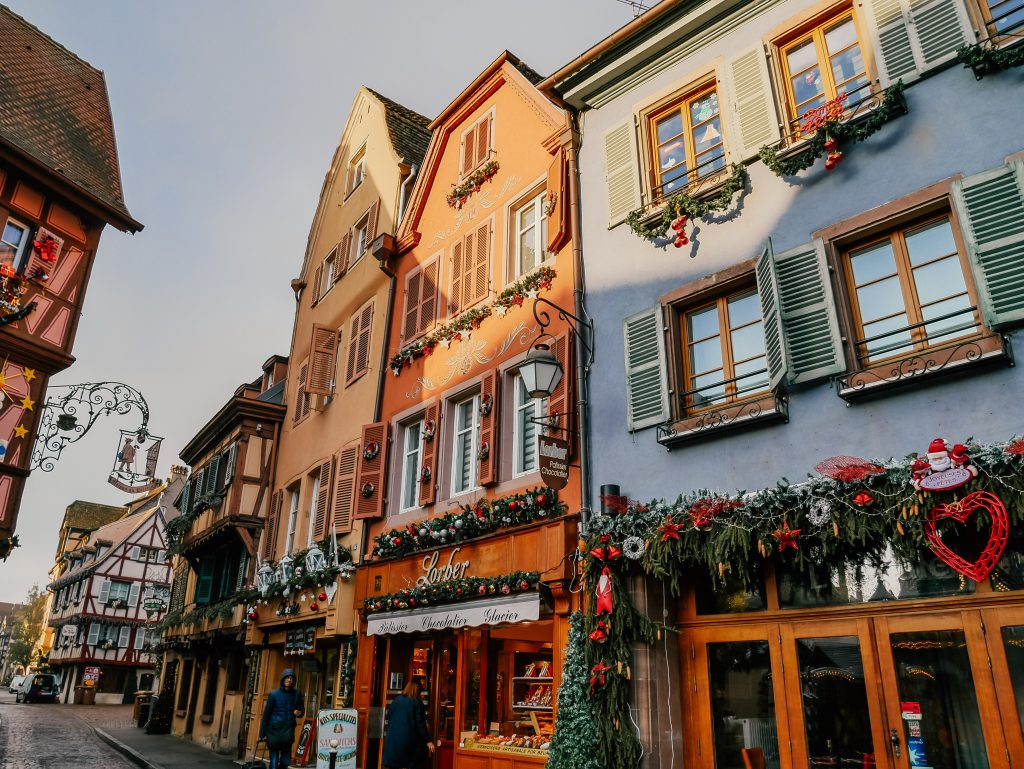 Between picturesque scenery and intimacy. What I loved about Eguisheim? The pigeonhole and the fountain of Beauty and the Beast and the Christmas decorations by day. The city center is small and can be visited in less than 2 hours. Go to the Poterie du Terroir to buy some souvenirs and stop on a stand to taste the hot white wine with 7 spices. The little colorful houses will leave you speechless. It's like a real gingerbread decor, in a Charlie and Chocolate Factory movie.
When ? Until December 30th.
How to come to Eguisheim? The best is to come by car, there is no train station. The village is located 5 kms from Colmar. There is a bus that drops you off 1 kilometer from the center (a littl bit  hard).
How to get around Eguisheim? Don't forget that it is a small village of 1700 inhabitants, so everything can be done by foot.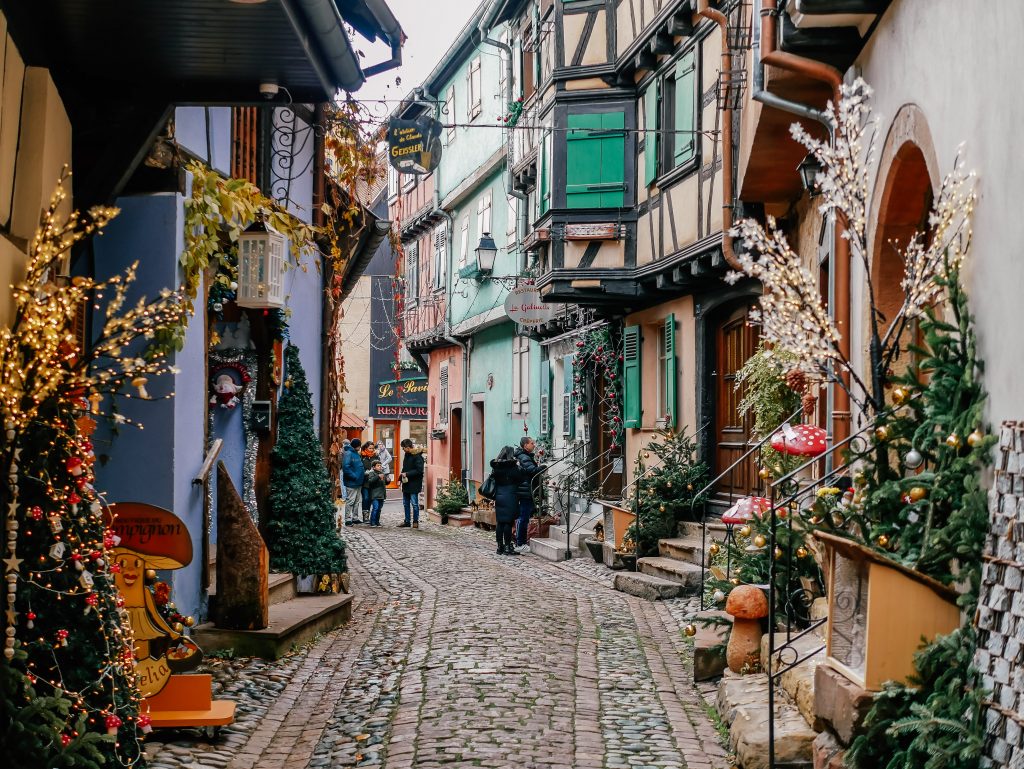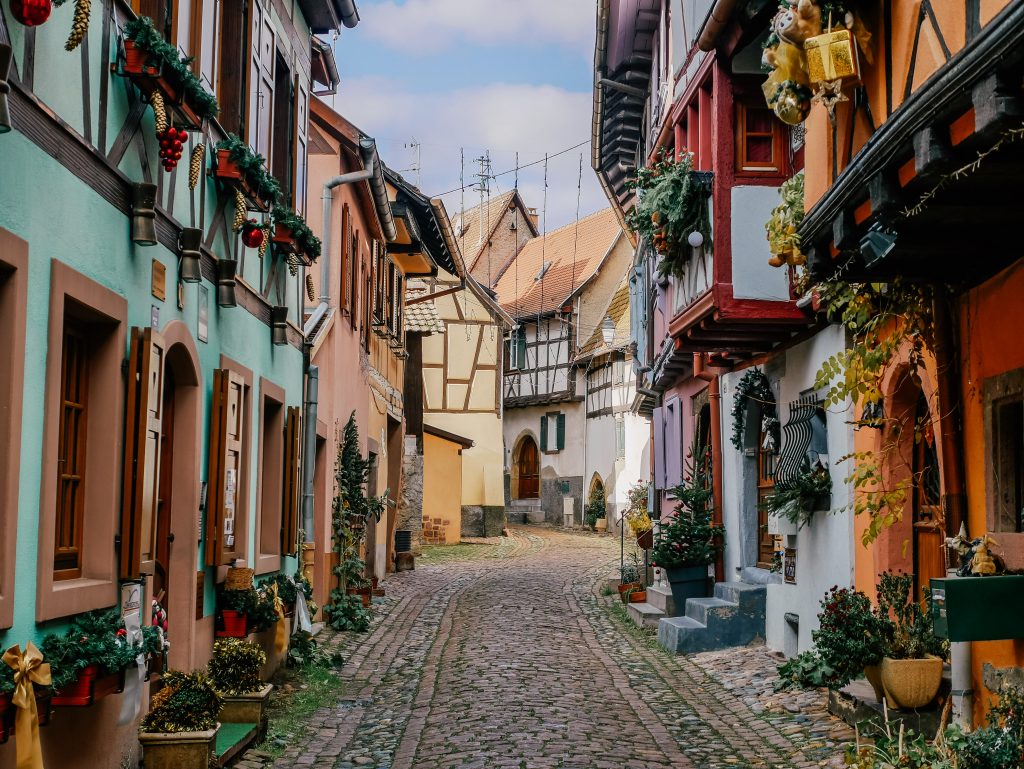 Christmas and ancestral magics. Riquewhir is recognized for the quality of its Christmas market and its local stands. More than 30 chalets are in the city center to the delight of tourists. Don't miss the Féérie de Noël boutique on Rue du Cerf. Inside, you will find many souvenirs, decorations for your Christmas tree and many, many, many gingerbreads. Walk down the main street to the wooden chalets.
When ? Until December 23th.
How to come to Riquewhir? Come by car. Check the carpools, you may be lucky. I went there by car and I put a carpool on Blabla Car. Riquewhir is a 20-minute drive from Eguisheim.
How to get around Riquewhir? Like Eguisheim, Riquewhir is a small village of 1200 inhabitants. Everything is visited by foot.
His glittering Christmas decorations. This is my favorite village of the whole weekend. Kaysersberg is punctuated by Christmas songs throughout the month of December. The night decorations are incredible. What I loved? The shops and their super cute names. The Enchanted Attic, The Sin Cute … All make you want to come back. At dusk, admire the Christmas tree of lights located on the front of the restaurant Au lion d'or.
When ? Until December 23th.
How to come to Kayserberg? The best way is to come by car. Kaysersberg is 10 kilometers from Riquewhir, about 20 minutes by car.
How to get around Kayserberg? Kaysersberg is a village of 4500 inhabitants and offers various car parks around the center to park. Everything is done by foot.
Quick advices for Christmas markets in Alsace
Leave for the weekend, you will have time to do the 5 Christmas markets. Don't miss the Christmas decorations at night in Colmar or Strasbourg. Those of Kaysersberg are all magical! The markets are open all week and generally open from 10 am to 7:30 pm.
Itinerary advice:
Friday night: Colmar by night
Saturday morning: Colmar
Saturday afternoon: Eguisheim, Riquewhir then Kayserberg (the night is very pretty)
Saturday night: Strasbourg by night
Sunday: Strasbourg