Are you planning a trip to California with family or friends? Do you want to enjoy the beaches and sunsets of Venice Beach? Do you want to discover the secrets of Los Angeles? This is a travel guide for a Los Angeles road trip to Palm Springs. Newport Beach, Joshua Tree National Park, Palm Springs, Coachella, LA … Take notes!
I created this travel guide after my 6-day stay in California last September. I was contacted by the airline XL Airways and the tourist board of Visit California to discover Los Angeles and California. For the 6 days of road trip, I had the choice of my final destination. The choice was simple: 3 days in Los Angeles with a  group of travel influencers and 3 days by myself in California. Of course … I who dreamed of this for years enlightenment (I still remember telling my parents when I was 14 years old that I would live in the United States at my 18th birthday … yes yes), I can tell you that I trembled with joy when I had this proposal. With the whole team, we worked on my road trip and finally decided that I would go to Palm Springs, Joshua Tree and Newport Beach. In this travel guide, I give you all the information to know before going on a California road trip and all the things to do at the different stops that I was able to visit during my stay. From Los Angeles to Palm Springs, via Joshua Tree and Newport Beach … Follow the guide!
BEFORE TRAVELING TO LOS ANGELES
ESTA is required to enter the United States. It's easy to get it on the US Customs website. It costs $ 14 and will allow you to travel to the United States for 3 consecutive months. Be careful not to fool yourself into your details and use a valid card for payment. Also, your passport (as for many destinations) must be valid 6 months before the departure date.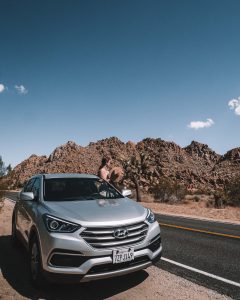 I advise you to book a car for your road trip, via the ALAMO website. It's quite simple and above all very affordable. I had a crossover for 3 days for a ridiculous price. It is also very simple to apply for rental and even easier to come get your car. There are many computers within the building to help you avoid waiting.
Then, it's not like in France. You are given the number of an alley and you will choose the car you want to drive. Of course, the car is part of a category you have chosen beforehand. It's not Christmas ok, you're not going to drive a Porsche if you chose an economical car!
Namely: the price of petrol in the United States is much cheaper than in Europe. € 0.63 / liter. Gasoline is sold per gallon, or 3.8 liters. In the United States, refueling is completely different from France. You are already going to the counter to pay (you give an approximation of the price). You fill it up and then you pay what is missing or you get the refund.
A road trip in the United States is planned in advance. You can not leave just like that. Even if the plane tickets are sold today at less than 500 euros for return trip, you will see that the expenses there are high (unless you decide to eat in fast food every day). First, here is the important point to know: 1 $ = 0.87 €
Food side, to eat in a good restaurant and have fun, it will take about $ 30 minimum (not including tips). On the hotels side, you have the opportunity to find affordable hotels, hostels and cool air bnb. Provided you take it super in advance. That's why I tell you again, a road trip in the United States has to be prepared.
Also be aware that a tip of 18 to 20% of the total price must often be left for the guide or  the waiter.
There are several things to consider before leaving:
There are local SIMs that you can buy directly on site. What I advise you to do to avoid misunderstandings when arriving is to buy your prepaid card before leaving. Internet sites like SIM USA offer you cheap cards, for a 30 days package with calls, texts and internet.
Regarding the currency, withdraw money in the city rather than at the airport. The counters at Los Angeles Airport take a higher tax than in the center.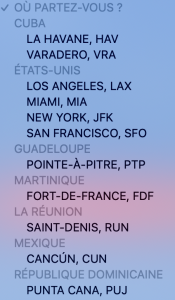 Today, many airlines offer flights at ridiculous prices to go to the United States. For this trip to Los Angeles, I recommend XL Airways.
This airline proposes flights to Los Angeles from Paris CDG from June to September. You can also go to New York, San Francisco or Miami. I did a simulation for your next trip in June. The simple flights are from 235 €. In other words, you will get a flight ticket for 500 € (except during August).
When you buy your ticket, 3 choices are available to you: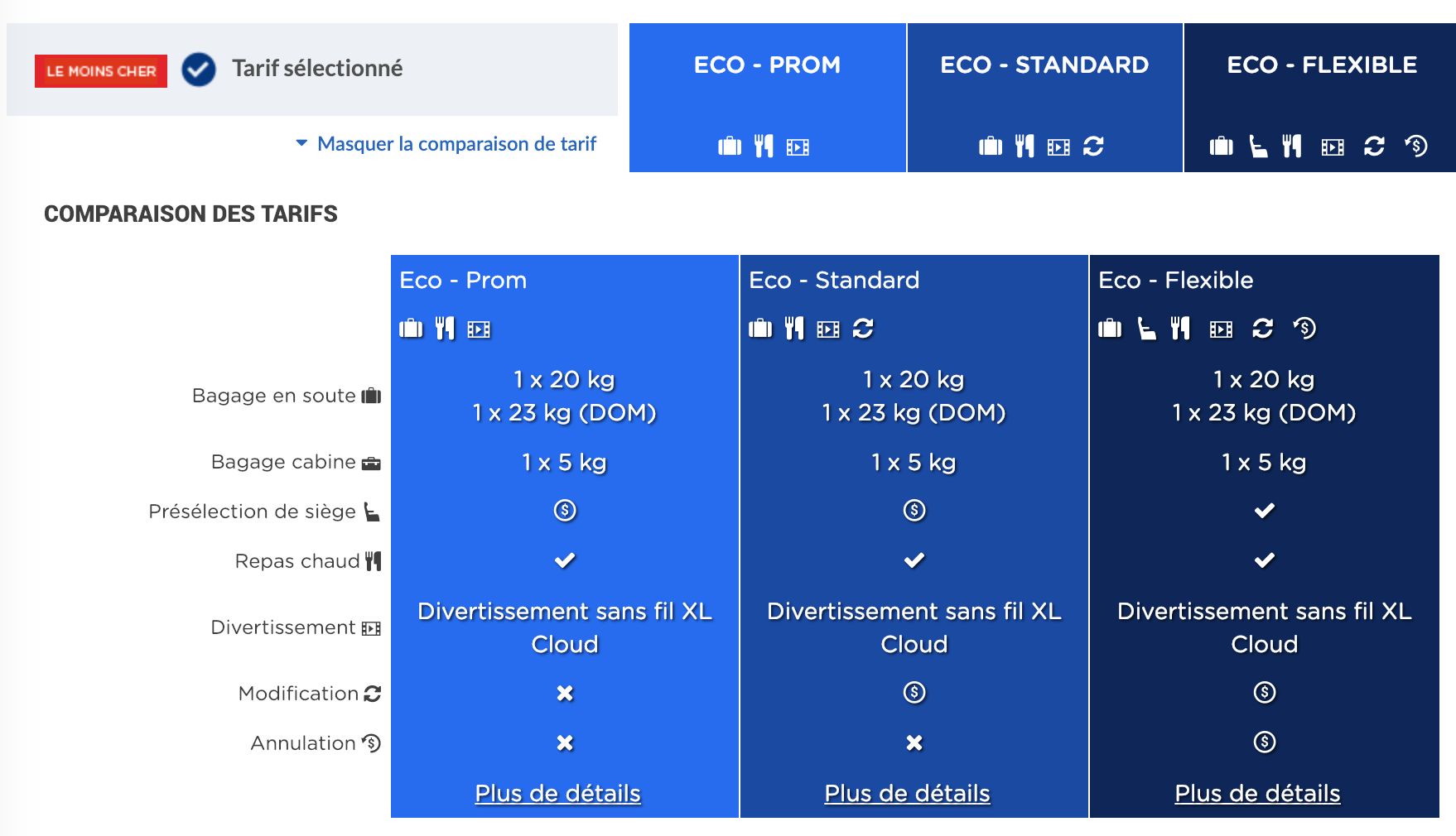 I had chosen a menu (without too much lactose) of the southwest with candied duck and potatoes, foie gras and toast … It was FAR, the meal that I preferred between all the flights I've been able to do since I started traveling. During the 11 hours of flight, several entertainments are proposed to you.
On board, you have WIFI that allows you to access XL Airways entertainment platform via your smartphone, computer or tablet, so you can watch movies throughout your trip. SKYLIGHTS glasses are also available during the journey. These immersive glasses offer you an experience worthy of that of a cinema. You can watch movies in 2D, 3D and even in virtual reality. Pay attention, there is no reservation possible before, you must rent the glasses directly when arriving on board. Be sure to ask them as soon as you enter the plane. There are no glasses for everyone. The rental is 15 € / way.
There are no screens in the planes and this is also why the final price is cheaper than other companies but with these services, you won't see the time pass. I also advise you to open your eyes. During our trip, we could see Greenland and it was really an incredible sight.
DURING THE TRIP
Things to see
The Art District: This is the trendy neighborhood in Los Angeles. Here, you will be able to admire works of street art. With Michel, our guide, you will be able to visit Los Angeles in French and it's pretty cool. He knows all the secrets of the city.
Hollywood: it's a bit cliché but it's really cool. Either you decide to go by car and take yourself for a diva by taking your head out the window with a background music, or you stay 2 hours and you visit the neighborhood, you can admire the stars of your favorite people and guys in costumes.
Melrose Avenue for its second-hand clothes, tattoo shops and a slightly offbeat look. Attention, the avenue is 9 kilometers … You won't be able to visit everything in one day.
The famous Hollywood letters: if you have the time, I advise you to climb to the Hollywood letters to be able to admire the sunset at the end of the day. The hike lasts about 1.30 hours.
Take a paddle class at Venice Beach with Aqua Surf School. For an hour, you will learn the basics of paddle and you will be accompanied by two instructors. I must admit that I was quite obsessed with one of the monitors haha … but I learned super fast huh!
Visit Santa Monica and Venice Beach by bike: this is the activity to do in Santa Monica! On your pink or sky blue bike, admire the beauty of the houses in the area, the American basketball players in action, the Venice canals and the boats, the four-wheeled skates and especially make stops and enjoy!
Restaurants
The Mondrian in West Hollywood: the decor is super nice, you have a view of Los Angeles and in the evening, the atmosphere is really relaxed and cozy.
Café Gratitude: that's what I liked most of my culinary stay. It was healthy, super good and the dishes are super nice looking!
The Perch: a dinner or a cocktail on a rooftop? Perfection !
Places to sleep
The Standard Downtown in Los Angeles is a hotel with super modern rooms, floor to ceiling windows. The only problem was the noise. The hotel is for young people and so cool for meeting but don't go with a kid or if you are looking for calm.

Wyndham Santa Monica: This hotel is located just steps from the Santa Monica Pier's Ferris Eye. One of the musts to visit during your stay.
Things to see
Make the itinerary of the colorful doors of Palm Springs. Be careful when you take your pictures. The properties are private and it is often forbidden to stick to the door to take pictures (which is quite normal).
Visit the MOORTEN Botanical Garden, a botanical garden with crazy cacti! I am a big fan of cactus. The entrance is $ 5. Attention, it's not open every day.
Take your ticket to the Palm Springs Aerial Tram, at 2595 meters of altitude, you will have a spectacular view of Palm Springs. Try to take the tram before the sunset is worth it!
Admire the wind turbines field.
Restaurants
The Juniper: Super refined, the Juniper offers delicious burgers. French fries are extras.

Ruby's Diner: I absolutely wanted to eat in a Ruby's. This is a bit of a reference in the United States, and even more when you are a foreigner. This is the typical example of American fast food where you will eat fat but authentic! The decoration is whew! It would be more lacking that the servers are on roller skates, I would not even be surprised.
Places to sleep
The Saguaro: a vintage, colorful hotel where the atmosphere is super cool and dynamic! The reputation of the Saguaro is well established. Social networks love it.
Things to see
Joshua Tree National Park is a must do in California. It is 2:30 hours from Los Angeles (without traffic). It's home to the Mojave Desert and the Colorado Desert, incredible scenery, rocks and rugged mountains.
It is here that you will be able to admire the trees of Joshua, a unique variety of Yucca. Joshua Tree is also one of the places I loved for sunsets. I have never seen such a clear sky, pink tints and above all a starry sky of madness.
Restaurants
Gadi's Restaurant is the American roadside restaurant for sure! I was served by Jasmine and the food is super good!
The Frontier: I ate toast with avocado madness and soy latte is too good!
Places to sleep
The Pioneertown Motel: This was the hotel I expected the most from the whole trip. The photos will speak for themselves! The desert atmosphere, motel, cries of coyotes in the middle of the night … INCREDIBLE.
Go on Air Bnb: the accommodations at Joshua Tree are super original. This is where the airstreams are the queens.
Things to see
Enjoy the beach at Huntington Beach for volleyball.
Admire from the heights, Crystal Cove Beach.
Take a ride to Balboa Island and stop to eat a Frozen Banana. This is the little super typical snack of the island of Balboa.
Restaurants
Eat a yellowfin burger at The Beach Burger at Crystal Cove. It is also here that you will be able to admire pretty houses along the beach.
Places to sleep
The Marriott Newport Beach is a luxurious hotel located just steps from the beaches of Newport and right in front of a huge shopping center. Attention, the parking is not free for the night and that's quite expensive.