Visiting the Yucatan Peninsula is one of the great things to do during a road trip across Mexico. Tulum, Bacalar, Chichen Itza, there are some must-haves you shouldn't miss during your stay. The Yucatan peninsula has many things to offer: beaches, Mayan cities, cenotes … You won't get bored and most of all, you will be amazed all the time.
As usual, I have just returned from my 2 week road trip across Yucatan and I thought it would be cool to write a travel guide. This guide combines all the steps of our trip but also tips, advices and ideas. Articles will also be written on each of the cities visited. They can be found in the section, Destinations, North America, Mexico on the blog. The Yucatan is a small paradise for travelers seeking nature, adventure, beautiful beaches and rich culture.
Useful links to prepare your road trip in Yucatan
Cenote Noh-Mozon

Papillons sur la route
The different steps: 2 week road trip in Yucatan
Day 1 & 2
Transport from Dijon to Geneva and Geneva airport in Uber.
Overnight at the airport before flying the next day very early in the morning.
Plane: Geneva – Paris – Mexico City – Cancun (the flight was much cheaper from Geneva rather than Paris).
Pick up your baggage in Mexico City and drop it off again after customs.
Take the free train to Terminal 2 and take the internal flight to Cancun (Door 6 / 2nd floor)
My point of view on Paris – Mexico City with Air France:
We traveled in a two-floors A380 airbus. The flight was rather pleasant but compared to prestigious companies like Emirates or Qatar Airways, Air France should modernize its aircraft and services. Indeed, if you are subject to allergies or intolerances, pay attention. For example, there is no lactose-free meal. If you wanna extra meals, you have to book it 48 hours before takeoff. In addition, the hostesses are sometimes not very friendly (it's been several times that happens to me with Air France).
Where to stay in Cancun Airport? Cancun-Soho B & B. This accommodation is really cool. The rooms are spacious. Just a little detail on the breakfast: there is not enough choice. There is a swimming pool and a very large garden.
Price: 52 € / night (breakfast included)
Day 3 : from Playa del Carmen to Tulum
Visit Playa Del Carmen and the main pedestrian street. We didn't go to the beach because of Sargassum. It wasn't worth it and the smell was nauseating.
Lunch at Mexico Loco: the dishes are good but it's very touristy.
Cenote Azul: 120 pesos, I advise you to go early in the morning if you want to avoid tourists. Be careful, go further on the trail to avoid the tourists at the beginning of the cenote. No sunscreen or mosquito repellent to preserve the environment. Parking is free.
Lagoon Akumal Yal-Ku: don't go to the official car parks. Indeed, I advise you to ask the "guards" to call the owner of a white private house that is right before the parking lot. This one has direct access to the lagoon and you will pay less. About 250 pesos for the mask, safety jackets aren't mandatory. Here you will see very nice fishes and it's very calm even in the middle of the day.
Dinner at Burrito Amor, a delicacy and affordable meal: 200 pesos per person (burrito + cocktail) or about 10 € per person. The sauces are very good. Taste the rosemary one, a delight!
Where to stay in Tulum? Hotel Huitzical, my favorite of the whole trip! The hotel is in the city center and very affordable. You will see that Tulum is an expensive city, especially on the beach side and around the beautiful hotels. The Huitzical Hotel has a pool and the breakfast is amazing. I even had pancakes without lactose.
Price: 143 € for 3 nights (breakfast included)
Cenote Azul

Maisons colorées sur la route
Day 4: Tulum
Gran Cenote opening at 8:10 am. Take a quick shower (mandatory) before going to the cenote. Take the second entrance, you will arrive directly on turquoise water and there will be even turtles if you are lucky. Entry: 180 pesos
Cenote Calavera: 100 pesos. Quieter than the previous one. There is a ladder and a liana and you wanna jump.
Back to Tulum and visit Tulum Beach (Azulik, Matcha Mama, Follow the Dream sign, Casa Malca and Pablo Escobar's house)
Lunch at Raw Love Café, good and especially healthy!
Dinner at Sabor del Mar, in the center. Too good and cheap. I recommend it!
To know: the car parks are about 100 pesos at Tulum Beach
Day 5: Tulum
Visit the ruins of Tulum (at the opening to avoid tourists). Price: 170 pesos (parking + entrance). It is very pretty and you have a direct view on the sea and the Mayan city.
Lunch: Eufemia. Ok but tacos are not expensive. In Mexico, you'll have to get used to Tacos if you want to eat and not spend a lot of money 😉
Cenote Yax Chen, super cool and calm. Some people are saying there are two alligators in the cenote but you don't have to be scared. Very wild and adventure. Entry: 50 pesos
Apéro at Ciel Rose for the sunset. Very nice, the cocktails are 190 pesos.
Dinner at I Scream Bar, pretty fun! Perfect for young travelers. Good music, good cocktail and good tacos. About 75 pesos for 2 tacos.
Matcha Mama

Raw Love

Casa Malca : Pablo Escobar

Matcha mama

Raw Love Café

Ruines de Tulum
Day 6: Bacalar
Bacalar (about 2h drive)
Lunch and afternoon in Los Aluxes to enjoy the lagoon and turquoise blue water. You have to eat or drink something to enjoy the outdoors and the beach. The place is heavenly. There are hammocks and swings in the water.
Dinner at Mango y Chile: the burgers are vegans and super good! around 200 pesos.
Where to stay in Bacalar? Mykonos Hotel. The rooms are white and blue, like a Greek decor. The beds are very comfortable. There is no air conditioning 😉 The hotel is 5 minutes from the lagoon but you have to take the car to go because it's next to the national road. The owner is very kind.
Price: 49 € for two nights.
Day 7: Bacalar
Breakfast at Enamora: wide choice and great coffee!
Cenote Cocalitos: 50 pesos (parking included). The cenote is very pretty and calm in the morning. It starts to get more crowded from 10am. Here, you will be able to admire very beautiful stromatolites "rocks". Be careful to not walk on it.
Los Rapidos Lagoon Club: 100 pesos entrance (parking included). The restaurant gives access to the water. Beautiful and perfect for swimming. At the entrance, go forward and go on the left, there are beds, super cool to lay down.
Lunch at the Playita: very good but expensive for what it is. You pay the view and the product because it's "healthy" or I should have say "trendy". Try the strawberry lemonade, it's delicious.
Afternoon boat trip: 250 pesos per person for about 2.5 hours boat (Cocalitos, Negro, Hotel Laguna, Pirate Canal and swimming)
Dinner at Barbanegra: very good and cheap tacos. Night ride in the city center, very pretty. Good atmosphere and good music.
Small ice cream at Annie, the sorbets are delicious. About 20 pesos ice cream.
Los Rapidos Lagoon

Cenote Cocalitos

Los Rapidos Lagoon

Cenote Cocalitos
Day 8: Campeche
Breakfast at El Manati: vegan option possible and very good avocado toast.
Campeche (about 5.5 hours for the trip by car) Small stop at Champeton, very nice seaside resort. Avoid stopping in Escarzega which is a city known for its drug dealing.
Arrival in Campeche and lunch at Pagoda: the dishes are typical. The house is vintage and the atmosphere is super cool.
Detour at Bazar Artesanale to buy pretty dream catcher.
Chocol'Ha hot chocolate, delicious! vegans choices available.
Dinner at Conchita: so so, super fat and touristic restaurant. But Horchata con Coco is very good!
Where to stay in Campeche? Hotel Ximbal, the owner is very kind and the room are spacious. There is a small pool if you want to enjoy and be cool in the middle of the day.
Price: 31 € / night (breakfast at 4 euros extra)
Day 9: Campeche and Merida
Visit of Campeche: Mansion Carjela, San Roque Church, Cathedral, pedestrian streets and colorful houses If you can, don't miss the sunset over the Malecon.
Merida (about 1.5 hours drive). City Center Tour: Palacia Del Gobierno (free), Casa de las Artesanías
Lunch at Chaya Maya: girls wear original and typical outfits. The food is good but again not crazy. I think we were mostly tired of tacos during that time.
Dinner at Mercado 60, super cool! This food court offers an incredible diversity of food from all over the world! And it feels good. Opens from 6 pm.
Where to sleep in Merida? Hotel Flamingo, not very expensive and the parking is included, which is super cool. It is very difficult to park in Merida. The rooms are small and there isn't so much light but that's fine for the price! The hotel is super well placed.
Price: 60 € for 2 nights
Day 10: Merida and surroundings
Breakfast at 100 pesos via the Flamingo Hotel. But … bad surprise, we arrive again at Chaya Maya. The hotel didn't tell us where the breakfast will be.
Cenote Noh-Mozon: entrance to 40 pesos. 50 meters deep and nature on point. This cenote is beautiful! The color of the water is amazing.
Cenote Kankirixché: 60 pesos the entrance. Very pretty, but much less deep. There were a lot of people around 11am.
Yucalpeten beach: very quiet but you have to pay access to the Costa Club to enter (250 pesos). We asked the guard to let us pass nicely at the end of the day and she said yes 🙂
Discovery of flamingos on the way home. They hide in the mangroves along the road.
Flamants roses

Uayma

Ik-Bil
Day 11: Izamal
French breakfast at Café Crème, I think it was one of my favorites of the whole trip! The dishes are divine and the French toast .. amazing!
Izamal (about 1 hour drive)
Visit of the city center, the famous yellow houses, the convent and the ruins.
Nail polish gel for 9 dollars just in front of the pyramid! The living room is clean and the girls are super nice.
Lunch at Kinich, my favorite restaurant of the entire stay. The dishes are very good and super affordable and it's super good quality.
Discovery of the convent at sunset. Magical !
Dinner at Sabor a Mi, very good and restaurant in rooftop. Great at sunset.
Where to sleep in Izamal? Posada Ya'ax Ich, my 2nd favorite hotel. This is the ideal hotel to relax and take a break during your 2 week road trip in Yucatan. There is a pool, it is quiet and the rooms are spacious.
Price: 24 € / night (breakfast not included)
Day 12 : Chichen Itza and Valladolid
Chichen Itza: It will take about 2 hours to visit the whole site. Entry: about 480 pesos. Attention, parking is 80 pesos and there is a toll before Chichen (105 pesos).
Start with the El Castillo pyramid at the opening. You can also take special tickets for the sunset on the pyramid. It's worth it according to some people talking with me on Instagram.
Breakfast at Luna Cafe in town, very good. The pancakes are delicious. About 120 pesos.
Cenote Lol-Ha is 30-minute drive away. Very pretty and wild! Nature lovers will be happy. We were alone because the cenote is not so much known. Entry: 50 pesos.
Valladolid (about 1 hour drive)
Lunch at Yerbabuena Del Sisal: great restaurant, especially for vegans! The dishes are good. I ate lasagna with vegetables worthy of my mom's.
Cenote Oxman: entry to 80 pesos. You can eat on the site and enjoy the hotel pool by paying 150 pesos that will be returned after to pay for your dishes in the restaurant. This cenote is beautiful!
Dinner at the Tratoria San Giovanni, we wanted to eat Italian for once! The pasta is good. Count 130 pesos for the pasta dish.
Where to sleep in Valladolid? Hotel Peregrina, a jewel in the heart of the city center with a small car park, swimming pool and spacious rooms. Everything is well decorated and the staff is friendly.
Price: 68 € for 2 nights (without breakfast)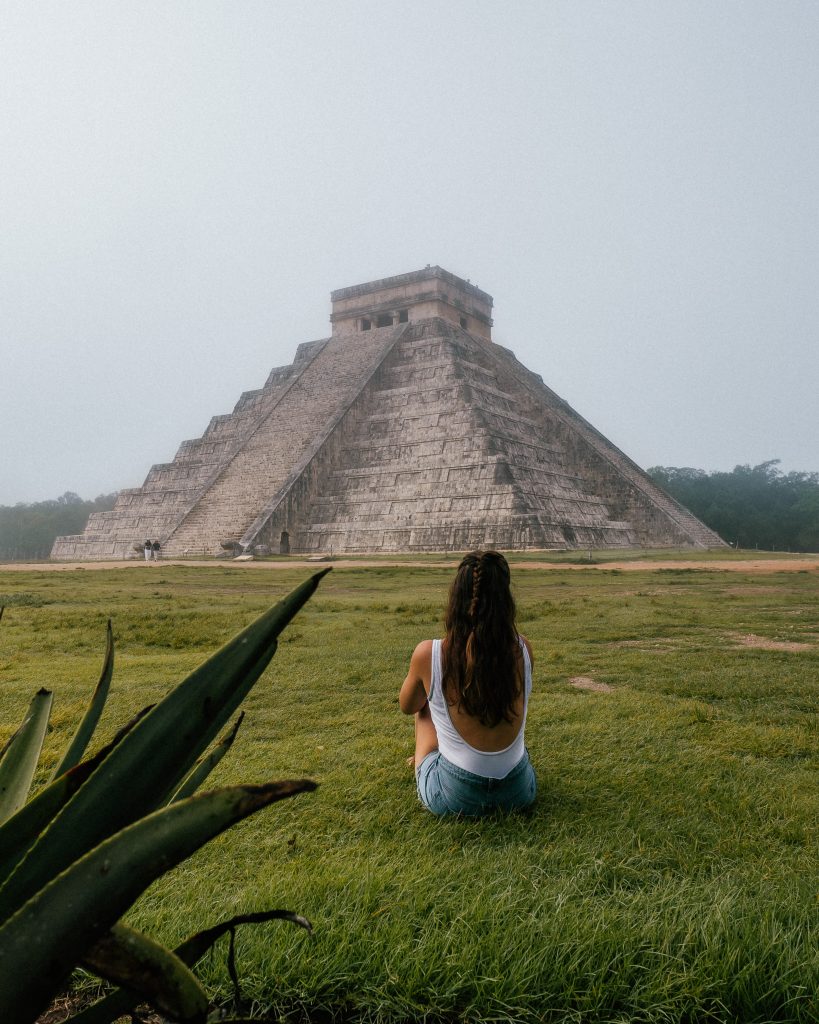 Day 13: Valladolid
Breakfast at Cafeina Food Company: no vegan choice. Delicious pancakes and well supplied! 150 pesos for the whole.
Cenote Ik-Bil: 80 pesos the entrance. It looks like Oxman. Go in the morning if you wanna be alone. There can be up to 700 people during the day. I don't like it so much because it looks like a fun park.
Discovery of Uayma and its colorful church
City Center Tour: Calle 41, 41A (very pretty), Palacio Municipal, San Gervasio Church, Casa de los Venados
Wabi Gelato ice cream: chocolate sorbets are divine! One of the best sorbets of my 2 week road trip across Yucatan!
Dinner at the Bistrot The city: the restaurant where I ate a typical mushroom from Mexico, which smelled particularly bad!
Day 14: Holbox
Holbox, last stop of the trip and one of the most awaited of our 2 week road trip across Yucatan. Before leaving, we had breakfast at Cafe Del Profesor, delicious! I taste a pink lavender smoothie, yum. So good.
Be careful, there are toll roads on the route (about 100 pesos).
We leave the car in a car park near the ferry (200 pesos for two days).
Ferry for Holbox (both are at the same price): 150 pesos one way.
Lunch at the NAAY: healthy bowl from 145 pesos. Very good but we waited 45 minutes to be served.
The beaches of Holbox are all free access and that's ultra cool.
Walk in the small city center and discover the street-art.
Coffee smoothies at Tierra Mia. Very good.
Dinner at Los Peleones: very good and accessible. Be careful, they take the credit card but sometimes there are connections problems in the island. Always have some cash on you. ATMs are sometimes empty and there are only two on the island.
Plankton and Milky Way during the evening: go to the beach of Punta Coco to admire the plankton if the season allows it.
Where to stay in Holbox? Hotel Maragaritas Apartments and Suites. Super cool and cheap for where it is. 3 minutes from one of the most beautiful beaches on Holbox Island. There is a pool, the rooms are very spacious. Our room had a balcony and an indoor hammock.
Price: 163 € for 2 nights (breakfast included)
Day 15 : Holbox
Punta Coco: beach and white sand
Lunch at Artesano: vegan burger. Cost 200 pesos for a complete meal.
Punta Mosquito during the evening, flamingos and sunset. You can go through the lagoon to go to see the flamingos. Be careful, respect them and stay 100 meters away from them. Foresee the mosquito repellent, the beach is aptly named.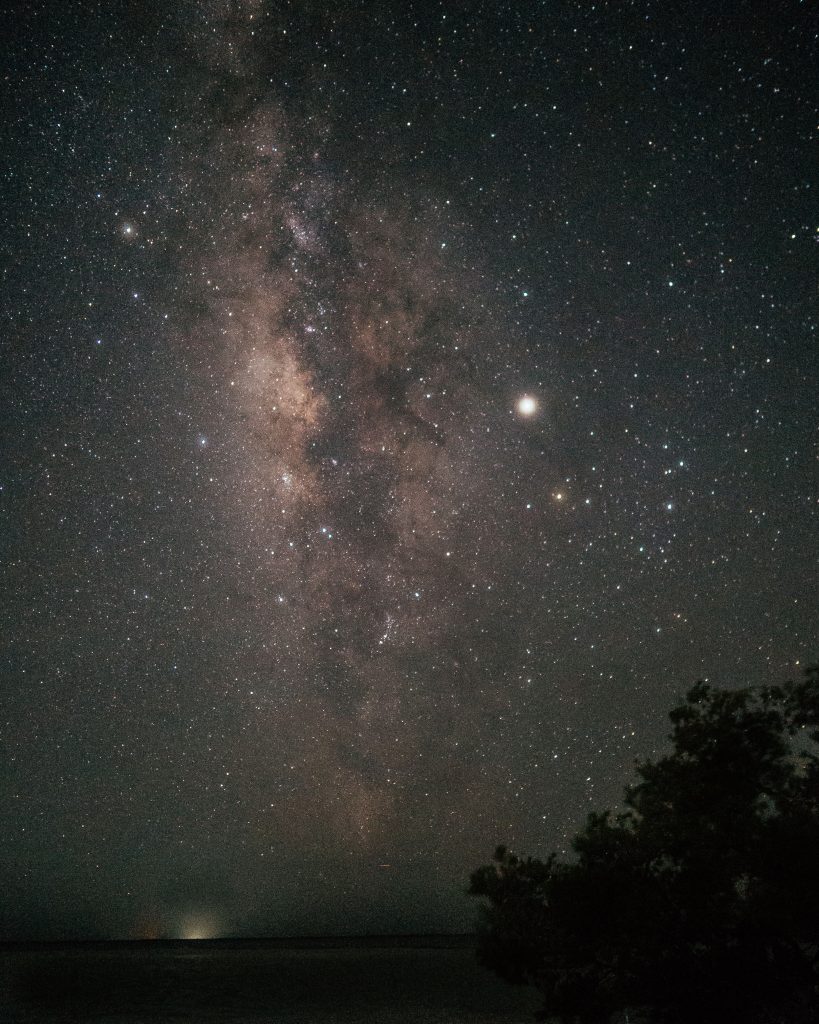 Day 16 : Go back to France
Things to know for the best 2 week road trip in Yucatan
Avoid taking money out of ATMs outdoors. Go directly to an ATM in a bank. It's safer. Be careful, a lot of ATMs give dollars and not pesos.
Purchase a SIM card in a 7 Eleven: 150 pesos (card) + 125 pesos (recharge) about 12 €
Small budget: in Tulum, make happy hours, 2 cocktails for 1!
Essence: about 800 pesos for a full. Don't forget to give a tip to the pump man (like in restaurants).
Be careful to book accommodations with parking to park your car without problem. Especially in the big cities …
Beware of "topes", the famous speed bumps in Mexico that are placed everywhere on the roads and aren't as nice european ones.
Take your ID and your passport to avoid giving your passport to the police men if they control you on the road. Sometimes, they take your passport and ask money to give it back to you.