Marrakech était la première étape de notre voyage. Nous y sommes restés 4 jours avant de partir en direction du désert, puis une journée en rentrant de Tinghir et des gorges du Toudra. La ville Rouge était exactement comme je l'avais imaginée : des ânes, une multitude de couleurs, un souk incroyable, des thés à la menthe et des tajines délicieux.
La ville rouge, aussi appelée "ville ocre", ressemble à celle que l'on s'imagine tous : une Medina incroyable, très fréquentée mais bondée de secrets, de magnifiques palaces, hôtels et riads, une culture riche et colorée et une cuisine délicieuse.
——– (ENGLISH VERSION AFTER THE PICTURES)
COMMENT Y ALLER ? PRIX ?
Si vous n'avez pas plusieurs semaines de libres sur votre calendrier pour visiter le Maroc, Marrakech est la ville parfaite pour y passer un long weekend.
Avec Easyjet, vous vous en sortirez pour environ 150€ aller-retour, au départ de Paris – CDG (en comptant un bagage à enregistrer, puisqu'Easyjet prend en chasse tous les voyageurs qui auraient plus d'un bagage à mains).
Au départ de Paris Beauvais, Ryanair propose des vols à environ 70€ aller-retour (en sachant que vous n'avez pas besoin de bagage à enregistrer puisque vous pouvez transporter un bagage à mains de 10 kg + un petit sac à mains).
À FAIRE ? LES INCONTOURNABLES
Il y a des lieux incontournables à visiter pendant un séjour à Marrakech. Voici ceux qui faisaient partie de notre programme :
Le Palais Bahia : la visite dure environ 30 minutes, vous ne paierez que 2€ pour entrer. Les couleurs, les mosaïques, les végétaux… C'est le lieu parfait pour bien commencer son séjour.
Magasins d'épices et de produits naturels : vous allez pouvoir découvrir comment est conçu l'huile d'argan, quels sont les fleurs et plantes les plus efficaces contre certains problèmes de santé, mais aussi à partir de quelles fleurs sont créées les couleurs. Par exemple, le jaune est conçu à partir du safran, et d'autres couleurs viennent des fleurs de cactus.
Le souk : faites une pause shopping, perdez-vous dans l'ancienne Medina et le souk de Marrakech. Finissez votre trajet par un arrêt sur la Place Jemaa el-Fna et allez boire un thé à la menthe au Grand Balcon du Café Glacier. C'est l'endroit idéal pour avoir une vue panoramique sur la place pendant le coucher du soleil, et surtout éviter le tumulte !
La Villa Majorelle : ancienne maison d'Yves Saint-Laurent, cette villa est aussi réputée pour ses jardins et son bleu Majorelle, une couleur très intense et représentative de ce bâtiment phare.
La Médersa Ben Youssef : j'ai été impressionnée par les couleurs et les mosaïques de cette école coranique. Elle tient son nom de la mosquée située aux alentours. Elle est constituée de 132 chambres, d'une salle de prière et d'un grand patio. On l'a très longtemps considérée comme l'école la plus magnifique du monde arabe.
Vous pouvez aussi aller visiter la Palmeraie, un espace de plus de 15 000 hectares où sont cultivés près de 100 000 arbres. Attention, quand vous montez dans un taxi, ne vous faites pas avoir par les prix des forfaits à la journée. Vous paierez beaucoup plus cher que si vous choisissez l'option de visiter les lieux par vous-même.
L'HÉBERGEMENT
Beaucoup de voyageurs viennent à Marrakech pour profiter de la beauté des Riads. On pense notamment au très célèbre Riad Yasmine, qui fait fureur auprès de tous les Travel Instagramers. Eh bien, pas nous !
LE KENZI MENARA PALACE
On a choisi de passer nos 4 premiers jours dans un hôtel situé à quelques minutes de l'aéroport, derrière les jardins de l'Agdal : le Kenzi Menara Palace. Les chambres sont toutes dotées d'un balcon, qu'elles soient en rez-de-chaussée ou en hauteur. Idéal lorsque vous voulez prendre votre petit-déjeuner dès votre réveil et profiter des magnifiques jardins. Les réservations sont en All Inclusive. En plus d'une déco incroyable et d'espaces adaptés à chacun, le Kenzi Menara Palace possède une immense piscine, de taille olympique. Vous pouvez également prendre un cocktail au bord de l'eau en journée ou au Lobby bar, sur un fond de musique live en soirée. Cerise sur le gâteau, laissez-vous tenter par un soin au spa de l'hôtel. J'ai testé un hammam suivi d'un gommage typique marocain. On applique du savon noir sur l'ensemble de votre corps, on laisse reposer quelques minutes dans la salle à vapeur, puis on vous exfolie la peau avec un gant adapté. Résultat : adieu les peaux mortes ! 🙂 Plus d'informations à propos de l'hôtel : www.kenzi-hotels.com.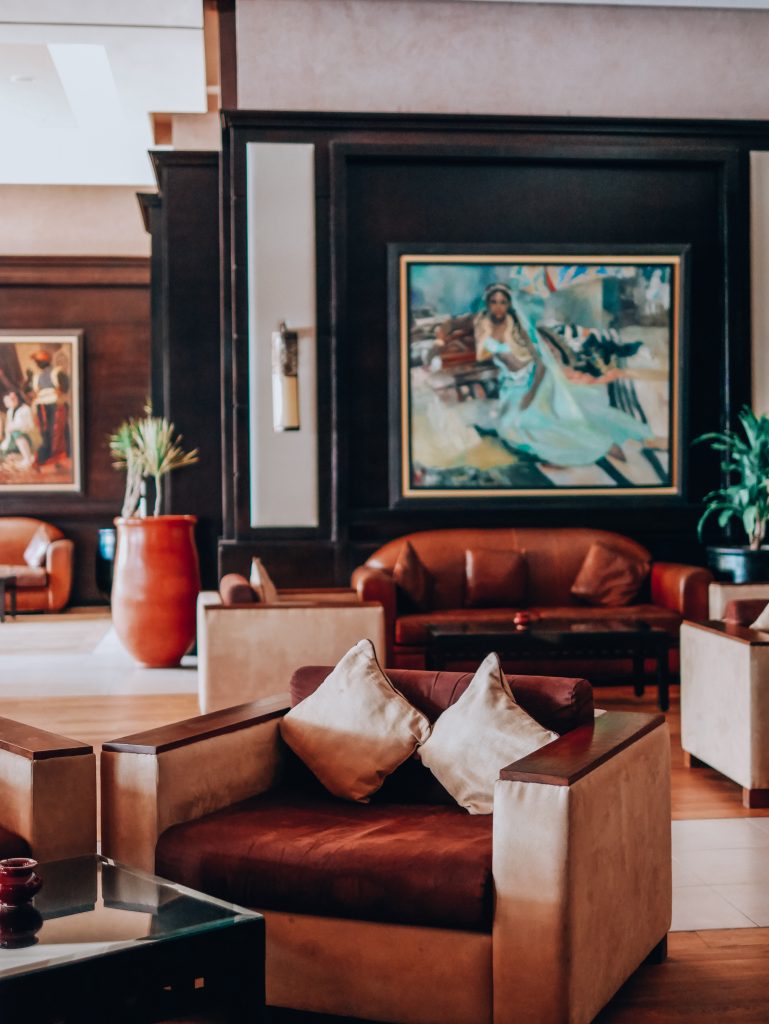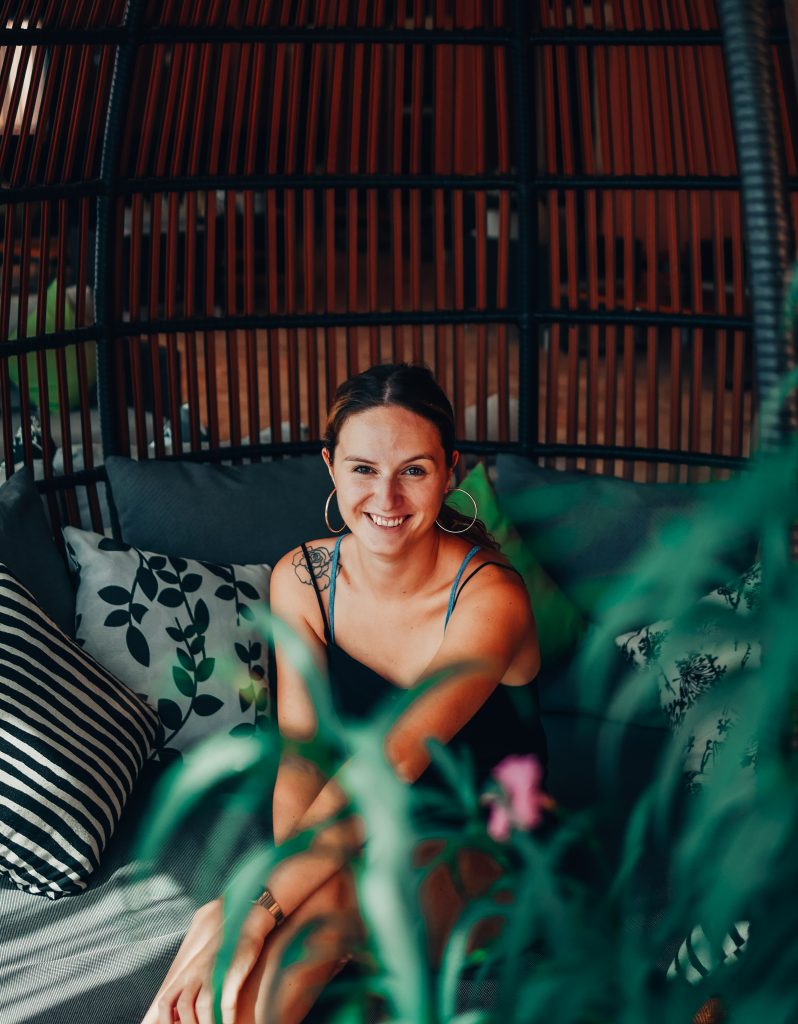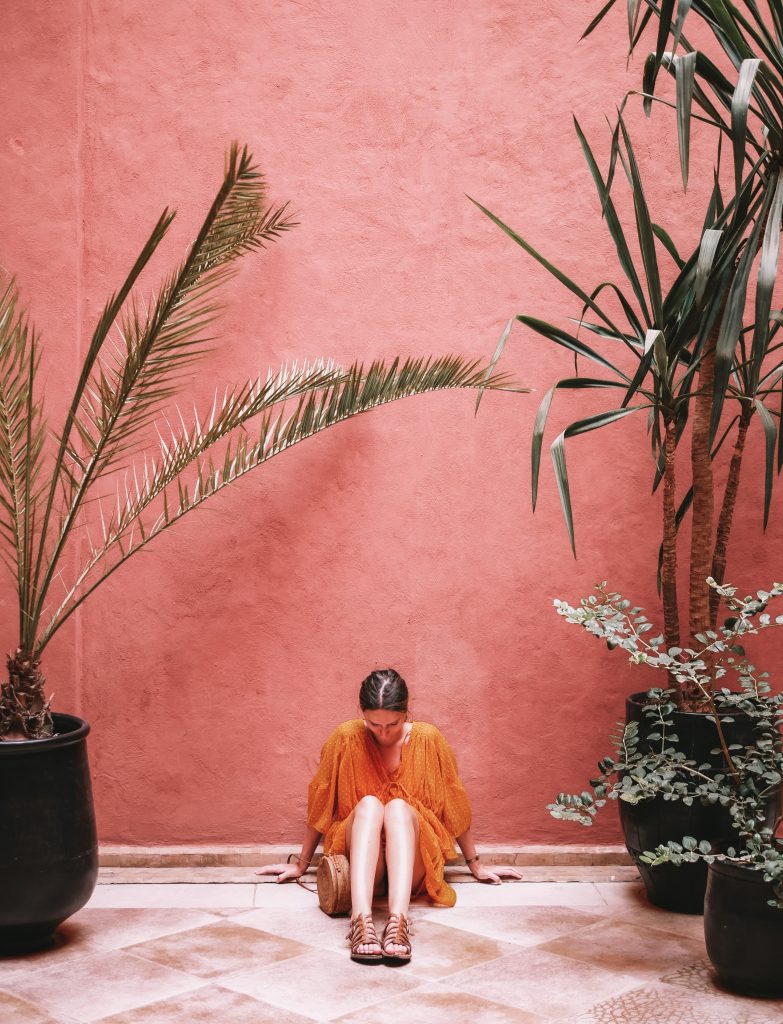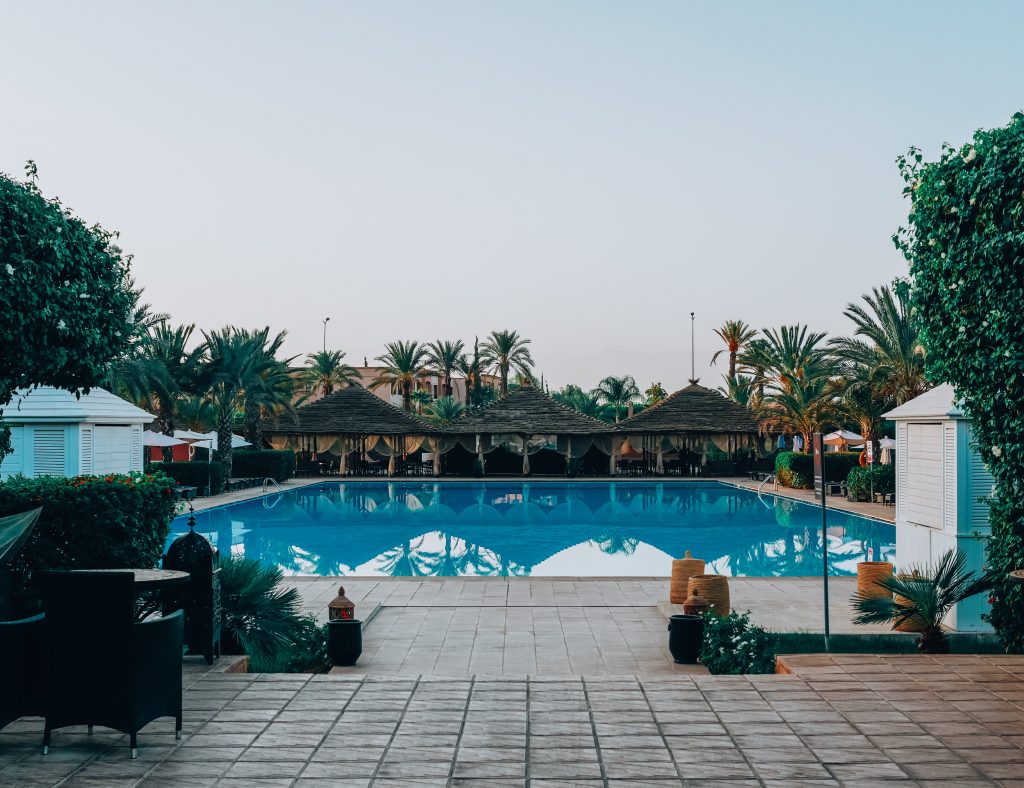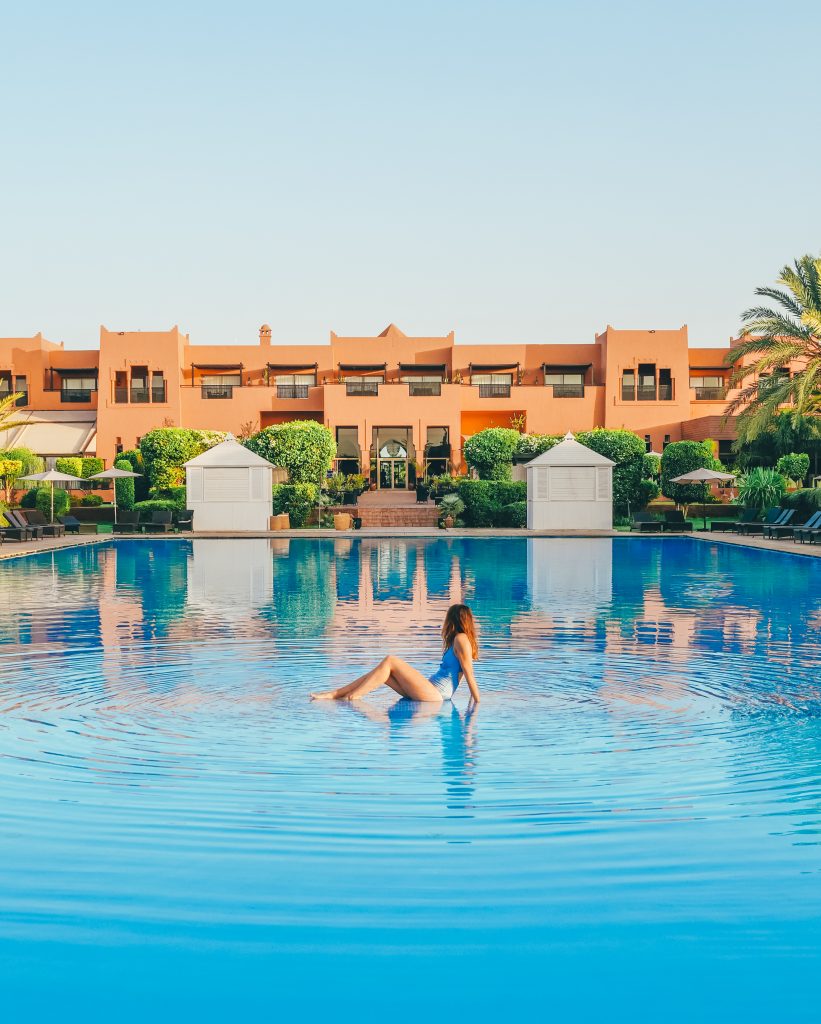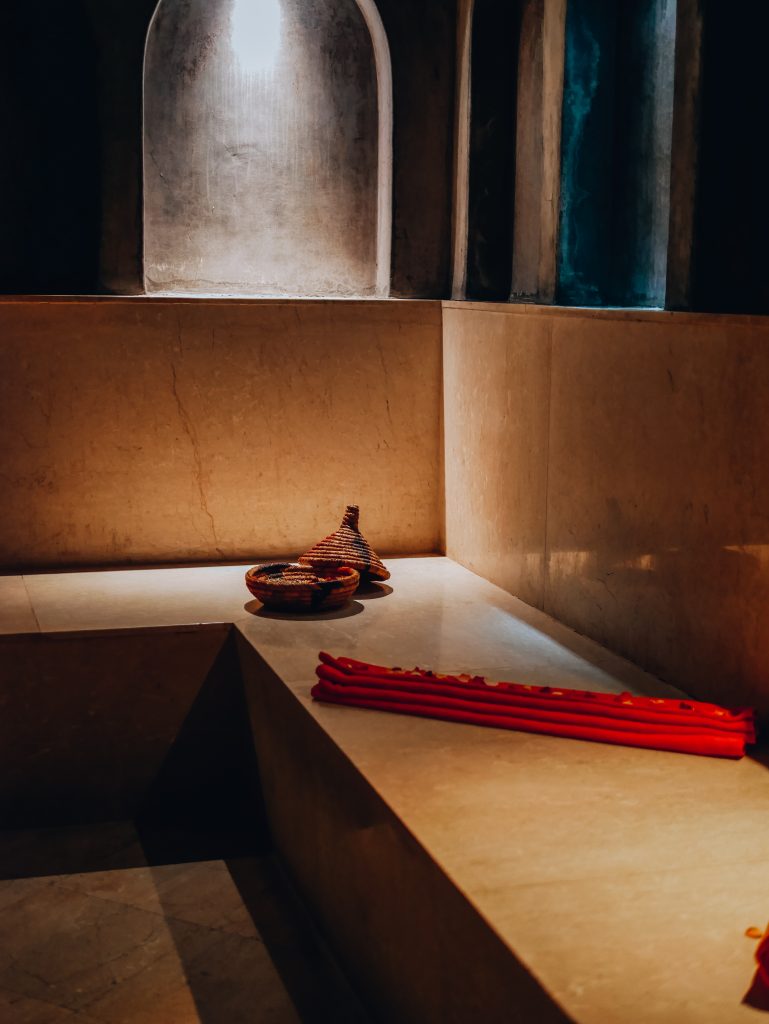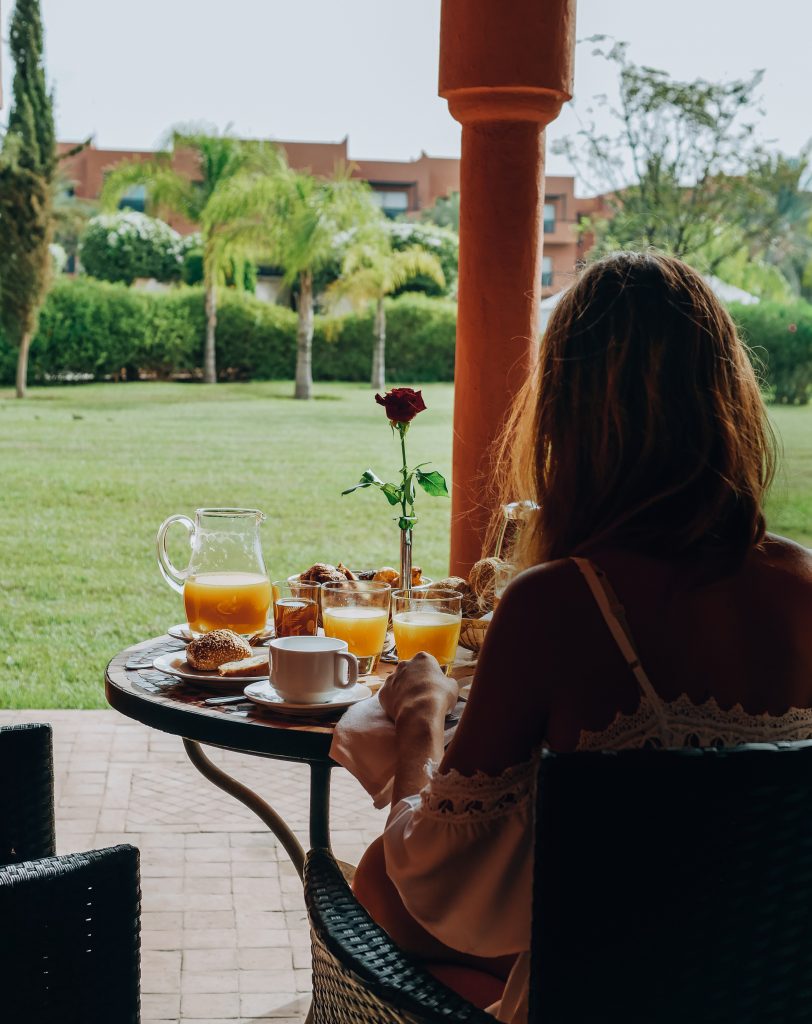 LE KENZI FARAH HOTEL
En revenant du désert et de Tinghir, nous avons passé une nuit à Marrakech au Kenzi Farah Hotel. Pour tout vous dire, nous étions tous les deux malades à notre arrivée. Nous avons donc fait une bonne sieste avant d'aller dîner au restaurant marocain de l'hôtel. Au menu, tajine de poulet au citron (un délice) et assortiments de briouates marocains, un beignet de forme triangulaire type samoussa, fourré aux légumes, au poulet ou encore à la fleur d'oranger et aux amandes. Le dîner nous a permis de reprendre des forces ! Le lendemain, nous avons pris un bon petit-déjeuner dans la salle commune. Le buffet est incroyable, les produits sont frais et il y a beaucoup de choix. Nous avons profité de la matinée à déambuler dans les gigantesques jardins de l'établissement. Il y a quelques bancs et des tables pour profiter du soleil. Vous pouvez aussi aller vous baigner dans la piscine située au cœur de l'hôtel. En prime, l'établissement se situe dans le quartier de l'Hivernage, endroit le plus prisé de la ville de Marrakech, à deux pas du Palace de la Mamounia et de l'hôtel Es Saadi.
——– (ENGLISH VERSION AFTER THE PICTURES)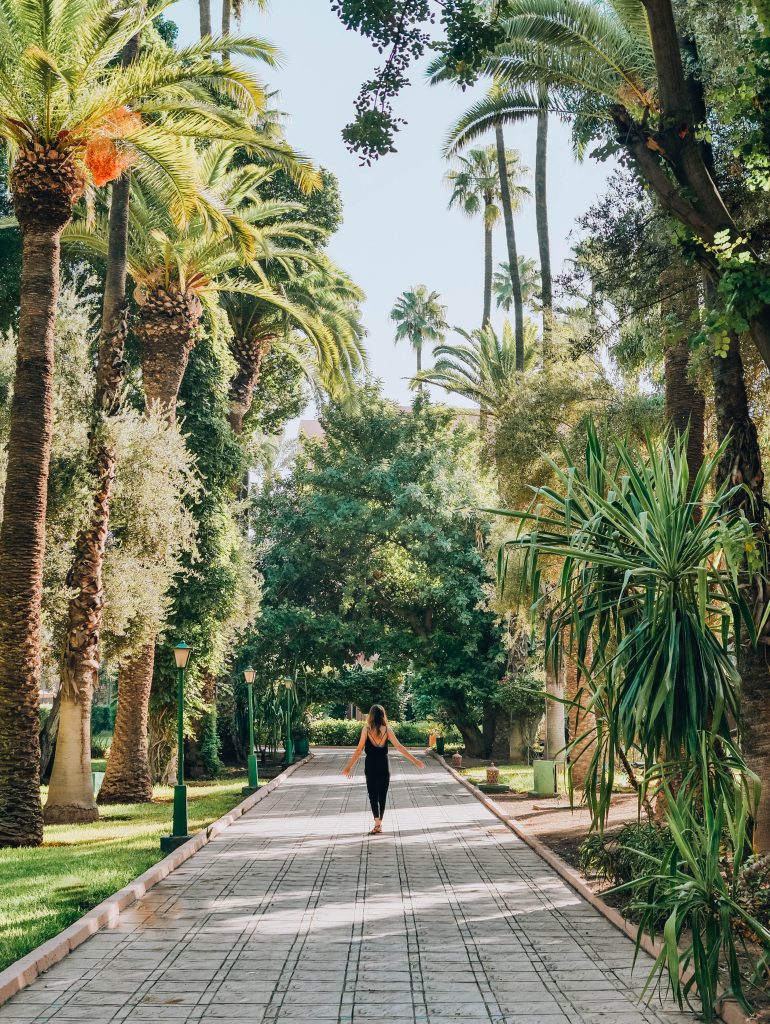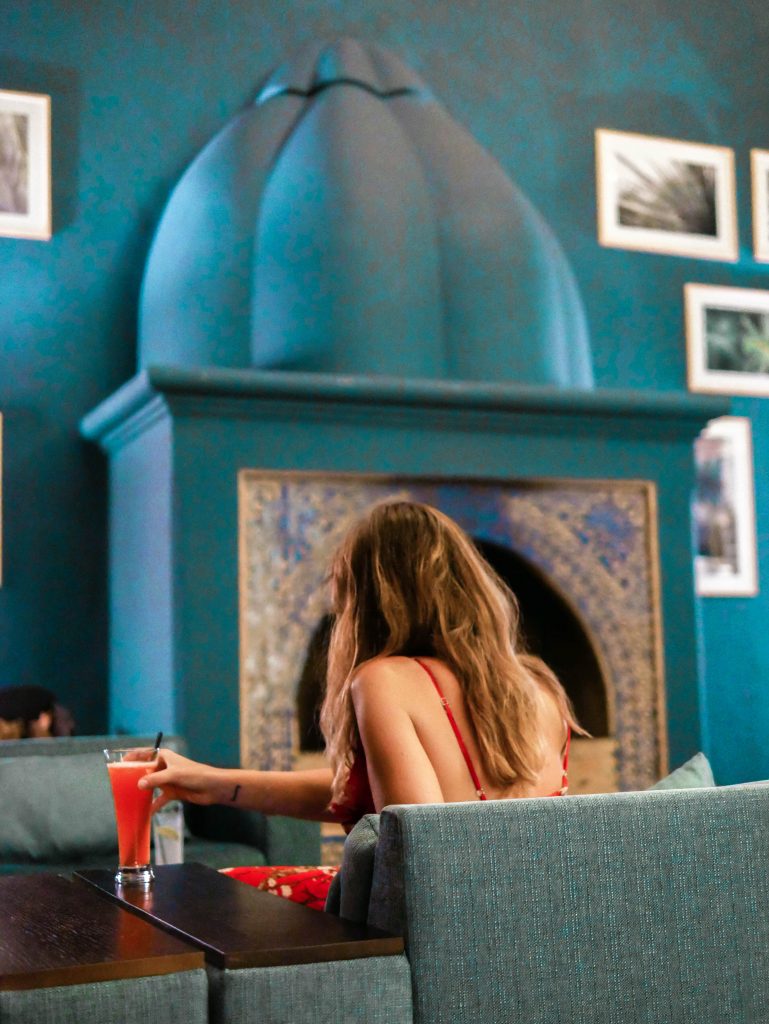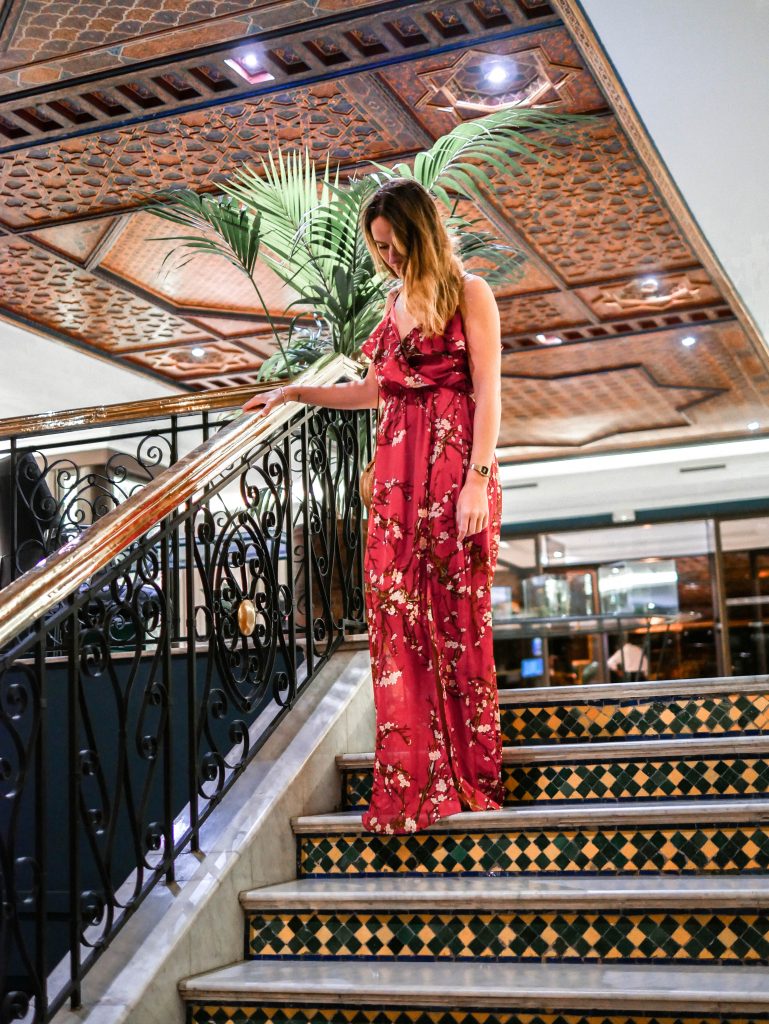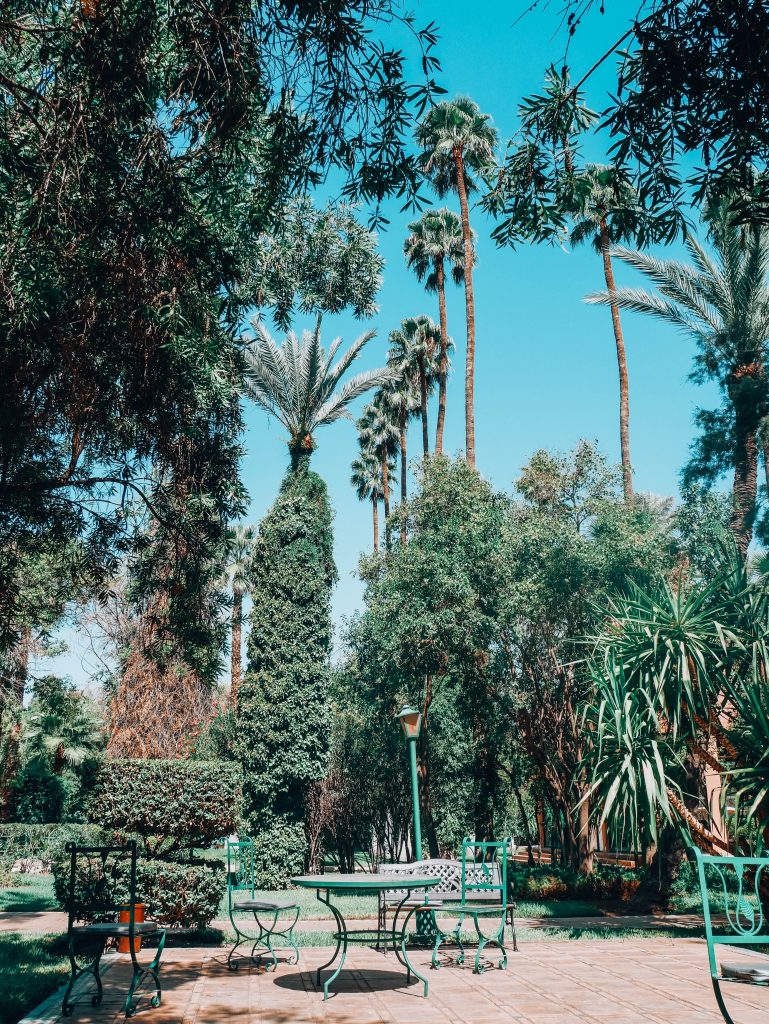 COLLECTION DE PHOTOS MARRAKECH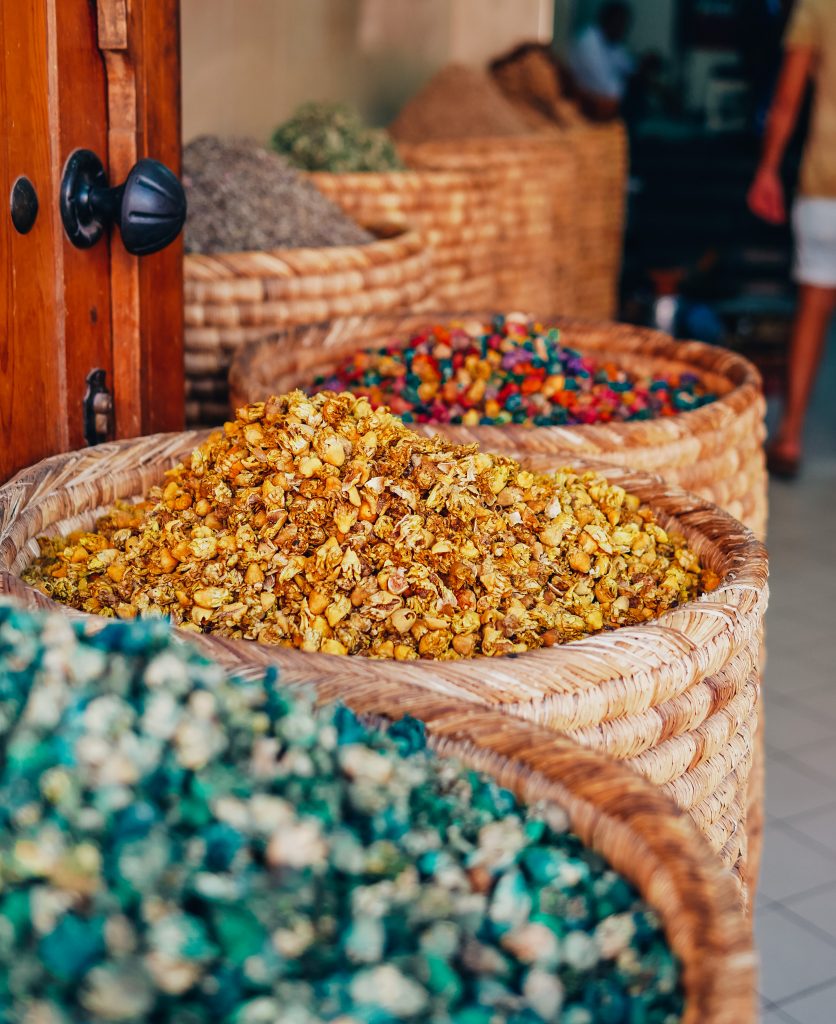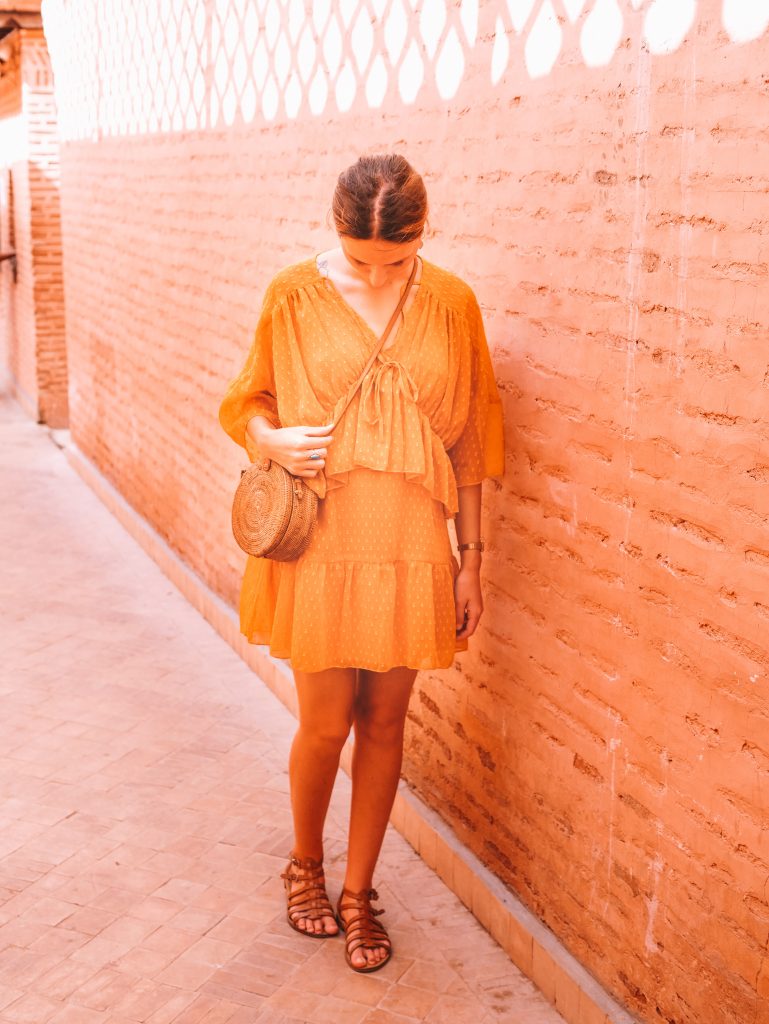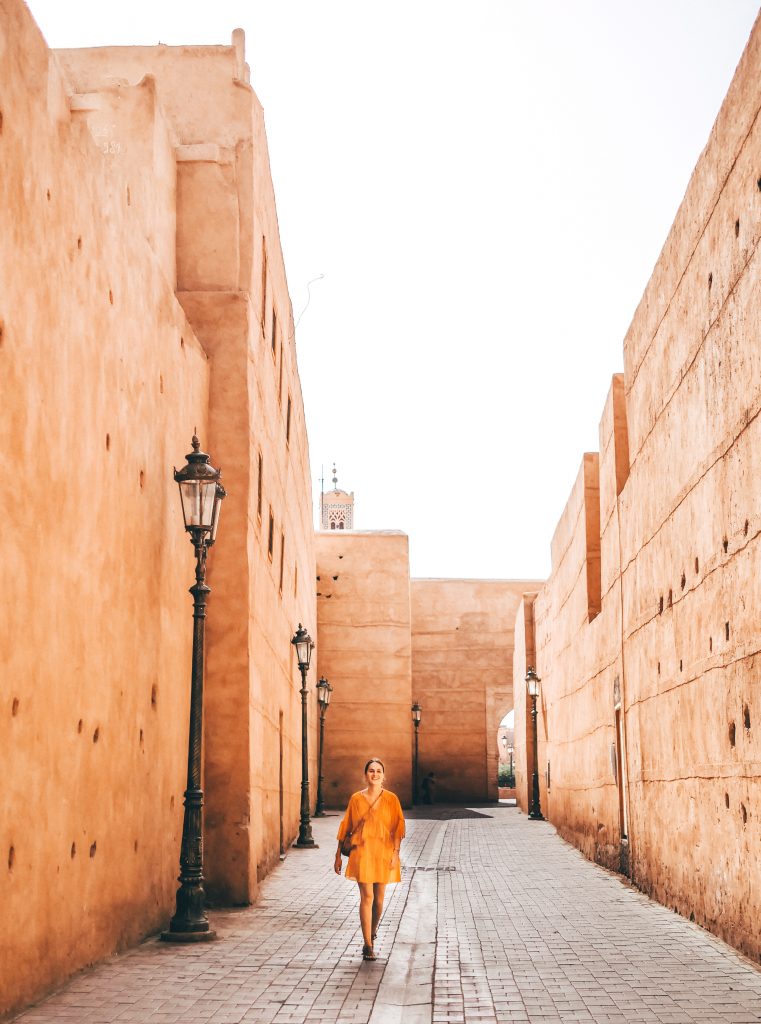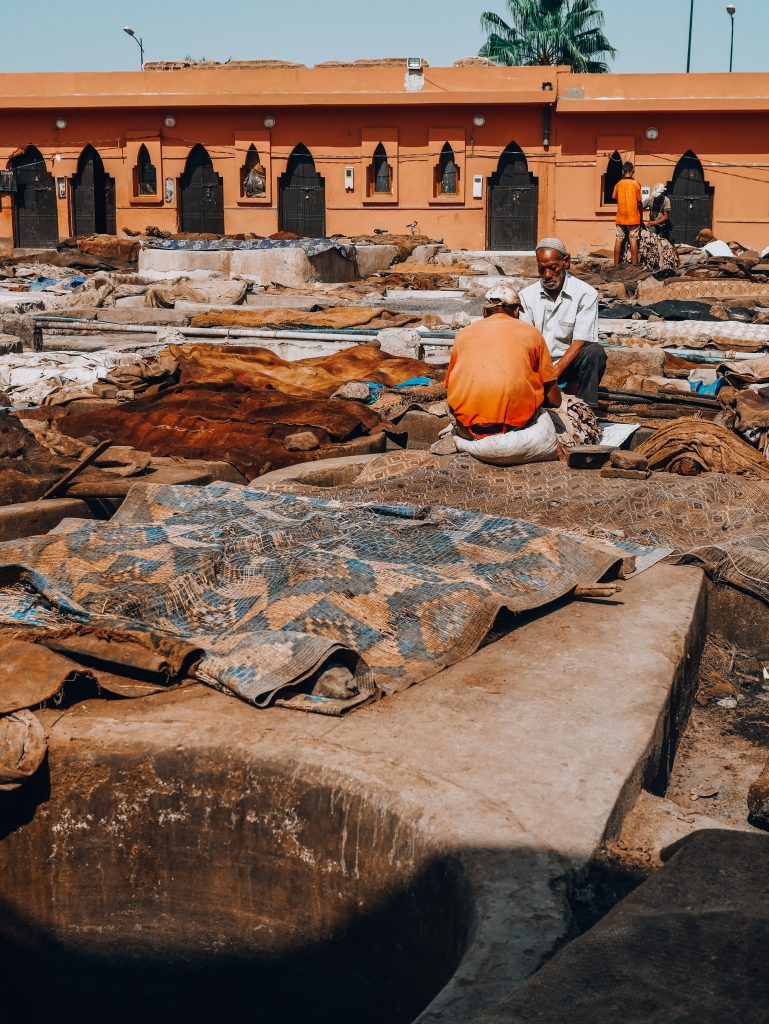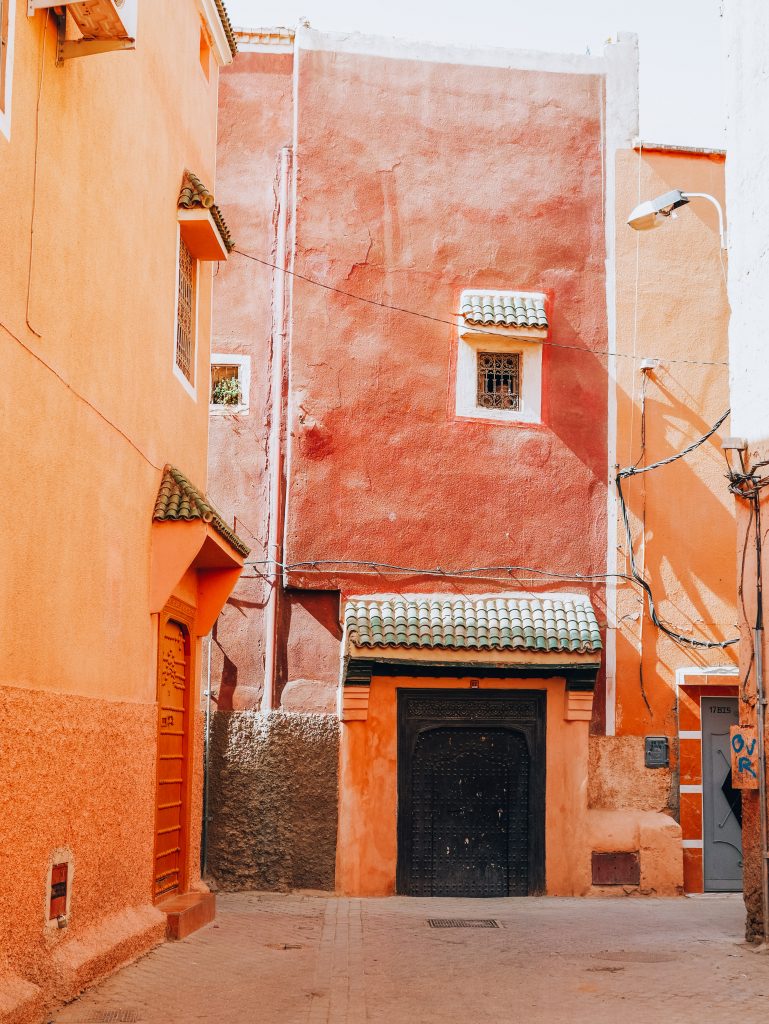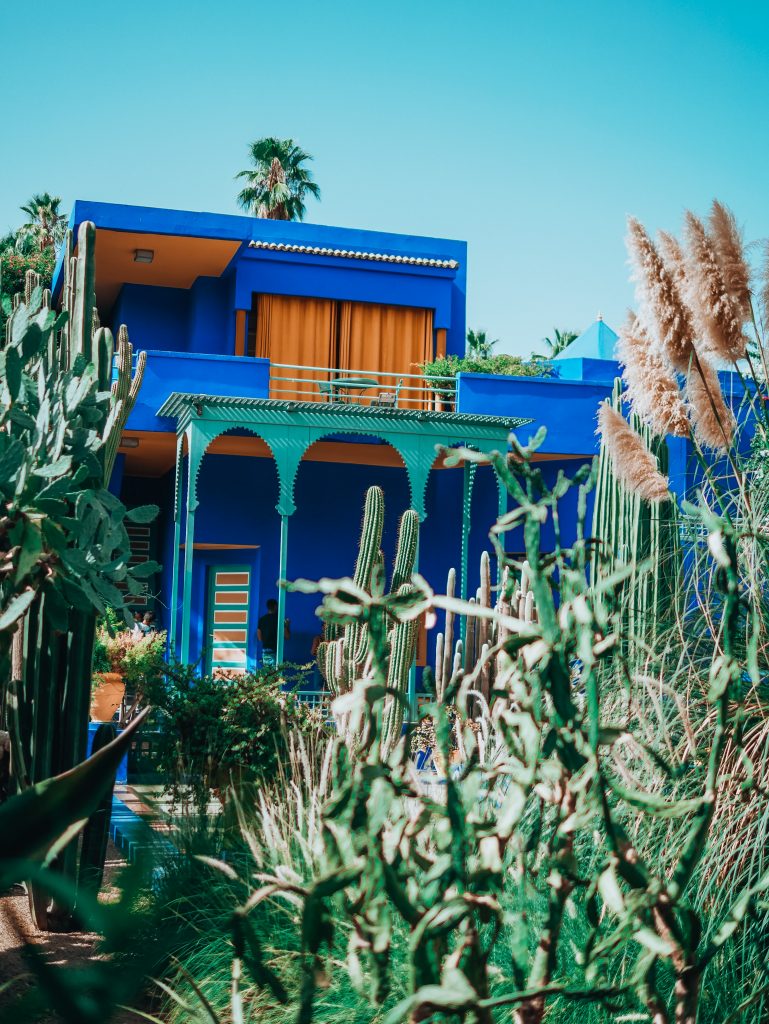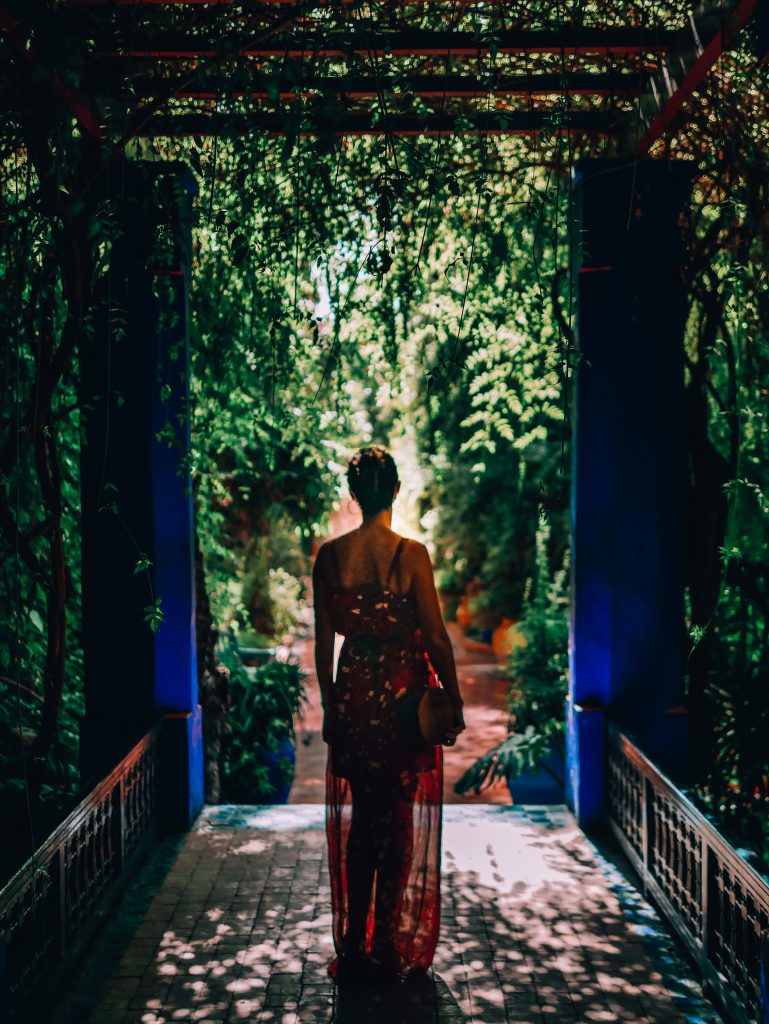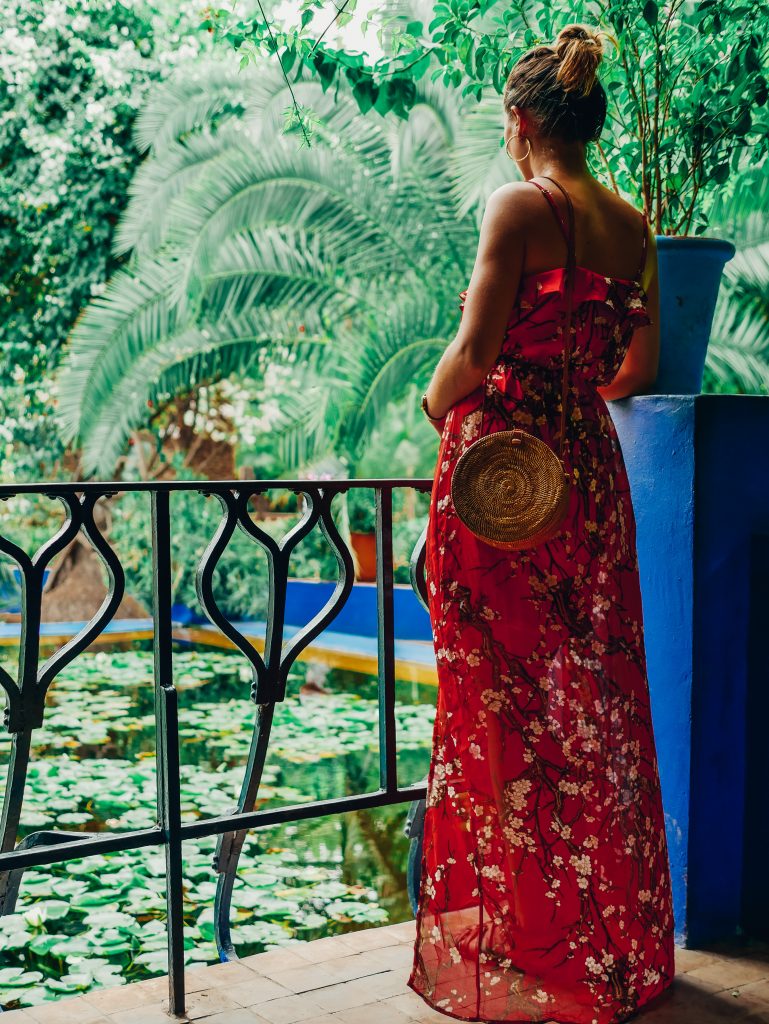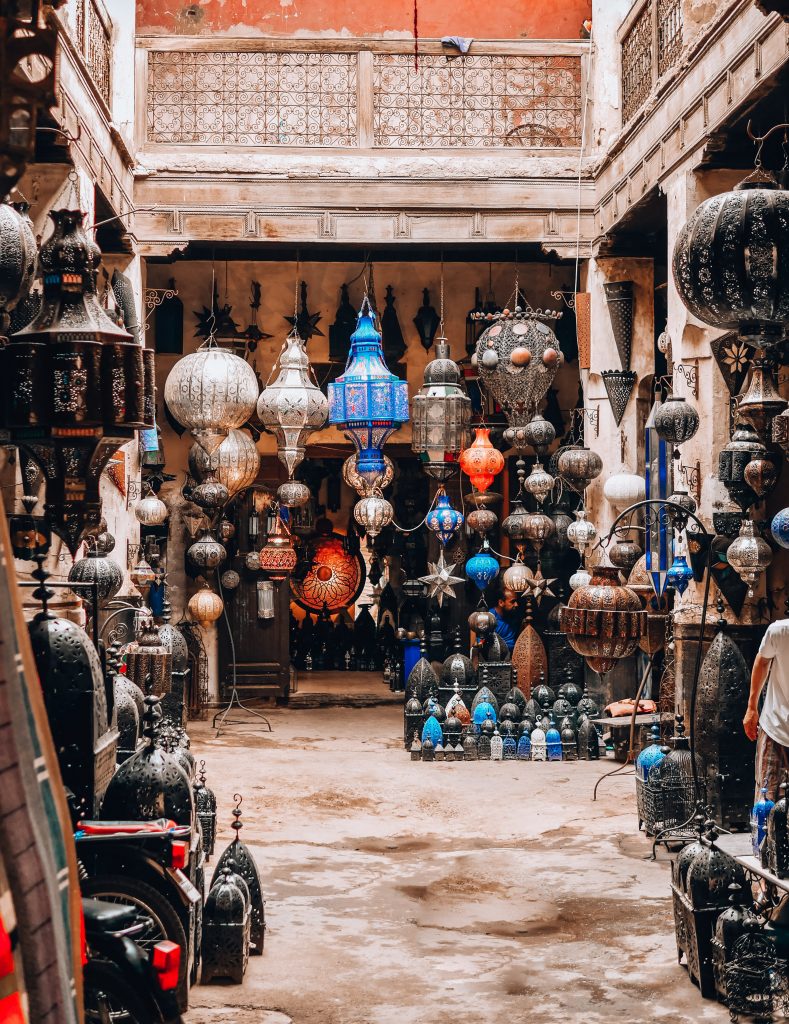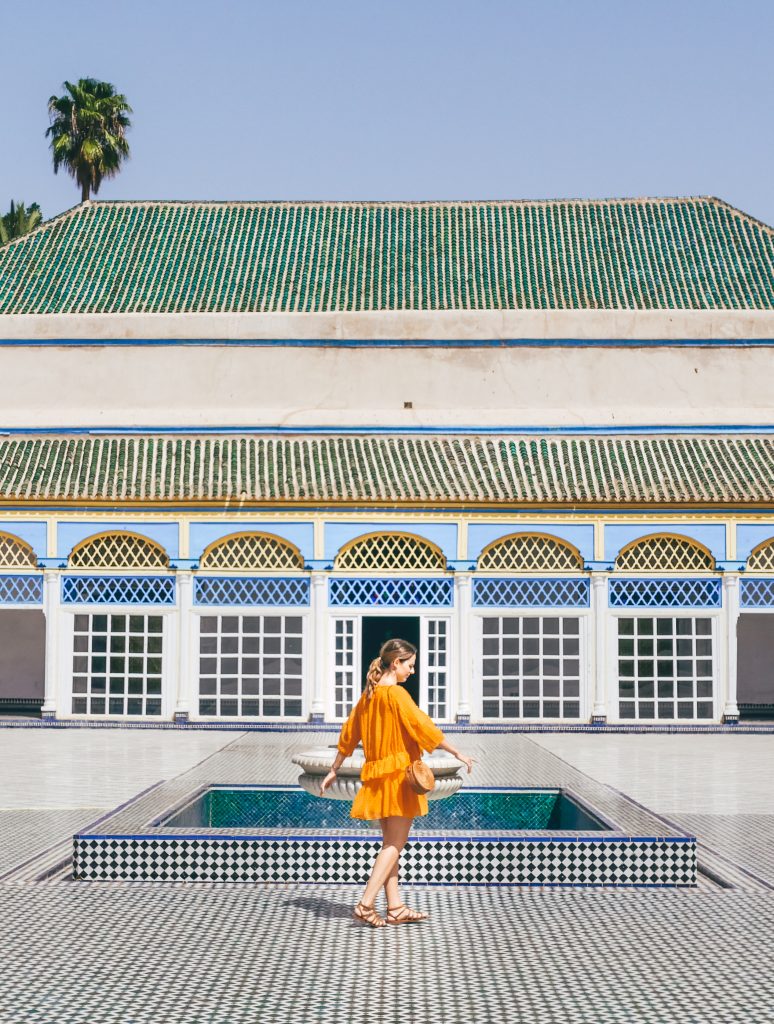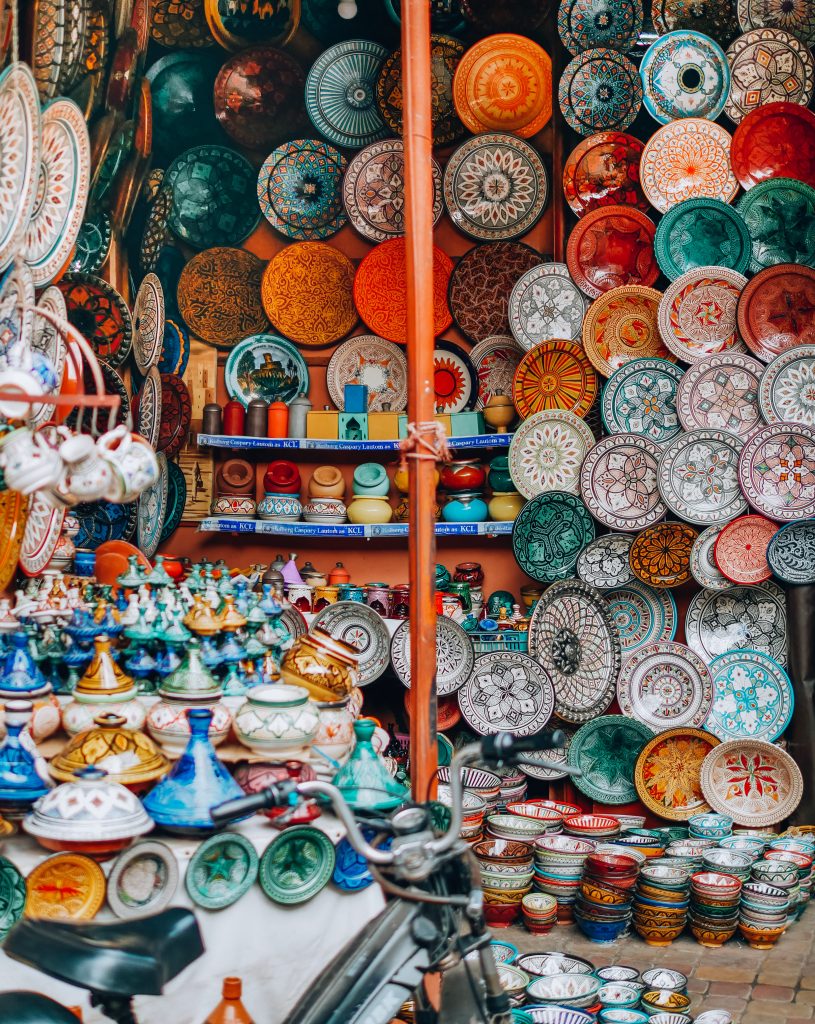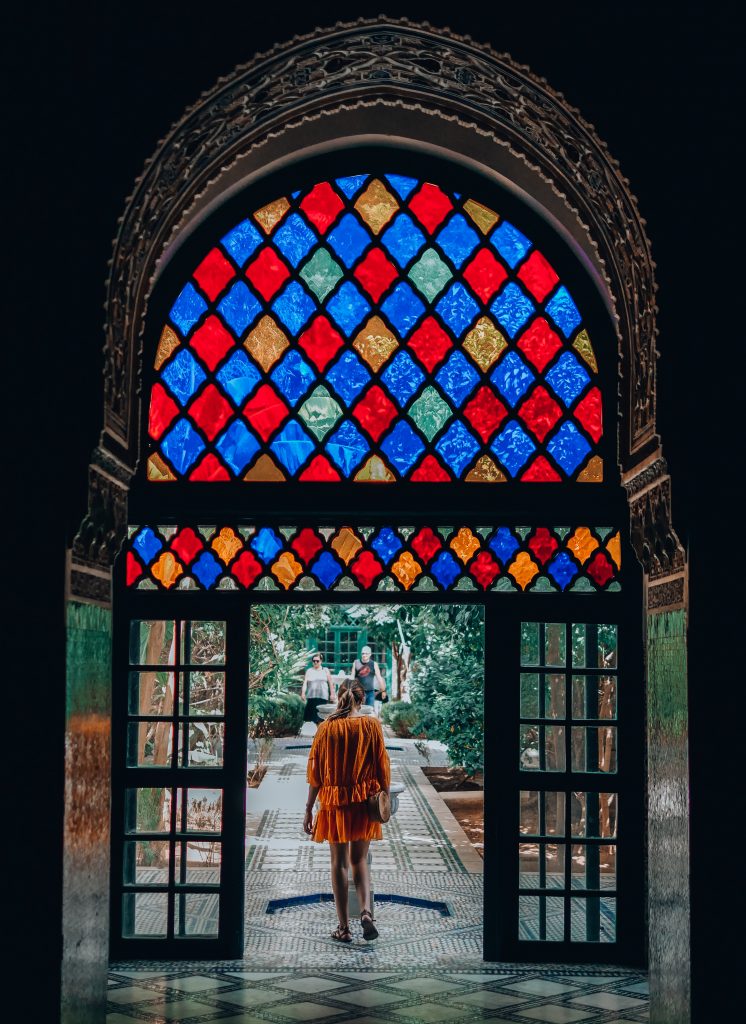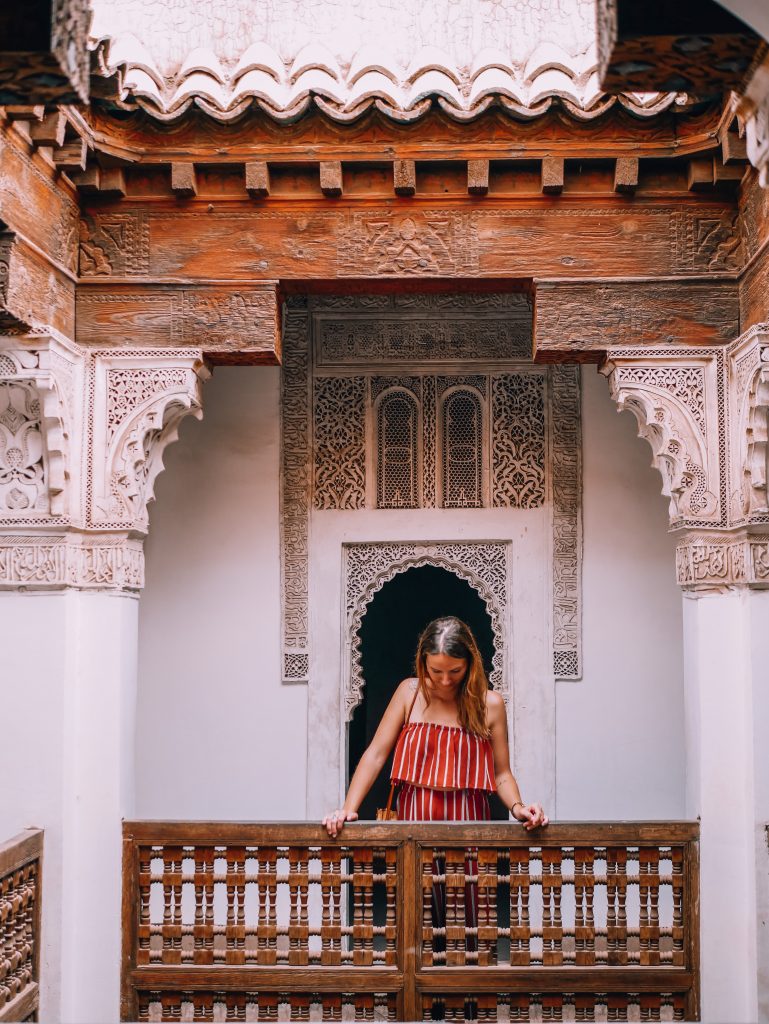 Marrakech was the first stop on our trip. We stayed there during 4 days before to go in the desert, and then a day when we went back from Tinghir and the Toudra Gorge. The Red City was exactly as I imagined: donkeys, a multitude of colors, beautiful hotels and riads, an incredible souk, mint teas and delicious tajines.
The red city, also known as the "tan city", is an incredible Medina, very busy but perfect to discover the secrets of the city,beautiful and colorful palaces, hotels and riads, a rich culture and delicious food.
HOW TO GO ? PRICE ?
If you don't have several weeks to visit Morocco, Marrakech is the perfect city for a long weekend.
With EasyJet, you will pay around 150 € roundtrip from Paris – CDG (including one piece of luggage to check in, since EasyJet hunts all travelers who have more than one hand luggage).
From Paris Beauvais, Ryanair proposes flights at around € 70 roundtrip (if you don't need any baggage to check in, you can carry a 10 kg hand bag + a small hand bag).
TO DO ?
There are some places to visit during a stay in Marrakech. Here are the ones that were in our program :
The Bahia Palace: the visit lasts about 30 minutes, you will only pay 2 € to enter. The colors, the mosaics, the plants … It's a good start to start your journey.
Spices and natural products stores: you will be able to discover how argan oil is created, which are the most effective flowers and plants against health problems, from which flowers are created all the colors. For example, the yellow come from the saffron, and some colors are created from the cactus flowers.
The souk: take a shopping break in the old Medina and the souk of Marrakech. Finish your journey by a stop in Jemaa el-Fna Square and enjoy a mint tea at the Grand Balcon du Café Glacier. It's the ideal coffee shop to have a panoramic view of the place during the sunset, and especially to avoid the busy square!
The Villa Majorelle: it's the old house of Yves Saint-Laurent, this villa is also famous for its gardens and its Majorelle blue, a very intense color and representative of this place.
Médersa Ben Youssef: I was impressed by the colors and mosaics of this Koranic school. It takes its name from the nearby mosque. There is 132 rooms, a prayer room and a large patio. During a long time, it was considered as the most magnificent school in the Arab world.
You can also visit the Palmeraie, an area of ​​more than 15,000 hectares where 100,000 trees are cultivated. Be careful : when you take a taxi, don't be fooled by the package price per day. You will pay less if you choose to visit all these places by yourself.
ACCOMMODATION
Many travelers come to Marrakech to enjoy the Riads beauty, like the very famous Riad Yasmine, which is in all the feed of famous Travel Instagramers.
THE KENZI MENARA PALACE
Not us ! We chose to spend our first 4 days in a hotel located a few minutes from the airport, behind the Agdal gardens: the Kenzi Menara Palace. All rooms have a balcony which is the best when you want to have your breakfast as soon as you wake up and enjoy hotel gardens. Reservations are in All Inclusive. In addition to an incredible decoration and spaces adapted to everyone, the Kenzi Menara Palace has an big swimming pool (Olympic size ;)). You can also enjoy a cocktail by the pool during the day or at the Lobby bar with live music during the evening. An icing on the cake, guests can enjoy a treat in the spa of the hotel. I tested a hammam and a typical Moroccan scrub. You apply black soap on your body, let it rest for a few minutes in the vapor room, then you exfoliate the skin with a suitable glove. Result: bye bye dead skin! 🙂
LE KENZI FARAH HOTEL
On our way back from the desert and Tinghir, we spent one night in Marrakech at the Kenzi Farah Hotel. If you want all the story, we were both sick when we arrived. So we had a good nap before having dinner at the hotel's Moroccan restaurant. We ate lemon chicken tajine (so delicious) and assorted Moroccan briouates, a donut of triangular shape, like a samosa filled with vegetables, chicken or orange blossom and almonds. Dinner give us some strength!
The next day, we had a good breakfast in the common room. The buffet was amazing, all the products are fresh and there is a lot of choice. We enjoy the big gardens during the morning. There are some benches and tables to enjoy the sun. You can also have a bath in the swimming pool. The hotel is located in the Hivernage area, the most famous area of ​​Marrakech, close to the Mamounia Palace and the Es Saadi Hotel.
More information about the hotel : www.kenzi-hotels.com
O. M-G